Jones sets tone in win over Toffees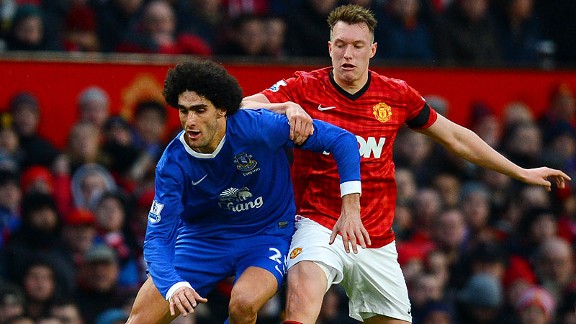 Andrew Yates/AFP/Getty ImagesManchester United's Phil Jones was superb in his marking of Everton's Marouane Fellaini on Sunday.
Though he did not score, and did not last much of the second half, he had a highly arguable case for man of the match. Phil Jones was deployed in midfield alongside Tom Cleverley in a 4-2-3-1 formation, stepping in for Michael Carrick, and his superb containment of Everton's Marouane Fellaini was the key to Manchester United's 2-0 home win over Everton.

- Martin: United dent Everton's Euro dreams

Jones pushed further forward than Carrick traditionally does, which meant that Cleverley found himself with an unfamiliar amount of defensive duties. This, however, was a trade worth making. Jones' high pressing meant that Everton could not rely on patient playmaking from deep, while Cleverley provided fine additional cover for Patrice Evra. Behind them, Nemanja Vidic was in fearless form, throwing himself in the face of low, powerful drives. Ahead of them, Ryan Giggs illuminated the game in its opening moments, his energy harassing Everton attackers as an auxiliary left back, his wit testing them on the break.

Fittingly, it was Giggs who gave Manchester United the lead at 13 minutes. Two minutes before that, Rafael and Wayne Rooney had combined to send Robin van Persie clear, but the Dutchman -- who endured a mixed afternoon -- rounded Tim Howard, only to rattle the right post with the goal inviting him. The Dutchman was soon to atone, though. While his finishing was unusually awry, his movement was very good all afternoon, and he found space 15 yards out to square for Giggs. The Welshman completed formalities, passing the ball home with his right foot. With this strike, he became the first player to score in 23 consecutive league seasons.

Rafael, whom Gary Neville would later name as his man of the match, now came to the fore. The Brazilian's season has been a compelling bid for his country's World Cup squad, and he continued in that exciting vein this afternoon. Faced with the threat of Leighton Baines, the Premier League's primary attacking threat from deep, he was superb: winning an eye-catching number of 50/50 challenges, surging forward on the overlap, and denying Victor Anichebe a tap-in when the score was still at 1-0. It was Rafael who would lay on the goal that would prove decisive. Right on halftime, Rooney laid the ball in the centre circle to Rafael, who then looked up to see van Persie sprinting ahead. The striker had been caught offside twice in the previous few minutes, but this time bounded through unhindered, rounding Howard again and rolling a right-footed finish toward the near post. John Heitinga's desperate attempt could only push the ball into the bottom corner, and van Persie had his 19th league goal of the season and his 23rd in all competitions.

Antonio Valencia, encouragingly enough, looked to be enjoying himself as he has not in recent months. The winger has been neither effective nor functional of late, but here he was taking down cross-field passes in casual manner and charging down the flank with aplomb.

In the second half, having taken a knock in the first half, Jones made way for Carrick, who helped the home side to maintain tempo. Everton, given their urgency and their greater physicality, enjoyed more possession in the second half, but the abiding memory of this period will be Giggs, at 39 years old, chasing down a back pass with such tenacity that Howard shanked the ball into touch. Later on, Jonathan Evans had an effort cleared off the line, and Cleverley had an outstanding volley from 20 yards -- which would have been one of the goals of the season -- tipped over the bar. With the 2-0 finish, Manchester United took their Premier League lead to 12 points. Jose Mourinho, watching from the directors' box, will have renewed respect for their resolve when his Real Madrid side meets them on Wednesday.