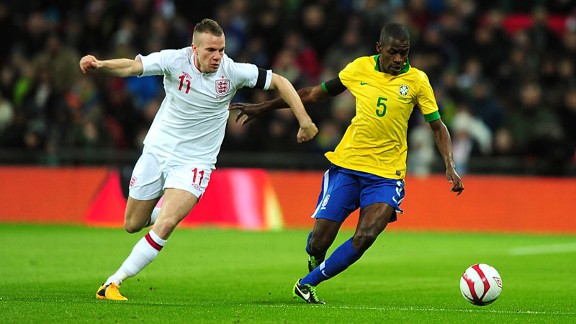 PA PhotosManchester United's Tom Cleverley battles for possession with Ramires as England beat Brazil 2-1 at Wembley.
Steven Howard of the Sun has asked "who 'gets' Tom Cleverley?" Howard, who notes that the Manchester United midfielder has played in all seven internationals since Euro 2012, is nevertheless somewhat bemused by Cleverley's continual presence in the England team. Howard and his colleagues were also bewildered by England manager Roy Hodgson's comparison of Cleverley with Cesc Fabregas. So this is as good a moment as any to state a case for the midfielder's defence.

Cleverley's place alongside Michael Carrick in the Manchester United midfield, playing at its base in a 4-2-3-1 formation, has been a key reason behind his team's greater fluidity and better form this year. Cleverley, who frequently breaks forward to link with the trio of playmakers ahead of him, provides a perfect contrast to Carrick's laconic approach.

The only other player in United's squad who shares his range of attributes is Anderson, who is arguably more gifted but far more prone to injury and fluctuations in fitness and form. It is no coincidence that Cleverley has started and starred in United's most impressive performances this year, including away wins at Newcastle United and Manchester City.

During a season in which United's wide players have struggled for form, Cleverly has also found himself deployed as one of the wide runners in a midfield diamond, a makeshift role in which he has flourished in the Premier League. Without his contribution there, both attacking and providing passes for the overlapping Patrice Evra, it is highly doubtful that United would be leading the Premier League at all, let alone by a margin of nine points.

Not only does Cleverley have excellent stamina, he is also a gifted passer of the ball, ranking 14th in pass completion in the Premier League and third of all midfielders eligible to play for England (behind Swansea's Leon Britton and his club team-mate Paul Scholes). However, given the relatively deep position in which Cleverley plays, he is not often far enough forward to provide the assists that would make his statistics far more impressive, nor is he (yet) an accomplished finisher in the vein of, say, Frank Lampard.

Cleverley's key asset is his speed of thought on the ball. His ability to exchange incisive passes at the highest tempo is why he is so rare, and so highly rated by Hodgson and Sir Alex Ferguson. A famous and enduring example of this quality is Nani's equaliser against Manchester City in the 2011 Community Shield, where Cleverley was a swift and nimble architect of one of the goals of the season.

With England apparently making a transition to a style of fast, efficient passing, Cleverley is an excellent companion for Jack Wilshere. Over time, as their partnership develops, Howard and his peers will surely see why.