Munich, Sir Alex Ferguson, and Sliding Doors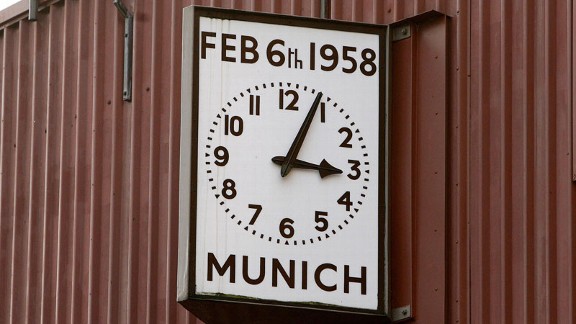 PA PhotosIt is 55 years since the plane crash in Munich claimed 23 lives, including eight United players
There's a humble classic of a romantic comedy starring Gwyneth Paltrow, Sliding Doors, which examines how different our lives would be but for one casual flick of fate's wrist. In that film, the plot follows the separate paths the lead character's life takes depending on whether she catches a particular train. As it transpires, this seemingly trivial moment -- the choice to squeeze onto the tube, or wait for the next one -- is in fact the choice between a life lived with the hope of happiness, and the cruellest of tragedies.

- Ferguson tells of Munich anguish
- Sandy Busby interview
- Busby Babes remembered

Sliding Doors has a surprising resonance today, on the anniversary of the Munich air disaster. Fifty-five years ago today, a plane carrying Manchester United's team, staff, some supporters and journalists crashed shortly after take-off. Twenty of the 44 passengers perished at the scene, with three more dying in hospital. Among the dead were eight of Matt Busby's first great team, the 'Busby Babes,' widely regarded as perhaps the finest generation of footballers that Britain has produced.

The night of these heartbreaking events saw a Sliding Doors moment. Captain James Thain had had to cancel two attempts to take off due to engine trouble; it was then that he took the fateful decision to try to take off a third time. Unknown to the blameless Thain, slush had built up at the end of the runway, and the plane ploughed into this and through a nearby fence. Thain's small choice, to get his tired passengers home on time instead of delaying overnight in Germany, had a devastating outcome.

In some way, like Torino after Superga in 1949 and the Zambia national side after 1993, Manchester United may always be a club with a little bit of a broken heart. Part of Old Trafford may always ache for Munich.

If only they had all come home. They would have stepped off that plane; the fans would have stepped back into the stands, the journalists would have hunched back over their typewriters in the press box, the staff would have chattered back to the dugout and the young men would have played. And they would have played on towards a glory that the English game had never known.

Somewhere, on the other side of sliding doors, that is exactly what happened. Manchester United arrived home safely and continued their pursuit of a treble of the league, FA Cup and European Cup. And maybe they would have clinched it, maybe they wouldn't. But they would have thrilled all who saw them in the glorious attempt, and it has been the burden of each United manager since then to try to thrill in their honour.

Not all have succeeded in this most onerous of duties. But it was moving and fitting that Sir Bobby Charlton -- who, with Sir Matt Busby, survived that crash and went on to greatness -- should be there to witness United claim a treble in 1999. That year, United were driven forward by another great Scot, Alex Ferguson, and a generation of wonderful young footballers. The more spiritual among us might question whether they were pushed forward by the gentle hand of history, with youthful ghosts at their shoulders; willing Giggs and Beckham down the wing, whispering Scholes through the middle.

We'll never know, because this isn't a world where we get to see beyond those sliding doors. All that United have here to honour those of 1958, aside from titles, is the legacy of living each match fully, down to its last exhilarating minute. We must hope, as the years pass, that this will be enough.