Giggs guides United through a brief spot of bother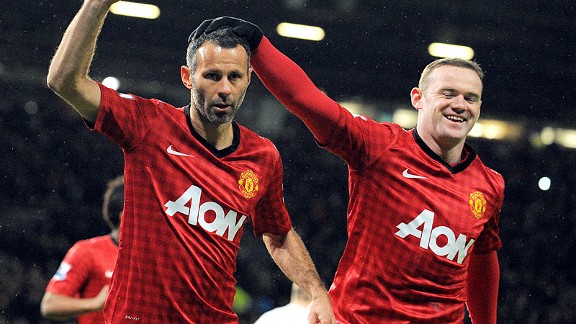 Andrew Yates/AFP/Getty ImagesWayne Rooney, right, leads the Old Trafford cheers for Ryan Giggs Saturday after Giggs' early penalty set the tone for Manchester United's dominating win.
4-1 - Following Manchester City's late win against Stoke City, Manchester United's over Fulham Saturday was as emphatic a demonstration as the scoreline suggests.

Ryan Giggs, whose return to fine form in recent matches has been a welcome feature of the season, was supreme. Playing on the left of a playmaking three in a 4-2-3-1 formation, alongside Wayne Rooney and Nani in support of Javier Hernandez, the Welshman's touch and vision were a highlight throughout. He put his team ahead with an early penalty, having taken over the spot-kick duties from Rooney, and they proceeded to an easy triumph, largely on the back of his artful passing.

Having been maligned, often rightly, for some of his outings this season, Giggs may have felt he had a point to prove. If so, he was not alone. After Manchester United''s recent acquisition of Wilfried Zaha, Nani must feel a few paces closer to the exit, and unfortunately his performance was to confirm why. He attacked with pace and purpose, but too often to little effect, hitting crosses and shots with a conspicuous and regular lack of accuracy. His technical ability will never be in doubt, but it seems that the time when he could be trusted as his team's chief creator is long gone.

A happier narrative was the performance of Anderson, who may have a vital role to play if Manchester United are to overcome Real Madrid in the Champions League. He supplied an excellent ball for Rooney, who cut inside his marker for United's goal early in the second half, and that pass was the essence of his game: probing and penetrative from deep, a compelling blend of power and subtlety. Alongside Michael Carrick, he provided a midfield axis that would overwhelm many opponents greater than Fulham.

Fulham, with Dimitar Berbatov appearing at the head of their forward line, were abject, and the Bulgarian was anonymous. Berbatov, at times serenaded by a portion of the Old Trafford faithful, was in his defence deprived of much meaningful support. All the same, apart from one or two moments of typically brilliant ball control, this was a far more low-key return against his former club than he would have liked.

Manchester United's next two goals came from Javier Hernandez, whose strikes this season have often been as important as that of Robin van Persie. Given the Dutchman's irreplaceable status, this is no small compliment. Hernandez ensured that van Persie would have a peaceful night off by netting the third and fourth for his team, both turned home from close range after his fine positioning found him in space. His movement is so good that it is generally only remarked upon in its absence, as seen by the relative commotion over a series of his offsides in earlier games.

Sir Alex Ferguson will have been very content with this outcome, which allowed him to proceed without starting six players who began the Premier League game against Spurs. Perhaps the most relieved professional, though, may have been Mark Clattenburg, who denied Manchester United a second penalty with the score still 1-0. Damien Duff so clearly handled a through-ball from Giggs - so well, in truth, it seemed to slide down his entire forearm - that Clattenburg's conservatism in awarding a corner was baffling. Fortunately, however, his oversight was only an uncomfortable footnote. And so United roll on, along with their city rivals, into the next round.