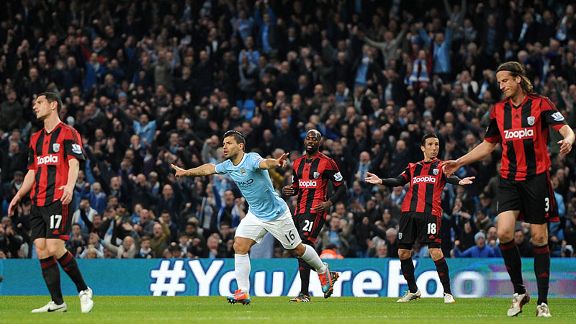 PA PhotosSergio Aguero wheels away after doubling Manchester City's lead against West Brom.
If there's any set of fans in the country that will tell you goal difference is important, then it has to be those who head to the Etihad Stadium every other week. The Manchester derby in October 2011, is very fondly remembered by Manchester City fans, partly for being a demolition of their local rivals. But it's also because the win gave the Blues a swing of ten on the goal difference front -- and they went on to beat United to the title by eight goals.

- Jolly: Pellegrini hopeful about Silva injury
- Three Things: Manchester City 3-1 West Brom

So, having scored twice in the opening ten minutes and thrice in 36 -- though having conceded one of the best breakaway goals this season in between (more on that shortly) -- there will be some Blues' fans who will be feeling like the match on Monday evening was an ideal opportunity to add some weight to the goals-for column of the table. Continue Reading...