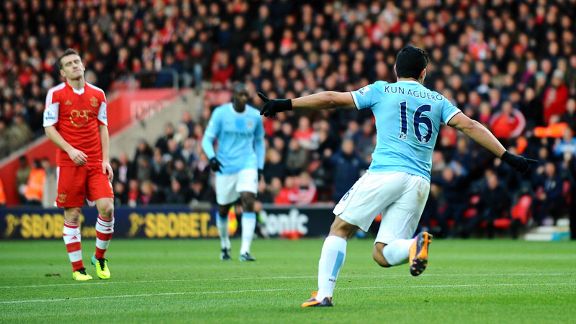 PA PhotosManchester City's Sergio Aguero celebrates opening the scoring.
Anyone who witnessed Manchester City's toils at The Dell, the home of Southampton up to 2001, a compact masterpiece by Archibald Leitch, who also designed iconic grounds for Rangers, Everton and Sunderland, amongst others, will well remember the feeling that the place always seemed fit to pop.

The term "cramped" could have been invented for Southampton's ancestral home, with its shoe-box stands and two inches of burnt cinder between touchline and crowd. Mike Channon, Alan Ball, Steve Williams, even the lumbering, bandy-legged Ivan Golac all gave City the runaround in that atmospheric little place. Continue Reading...