Making sure the Emperor's clothes fit
Roberto Mancini rides uncomfortably on the horns of a dilemma that may well prick a decent-sized hole in his Giorgio Armani suit if he doesn't get his decisions just right for the suddenly vital match with West Brom on Tuesday.

Without warning, from a position of deflated resignation that the league title had gone, City must prepare for an FA Cup final knowing that they have to press the accelerator in a bread-and-butter game once more before they can concentrate on the caviar and champagne at the weekend.

-Mancini may shuffle pack Tuesday
-Mancini seeking firepower for future

The risk now is of being caught by the trampling hooves racing up from behind. After a lethargic afternoon in the South Wales sunshine and a combination of late winners for Chelsea and Spurs plus an early one for Arsenal, the chasing pack is closing in fast.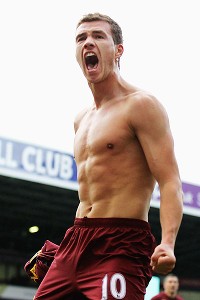 Matthew Lewis/Getty ImagesEdin Dzeko hasn't had much to celebrate since his goal at West Brom in October. An appearance Tuesday against the Baggies could be a chance to rebuild his confidence.
West Brom, as witnessed in their home defeat to Wigan at the weekend, are finishing the season on something of a field trip. Jonas Olsson and Gareth McAuley have lowered their hitherto watertight defending to suddenly spring several leaks and the clever possession play of Claudio Yacob in midfield seems to have gone slightly astray, too.

The only area where things seem not to have gone off the boil is upfront, where the giant Romelu Lukaku continues to be a real handful, ably aided and abetted by Shane Long and, at the weekend, Marcus Rozenburg, who had an impressive game straight out of hibernation. The Swede will want to push on with the hope of impressing his boss for a first-team place next season.

It appears then that Albion will feel free to attack with numbers, but may well leave space in the middle and some holes at the back. They are a side who have not performed so well against those who like to hold on to possession in recent weeks, so this may play into City's hands, if the Blues' usual slick possession can conjure some end product.

How should Mancini deal with a game that needs to render three points but also a clean bill of health for the weekend. Who to rest? Who to trust? Who to choose? Who to lose?

On the face of it, this would be a perfect game to throw in Joleon Lescott and perhaps Aleksander Kolarov to combat the heavy brigade that Albion will deploy upfront, and maybe also to give Edin Dzeko a run-out upfront to avoid the risk of injury to the sensitive tendons belonging to little Sergio Aguero.

Lescott can and will do a job when asked, but Dzeko's case is altogether different. A confidence player at the best of times, Dzeko has added the air of one whose mind is already elsewhere to his playing persona, resulting at the weekend in a performance that could sympathetically be described as lethargic. Those less compassionate might have called the giant Bosnian a string of other things, as he went sullenly through the full repertoire of farmyard animal impersonations at the Liberty Stadium.

It was Dzeko, let us not forget, who saved City's skin at the Hawthorns in a pulsating game of thrust and counter-thrust in October. With the Baggies deservedly ahead and City reduced to ten, on came the Bosnian to head a wonderful twisting back header and then finish a rapier counterattack with the sort of finish that, if re-enacted by Dzeko now, would have several thousand pairs of eyes popping out on stalks in surprise.

The Hawthorns reverberated to Dzeko's name that afternoon. He celebrated shirtless in the away end after his magisterial late winner. How radically things have changed for the big man in a few short months. Mancini will eye his past few outings and wonder if he even dare play him in a game that requires City to win convincingly.

For it is not just those vital league points up for grabs now, but a jolt of good form to carry the team into the weekend's showpiece occasion. Any repeat of the slumbering in the sun from the Blues will have the perky upstarts from Wigan fancying their chances of pulling off a glorious upset in the manner of a Sunderland or a Wimbledon from Cup finals past.

This is what Roberto Mancini and his entourage of thinkers and doers are paid top dollar for, however. These are the decisions that have to be made. On his say, eleven will take the field Tuesday with the dual targets of three all-important points in the bag and a grand total of no limbs on the treatment table.

It is a testing challenge at a moment when none is required. As always in the blue half of Manchester, Mancini will be trusted to come out of it all with his expensive derriere well covered.