From windswept Vetch Field to European glory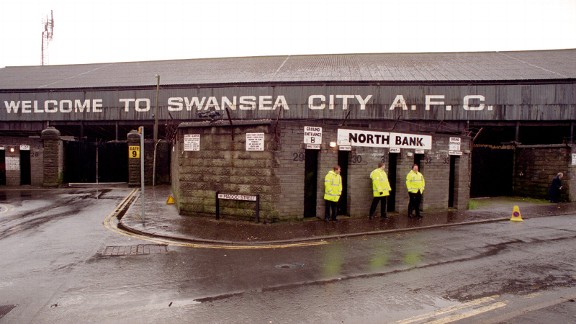 PA PhotosThe entrance to the North Bank at Swansea City's Vetch Field Stadium
Those happy folk busy eulogising about the Neue Welle of German power football flattening all before it this spring, have helped put another power surge firmly in the dark; that of South Wales. With the arrival of Cardiff City in the top flight next season, there will be two Welsh representatives in the Premier League for the first time ever and, in some small way, this resurgence mirrors the return to good health of modern football since the bleak grime and decadence of the 80s.

This dramatic Welsh achievement can be put down to a variety of factors, included amongst them good financial husbandry and impressive spending, depending which of the two clubs you start your analysis with. Both sit proudly in newly built stadia, both are backed by fervent and vociferous support. It is to the more upwardly mobile of the two, Swansea City, that Manchester City travel this weekend. For those of us a little longer in the tooth, a 1-0 defeat last season was added to memories of two straightforward reverses in that part of the world in the early eighties. This is most certainly not a happy hunting ground for the Sky Blues in the modern era.

With last season's unfortunate collapse in mind, where the first televised tears of City's apparent Devon Loch impersonation were captured by the TV cameras, it might be a good moment to at last reassert some kind of authority over the Welshmen in their own backyard. If it is to be done, however, it will be on the back of a lethargic end-of-term performance against West Ham last week and to a backdrop atmosphere of preserving legs and muscles for the upcoming Wembley beanfeast with Wigan Athletic. It is the sort of game the players and management must dread. Whilst not wanting to be seen to be merely going through the motions, their eyes and minds must already be trained on a much bigger and more important target. How Mr Mancini approaches this delicate operation may well give some pointers to his intended cup final side.

Swansea's current surge from lower division also-rans to sprightly European competitors bears more than passing resemblance to their previous rocket-like appearance in the higher echelons of league football, when on May 2nd 1981, coincidently a week before Manchester City would travel to Wembley to contest the Centenary Cup Final with Tottenham, the Swans travelled to Deepdale and won promotion to the First Division. This was a fourth successive year of progress from the depths of the old fourth division but, within two seasons, Swansea were on their way back down again. Incredibly by 1986, the club was bankrupt and back in the forth division, after a trip as tumultuous as it was tortuous that could never be re-enacted in today's welded football hierarchy. That John Toshack, Ian Callaghan, Gary Stanley, Bob Latchford and Emlyn Hughes had all paraded their skills before an enraptured Vetch Field public suddenly seemed like some kind of weird mirage. Had it really happened? In this dusty, broken-down old place?

In the 1983-84 season, both clubs had been demoted from the first division to the second. Whilst the home side had swapped its Ray Kennedys for Pascoes and its Alan Curtises for Holthams, a side of eight internationals replaced so rapidly by a team of eight teenagers, including a shaky-limbed young Dean Saunders, City too had undergone a stark transformation. Gone the majesty and power of Dennis Tueart, Asa Hartford and Trevor Francis, this was the era of realism and cutbacks, poverty and recession, strife and turmoil, encapsulated briefly by the never-to-be-forgotten forms of Geoff Lomax, Steve Kinsey and a bewildered-looking Paul Power on the windswept playing fields of the second division.

Those City fans making the trek to Swansea this weekend will not recognise the sumptuous surroundings as they enter the Liberty Stadium's whitewashed Premier Standard precincts, for the Vetch Field circa 1984 represented all that was decaying in English football at the time. It stood, haphazardly and forlornly, as a poignant monument to football's mismanagement and fall from grace in the eyes of the all-important political power-brokers of the 80s. Not today the charisma-laden gravy train that leave unpopular politicians gazing flirtatiously in its direction, football was a pariah, locked behind crumbling walls and never-ending scrolls of razor wire.

Visiting the Vetch Field was like walking into Stalag Nine. Along with three trips to Cold Blow Lane, in particular one nocturnal visit for an "old-fashioned" FA cup tie at the Den, this was one place this particular correspondent will remember for all time as being close to the most apt image of football's nadir at the time. We watched a version of clatter and wallop football, the ball taken by the coquettish bluster of a gale blowing in off the Mumbles, a mud-spattered pitch populated by twenty-two players frozen as much by fear as by the elements.

Two ambrosial moments of accuracy from Derek Parlane and the wind-assisted Steve Kinsey gave City a win that helped dump Swansea into the third division. City's promotion onslaught meanwhile had puttered out to a sad trickle. It was the last time City won in Swansea and the final visit to the Vetch Field, which died slowly of neglect over the years that followed. The rude health that the two clubs find themselves in today comes as a stark reminder of the long and painful journey football embarked upon thirty long years ago.