Paying our respects to Foe, 10 years on
When the ball hit the back of the net after 80 minutes of the Premier League match between Manchester City and Sunderland at Maine Road April 21, 2003, few of us applauding the piece of skill that delivered it there could have imagined that it would be the very last time we saw City score at the famous old stadium.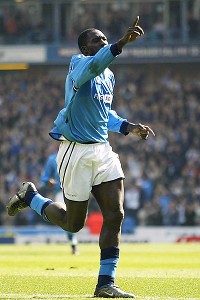 Gary M Prior/ Getty ImagesMarc-Vivien Foe celebrates scoring for Manchester City in April 2003, two months before his death. City and West Ham fans will honor Foe Saturday by clapping in the 23rd minute.
There were still three games to play until the end of the season that would see City move from their ancestral pile in Moss Side across the city to Eastlands and the newly vacated Commonwealth Games Stadium. Two home matches with struggling West Ham and mid-table Southampton would surely bring the curtain down on the ramshackle old place in some style.

That both those games were lost 1-0 will remain a minor footnote in history.

The concept that the scorer of that final Maine Road goal would be dead within two months would have been far more difficult to get a grip on. Ten years ago Marc-Vivien Foe, a strapping man from the bustling city of Yaoundé in Cameroon, knocked in that goal with a swing of his right leg, his second of the afternoon in a gentle stroll in the sun against an already relegated Sunderland side, who offered little resistance that afternoon.

-Mancini thanks departing Yolo Toure
-Silva set to return

We did not know it at the time, of course, but the giant Cameroonian, on loan from Lyon for the season, would have his name writ large because of this feat.

By June 26 that same summer, his name would forever be remembered for an event as tragic as it was public.

Foe had originally been brought in on a 500,000-pound loan by Kevin Keegan to provide some muscle to City's newly promoted side. Keegan knew Foe from a successful stint at West Ham and was convinced the midfielder would be the ideal foil to the tiny magicians Eyal Berkovic, Ali Benarbia and Shaun Wright-Phillips.

Like many before him, Foe struggled to adjust to the rough and tumble of English football, but by Christmas, City supporters had become aware of a gentle giant with an ever-present smile, who roamed the middle areas of the pitch like a fore-runner to the oak tree currently planted in the centre of City's high-level aspirations.

There are more than a few comparisons to be made with the colossus that is Yaya Toure and it would be uncharitable to begin with size. Foe moved like an antelope across the park, his giant legs eating up the turf.

He was swift, often supporting the front men and arriving at the edge of the box in time to sink a chance as the ball rebounded into his galloping path. His large frame belied deftness of touch and a pair of nimble, quick feet that took him away from the lattice of legs in the middle of the park.

At the Stadium of Light, he skipped past a rooted defence to score a wonderfully hooked opener, his first in a City shirt. Two weeks later the City fans packed into the away end at Charlton Athletic noted that the big man was growing into an advanced midfield role with ease. To his impressive stature he had suddenly added a burgeoning confidence, always playing with a smile on his face.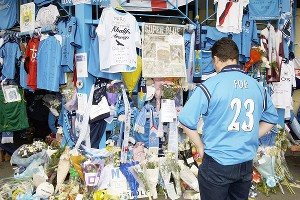 Paul Barker/AFP/Getty ImagesManchester City fans honor Marc-Vivien Foe shortly after his death on June 26, 2003, when he collapsed during a match playing for Cameroon.
Two goals spectacular in their delivery and timing saved a very late point for City in South East London that day. Charlton had been two up with less than half an hour to go. Anyone in the ground that afternoon will remember the equaliser, uncomfortably late as it was, flying off the Cameroonian's boot and into the net past Dean Kiely in the Charlton goal after Berkovic had walloped a shot into the area.

It was not the finish that will remain long in the memory, although the quickness of reaction was something to behold. It was the celebration that followed. With a giant grin splitting his features, Foe began a manic series of leaps and bounds along the touchline with Shaun Goater and a line of team-mates in vain pursuit. With his arms wind-milling and his leaps increasing in height and length, he returned to the end where the ball had entered the net and saluted the away support with a flash of brilliant white teeth and eyes like side plates.

His energy on that cold winter's afternoon seemed boundless, his capacity to take the game to the opposition like a force of nature uncanny, given what we witness every week in 2012-13. That he would be lying still and breathless on a football pitch in Lyon -- ironically the team he was on loan from to play for City -- just a few short months later seems too cruel to contemplate even now.

It is for this reason that City and West Ham fans alike will put their hands together when the match clock strikes 23 Saturday to show their respect to a lion of a player, who never gave anything short of his very best, who played every moment as if it was his last right up to the tragic seconds when that sad reality actually came to pass.

Marc-Vivien Foe, we salute you and will never forget the part you played in the grand histories of the clubs facing each other this weekend. May both our clubs continue to honour you as one, who wore the Manchester City and West Ham shirts with pride and passion.

More on Foe's legacy here.