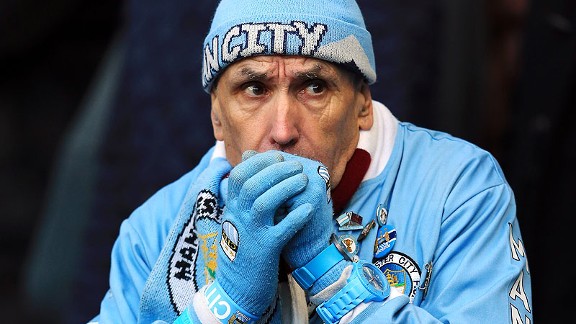 Richard Heathcote/Getty ImagesManchester City fans have had ample time to ready themselves for the impending relinquishment of their beloved Premier League title.
It is said that divorce and moving to a new house are two of the most distressing processes for the human species to go through. They both cause a combination of the following feelings in many of us: Despair. Relief. Disorientation Frustration. Elation. Bewilderment. Disbelief.

Elation?!

- Kompany: City will lift UCL trophy

On Monday some of those marked indelibly with the colour sky blue might have been preparing to go through something similar when we were formally and forcefully separated from the Premier League trophy. As it had taken 44 years to recapture, this felt a little like one of those awkward moments when, as a child, you didn't want to let go of a birthday present intended for your cousin. Ah, the tears they flowed in bucket-loads! It would be a similar scenario on this occasion we mused: Tears, embarrassment and possibly the sound of cruel people chuckling in the background. It would be like the divorce papers popping through the letterbox, wouldn't it.

Well, no, in fact. This is a separation that has been in the pipes for some time. City supporters have had time to seek quality counselling about how to handle it when it came about. Sure there have been the expected classless jibes from certain areas but on the whole we have had a good few weeks to stockpile excuses and practise our stoic faces in the mirror. (mine have looked more and more like a man just back from a distressing trip to a particularly sadistic dentist, but still, at least I have been trying).

So, with a face that looks like I am chewing on a bee, it is time to say "well done" to the new champions, to remind them that it is not "their" trophy that they clinched Monday night and that it may not be in their hands for too long anyway. There you go, fighting talk from the man who has just bitten through an insect with a big pointy sting on its back end.
Manchester United, let it be said quite clearly, have won more games than anyone else this season, have been more consistent -- crushingly so -- than anyone else and have scored more goals than anyone else. They may not have managed to bury City in the two derby matches this season, squeezing a somewhat fortuitous win at the Etihad and being well beaten at City's new favourite away ground, Old Trafford, but they certainly managed to get the full measure of almost everyone else in the Premier League this season. For that, we must congratulate them, re-gather our forces and attempt to regain the title next term.

To do this, City need to consider the following points:

1. Continuity is a must: Any speculation around the future of Roberto Mancini should be put to bed very quickly. Here is a man, although stubborn, slightly vain and a little bit loose in his approach to people skills, has brought Manchester City kicking and squealing to the forefront of English football. Those long-awaited titles, FA Cup Winners, Premier League Champions, that we thought would never again be attached to our beloved club, seem like a comfortable enough fit these days. The man, who brought those titles to City, deserves respect for this, deserves our support for what he has done to the club and deserves another shot at the title and Champions League next season. Our cousins across the city boundaries wavered in 1986, but thanks to an accomplice called Robins, it was deemed satisfactory to continue with the man, who -- 25 long years later -- has decorated that club like nobody before him. One cannot stress enough how important patience is when building something worthwhile in football. Under Sir Alex Ferguson, United finished 11th two times in his first three seasons.

2. Get active in the summer transfer market: Last summer saw all of City's major targets fly south. The club ended up spraying cash around in all directions and bringing in what was ultimately found to be inferior merchandise, with the notable exception of PFA Young Player of the Year Matija Nastasic. This season, those in charge of the purse strings must listen carefully to the manager and act on his words. While the likes of Jack Rodwell, Scott Sinclair, Javi Garcia and Maicon have not been a success for differing reasons, the kind of quality that will turn City into a force at home and abroad is already being snapped up by Europe's elite. Mario Gotze is the latest gem to be bagged early by a would-be rival. As rumours abound concerning the destination of the likes of Edinson Cavani, Radamel Falcao, Gareth Bale and others, City must not be left in the starting blocks as they were last summer.

3. Don't be dazzled by stars: If we are to believe the press, the only things of beauty in the transfer market this summer are the aforementioned stellar performers at Dortmund, Napoli, Spurs and Atletico. The calibre of player plying his trade at the Etihad these days is unquestionably of the highest order, but there are other gems to be found, players with class and pedigree that will cost a little less than the global icons attracting the attention of the midstream press. Hardly unknowns travelling the backwaters of Europe but the likes of James Rodriguez and Jackson Martinez at Porto, Mats Hummels and Ilkay Gundogan at Dortmund, the superb Benfica quartet of Matic, Salvio, Garay and Gaitan, Arjen Robben, Mario Gomez and Franck Ribery at Bayern, Benat of Betis, Christian Benteke at Aston Villa, Isco at Malaga and Christian Eriksen at Ajax would add class and zip at a touch.

4. Those who drink from the well should never forget who built it: City have come a long way in a short time. While enjoying juggling all these star names of the future, let us think back to those whose hard work and effort have brought the club this far. The likes of Tony Grealish, a true well digger if ever there was one, who passed away Tuesday at the tender age of 56. Without his fulsome input, and that of a thousand other forgotten heroes and water carriers, Manchester City would not be the fantastic club it is today.