Football redeems itself as City win thrilling semi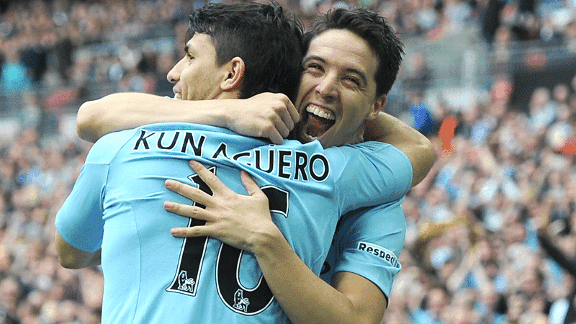 PA PhotosSergio Aguero and Samir Nasri both scored for Man City at Wembley
On a weekend when Millwall's neanderthals turned on each other and a slightly disturbed Newcastle fan was pictured squaring up to a police horse, Manchester City and Chelsea needed to turn up the volume for the game of football we all know and love. And in 94 minutes of utterly pulsating, FA Cup semifinal action, that is exactly what they did, loud and clear, in a concerto of sounds and tones so beguiling on the ear, it was impossible not to be moved.

Whilst neutrals around the globe may have been hoping that the game would never finish, those of us wrapped in clothes of sky blue were gasping for air by the end of City's 2-1 win at Wembley. A game that had initially looked signed, sealed and delivered, thanks to the sheer force of momentum in that brilliant first half, wore very different clothes in the second half. Great credit must go to an initially lumpen Chelsea for making such an astonishing game of it, when all looked so lost, so hopeless in those weather-beaten opening exchanges.

- Brewin: Cherished Mancini closes on Cup glory
- Lythell: Too little too late for Chelsea
- Martin: City, Chelsea put on great show
- Kompany delighted to secure final berth
- Analysis: Manchester City reach FA Cup final

The match divided itself neatly into three clear but totally asymmetrical parts. The first, a stunning period of some 48 minutes of classy City domination, featuring two goals, some bewilderingly beautiful possession play and a supposed game killer a minute into the second half off the forehead of Sergio Aguero. What a moment for the inimitable "Kun" to head his first City goal. The second phase lasted not more than eight minutes and featured what one in Manchester might judiciously call "fannying around," as the ball was catapulted about at speed with the crowd roaring its olés in the background.

Two more gilt-edged chances came and went in this blurred eight minutes, as a shell-shocked Chelsea did a passable impersonation of the heavyweight boxer whose legs have gone beneath his staggering bulk. One more punch, just a well-placed jab, maybe even just a prod with the index finger, and this monster will hit the deck with such a bang, he'll never get up again. We were, of course, in for a shock.

Rafa Benitez's ushering in of Phase 3 changed the game as swiftly as it did completely. On came Fernando Torres to flick his first touch of the ball up into the air, causing maximum confusion among City's hitherto imperious defenders and allowing Demba Ba to wallop in past the completely underemployed Costel Pantillimon in City's up-to-then-well-guarded goal. This was the moment that Phase 3 began in earnest, an insufferably long 34 minutes (plus four) of incessant Chelsea pressure and an inability, as alarming as it was sudden, by City to keep hold of the ball, find a fellow sky blue shirt and hold off the reinvigorated Chelsea upsurge.

What an utterly odd sport football can be sometimes. From gala performance, jabbing and prancing, City were suddenly pinned back on the ropes themselves, flailing wildly at their buzzing opponents.

From lording it and singing the songs of victory, the City faithful were left wringing their hands and watching through the loose strands of their scarves. It was like heading back in time to any one of the desperate cliffhangers that have dotted this great club's modern history. It seemed a strange moment to become aware of the nuances of language, but as this third decisive phase played out in front of our eyes, we learned that Pantillimon is in fact Romanian for "God's Chosen Child," as the great stringy length of humanity in City's goal flung himself to grip a ball off Eden Hazard's very toe end and smack those gigantic palms at Ba's surefooted volley.

Among this terrible maelstrom I also learned that Cesar Azpilicueta is Basque for "plant." This can be the plant that is rooted into the ground and has little or no capacity for cerebral awareness, or the one which describes a person put into the opposition camp to help the goodies defeat the massed forces of evil. As the show trundled to its finger-chewing end, it became evident that the young Chelsea right back was playing both of these roles impeccably. It was his wayward throw-in on 47 minutes, which set up Aguero for the crucial second goal and his constant string of right wing crosses into the Chelsea faithful during the game's interminable last phase that helped save City's bacon.

As this magnificent struggle entered time-added on, the Londoners at last began to wilt. Gareth Barry, magnificent all afternoon, outpaced Hazard, then Ramires. This, a footballer knows all too well, is the last bastion of fatigue. Chelsea had been left ruing a string of presentable chances to equalise, a debatable shout for a penalty as the rock-like Vincent Kompany attempted to swap shirts with Torres before the end of the match and a moment of madness from Aguero, when he took his eye off the ball and focused instead on a two-footed challenge on the serial-fouling David Luiz, befitting any lunge or slice in the murky battles between Argentina and Brazil down the years. A red card would not have been incorrect in the immediate circumstances, but would have been utterly out of place in this titanic contest of two full-blooded and fully committed sides.

That the best side had won at the end was clear, but by a much thinner margin than we might have expected at halftime.