Manchester power shift still on the way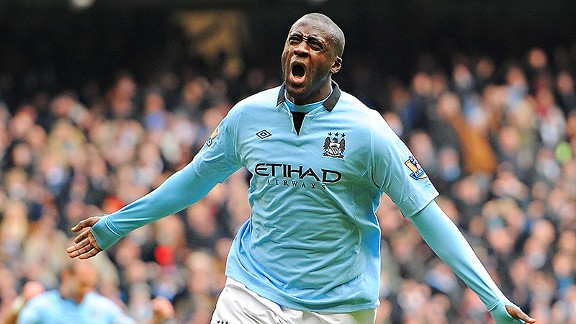 Andrew Yates/AFP/Getty ImagesYaya Toure deal shows Man City are still moving in right direction
It is slightly disconcerting stuff to have to agree with Gary Neville if you are a City fan, but his column in The Mail Sunday talks more sense than most on the eve of the Manchester derby. A lot of hyperbole and, let's be honest, a lot of utter rubbish goes into certain arms of the international press these days. Talking level-headed sense has not always been the newspaper editor's favourite copy-shifting tactic down the years. With a game as big as one that brings the two best club sides in England together in the same city, there are not too many voices that are able to be kept below the exceedingly shrill and overexcited level and I may well have to include my own in that category before the hours have all ticked by to Monday evening.

- Payne: United ready to play out final act
- Curtis: Typical Man City
- Brewin: Reaching for credibility

The crux of the matter, as the two teams prepare to meet in a fixture which most people at the season's beginning would have seen as a possible title decider -- much like last season's cataclysmic clash at the Etihad -- is that the title is already more or less wrapped up. United, fully 15 points clear at the top, are sauntering gently toward the finishing line, while City puff and pant over the FA Cup as a possible face-saver for a season that has gone west. City were, after all, expected to be at least as strong as last season, maybe stronger with judicious use of the summer transfer market. As Neville quite rightly states, a shift in power was what almost everyone was discussing in the May sunshine last year. As Vincent Kompany lifted the Premier League trophy, the roar of relief and triumph signaled a new blue era, where United would no longer get their own way. They at last had a rival -- and one in the same city at that -- who would run them close for every honour on offer from now on in.

This has plainly not happened. The League campaign looks set to end with a runners-up spot, if tricky fixtures at Old Trafford and White Hart Lane can be negotiated successfully. The FA Cup semifinal with Chelsea looms large on the horizon. Clear that hurdle and a final against either Millwall or Wigan awaits. Meanwhile, the League Cup was tossed away cheaply and the Champions League group stage again proved too much for Roberto Mancini's men, partly because their group contained two teams who could still contest the final in Real Madrid and Borussia Dortmund and partly because two dismal attempts to beat an average Ajax side failed miserably.

City have evidently, for a number of reasons, failed to "kick on." This cannot be laid solely at the feet of Mancini or Brian Marwood, or Khaldoon Al Mubarak or Jack Rodwell or Robin van Persie. These are complicated things to get right. The little nuances bring unexpected tilts in the greater balance of things and suddenly you are left fighting on an uneven playing field. Add all these tiny influences together and you will more than likely reach a grand total of 15.

Alex Ferguson, a wily old campaigner of myriad battles with various foes who wanted to usurp him, feeds off these situations of uncertainty and imbalance like no other. Whenever his team has failed him, he has picked himself up, dusted himself down and prevailed. He is a past master at winning the battles that matter. City are getting a taste for this too, but it is still early days in this grande renaissance in sky blue.

The experienced journalist who asked if this "was the most pathetic defence of a league title in memory" (shame and a great shower of venomous frogs on you, Mr Lawton) was missing the point altogether. City have to build, but they have to build quickly, solidly, carefully and patiently, while all the time fighting the good fight and performing just how the world expects a team so heavily invested in to do. This is plainly not the simplest of tasks to achieve, especially in the backyard of the old fox from Govan, but City are getting there.

The FA Cup, the league title, the Community Shield have all been delivered among a shower of tears and confetti. This week another crucial step forward was taken with the signature of Yaya Toure to a new four-year contract. The amounts might be eye-watering, but these are the stellar talents who must be kept on board to ensure progress. No one can doubt that City, with The Beast of Bondoukou patrolling the middle, are not a happy prospect for opponents and an enticing one for would-be signings.

Make no mistake, Manchester City are building for the future, both on the pitch and off it. There will be moments where the ship is temporarily becalmed, just as there will be plenty where it surges forward through the choppy waters of the Premier League. Monday night at Old Trafford is a moment for the Blues to put down another marker, to remind those who might dismiss them as pathetic title defenders that there is life and spirit and courage and skill left in the engine still.

We will look on with bated breath as the chosen 11 take to the very patch of grass at Old Trafford where six City goals were dispatched into the United net last season and hope that similar daring deeds can postpone any championship parties for some time yet.