Five reasons for optimism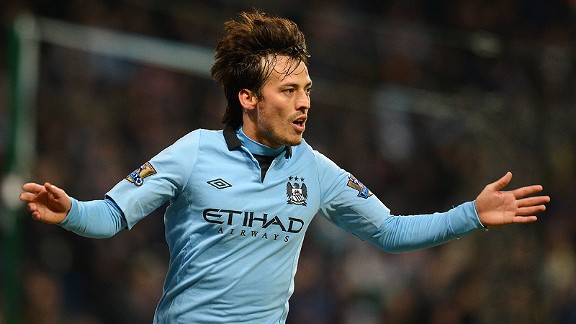 Andrew Yates/Getty ImagesDavid Silva is playing his best football of the season right now for Manchester City.
With the season's final straight in view and the pointy end of 2012-2013 approaching rapidly, I gave myself a little team talk (historically it is round about now City fans start to worry about the growing spectre of relegation and whether the points haul of 32 is going to be enough to keep us up or not. I still have these nightmares, even though younger City fans wouldn't recognise relegation if it lay down in front of them and recited the first eighty pages of the Great Gatsby shouting "You're going down! You're going down!" at the beginning of each paragraph). Anyhow, I digress. I have taken my Brian Horton elephant pills and have managed to unearth five reasons why we can all sleep soundly through to this season's great climax:

- Richards praises Zabaleta form

1. There will be no Manchester derby FA Cup semi-final: Now we have already been through one of these and there are not many of us who could survive the experience a second time. We already have a derby match to fret about this week without having to worry ourselves senseless about two of them back-to-back. The prospect of losing this kind of match sends some of us into both a hot and cold flush. The blood drains from my face, making me resemble an Inuit fisher woman after slightly too much raw herring. It is just too much to bear. This year, then, we are spared the increasingly frequent ordeal of a Manchester derby cup semi-final (League Cup January 2010 -- two legs! -- and FA Cup April 2011). In eleven cup meetings since 1970, City have won just three. I don't care about the law of averages, the new level playing field between the sides or which way the wind is blowing. It is simply better for almost all of my internal organs if we settle down and play Chelsea at Wembley instead.

2. David Silva is David Silva again: Now, what could be better at this crucial time than to have the little Spanish Genius back to his old best? Silva is once again revealing a set of skills that not many midfielders in the Premier league can cope with. He turns this way and that, digs passes through impossibly minute gaps, slides teammates through spaces that normal human beings cannot even see, let alone negotiate a ball through and, when some clumsy oaf twice his size knocks him flat, he gets back up, blows his hair out of his eyes and carries on doing what he does best. City's tormentor-in-chief is firing on all cylinders and that can only be good news for those of us willing him on from the sidelines.

3) Samir Nasri in the Mixed Zone: Tuesday's Champions League quarterfinal between PSG and Barcelona apparently saw the City player sauntering through the mixed zone after the game. What he was doing there is a mystery, but with his attitude once again being called into question after his negative reaction to Roberto Mancini's honest appraisal of who he trusts and who he doesn't, some will be wondering if the Frenchman wasn't there to start negotiating a contract with Paris St Germain. If this somewhat strange sighting is the catalyst to the clear out of deadwood that will almost certainly take place this summer, then fine. After last summer's stalled activities, which led to a rash of late and misplaced signings, let us hope this is a sign that this summer's business will be swift, early and successful.

4. Goals: There has been a clear drop-off in the number of goals scored by City this season compared to last. However, four at the weekend against Newcastle and the goals scored in the FA Cup this year (three against Watford, four against Leeds and five against Barnsley) seem to show a rising trend. Carlos Tevez in particular is scoring regularly and, while Sergio Aguero and Edin Dzeko are not, there is still reason to believe the side is finishing the season in a more fluid and efficient manner than during the previous seven months.

5. The thrill of the chase: Did I mention relegation already? I did? Ok, apologies. It's a bit of an obsession in our household. Have we come so far so soon that second place in the league and an FA Cup semi-final is already small pickings in the general way of things? Of course not. To see the Blues up there fighting with the best in the land and, in most cases, prevailing, still takes some believing. These are heady days to be a City supporter and this season is no different to the last three. There are big prizes on offer, looming ever closer on the horizon and Manchester City will be at Wembley Stadium to fight for the right to win one of them on April 14th. City v Chelsea in the FA Cup semi-final. Sound good to you? Send a tingle of anticipation down the spine? Too right it does! So, charge your glasses and clear your throats. Come on you Blues!