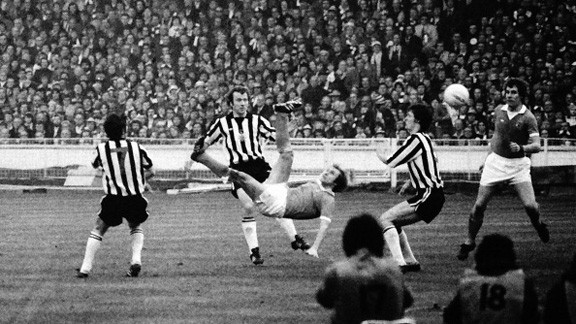 Bob Thomas/Getty ImagesDennis Tueart's goal on this overhead kick in the 1976 League Cup final is one of the many links betwen Manchester City and Newcastle.
I first clapped eyes on the iconic black-and-white stripes of Newcastle United in the days when they wore socks with stripes, too. They looked like a bunch of angry zebras on the warpath, with the likes of Tommy Cassidy, Bobby Moncur, John Tudor and the mighty Malcolm Macdonald in their ranks. Macdonald was a toothless phenomenon up front, with his impeccably bandy legs and his thunderous straight-line running. What a sight the man was, careering toward the waiting Mike Doyle and Tommy Booth across the shiny Maine Road mud.

-- Van Walle: Mancini wrong to criticise Kompany

In 1975-76, with Macdonald, Tudor, Micky Burns and the university graduate Alan Gowling prowling up front, the Magpies managed to drag themselves past Tottenham in the League Cup semifinals to reach Wembley.

Waiting for them there, of course, were Manchester City, having beaten Newcastle's Northeast rivals Middlesbrough in an epic two-legged semifinal of their own. City lost 1-0 at Ayresome Park, but in a thrilling comeback in the second leg, battered Boro 4-0 at Maine Road on one of those nights that anyone present will never forget.

There were night matches at the old stadium when the atmosphere and the end result were so much in sync that you would have wished for the evening's entertainment to go on forever. But City now had the final to rest up for, so that was that.

In those days, the League Cup final warranted neither live television coverage nor its own slot on a Sunday afternoon, taking place in front of 100,000 excited supporters on Saturday afternoon at the same time as the normal league programme.

With gray mists falling over the beautiful Wembley pitch, City and Newcastle emerged to the spectacular backdrop of a full house of baying sky-blue and black-and-white-clad supporters, both sets starved of success, both sets noisy and expectant. What was served up that afternoon was a feast of flowing football, with neither side afraid to throw caution to the four winds and attack its opponent.

That a vibrant occasion should be decided by the perfectly executed overhead kick of Dennis Tueart, "King of All Geordies," as City fans dubbed him, was both apt and ironic. Bought from Sunderland in 1974 to liven up a flagging City attack, Tueart was a Newcastle fan through and through.

To soften the blow of flattening his boyhood heroes, Tueart was found in the Newcastle dressing room after the full-time whistle with the League Cup filled to the brim with consolation champagne. Television cameras showed the desolate Macdonald first up to take a sip from City's overflowing cup of joy. " You can still see images of all this on YouTube, simple days of valour and glory captured for posterity.

We were not to know it then, in our hour of childish enthusiasm, but this would be the last appearance by a City side in a cup final until the win over Stoke three seasons ago. For Newcastle, there have been two other back-to-back finals in the late 1990s, both lost, both involving massive disappointment at a failure to get going on the part of the Magpies.

City have broken through since, gaining an FA Cup, a Premier League title and a Community Shield, with a good chance of further FA Cup glory this season. Newcastle fans are still waiting patiently. They must look on at all this grinning hilarity among the giddy sky-blue faithful and wish for a little of the same for themselves, but that would be to deny this great club's rich history.

Modern football fans forget that history does not just come from winning pots and lining them up to count in front of your rivals. Newcastle United can claim a slice of this action with every justification. Their part has been a rich and valuable contribution to English league and cup football down the years.

As Saturday's game hovers into view, supporters will doff their hats to the great heroes of the past, to those who won, those who lost and those who participated with verve and commitment, for these great old clubs can count commitment to the cause as one of the watchwords of their parallel existences in English football.

May we have the chance this weekend to add another epic game to the long list of noteworthy battles between the clubs -- and let us not be surprised if the old legs of Tueart and Macdonald are twitching just a little bit more than usual as the ball pings into the opposition goal area Saturday at the Etihad. For these are the games that stir the emotions and stir the very embers of football history, be they accompanied by shiny trophies full of champagne or not.