Man City's shared theme with Saturday's visitors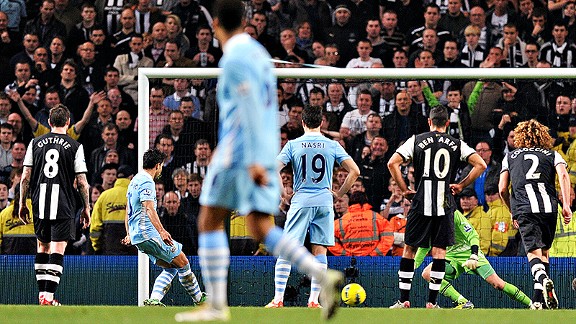 AP PhotoNewcastle supporters have watched with envy as Manchester City ascended in the Premier League - including Sergio Aguero's successful penalty kick against the Magpies at the Etihad in 2011.
Preparation for a match between Manchester City and Newcastle United stirs diverse emotions. For many years, barren years mostly, these clubs (who meet Saturday at the Etihad) were brothers in misery. Penniless, trophyless and mainly hopeless, they struggled gamely on, batting between the divisions, carried gamely on the back of the unrelenting support of their masochistic thousands of followers.

The fervour and fidelity shown on the terraces was never quite matched by anything going on in front of their eyes on the little patch of scuffed grass called Maine Road or St James' Park. It didn't seem to matter most. They were there: part of the furniture, if a little frayed and dog-eaten.

Things have changed in recent times, of course, and -- thanks to the largesse of new owners of a very different hue -- these clubs have climbed several rungs in the football credibility ladder. Where there used to be only laughter and mocking, one is just as likely to hear applause. Where there used to be only silence and tears, one can now find broad smiles and elaborate goal celebrations. Where once the word exotic meant the sudden flourishing of a youth team player from Belfast, both sides can now boast internationals from each and every continent on the planet. City and Newcastle have joined the football aristocracy and seem set fair to be part of any brave new world the sport has to offer.

Still, though, there is a giant chasm in expectations. Let us first of all examine how the new money in each club has affected who and what they are and how they are seen by others. In City's case, as has often been reported, the petrodollars flowing in down that great pipe attached to the sand flats of the Middle East has changed the club beyond all recognition.

The club that I first visited as a wide-eyed youngster, playing in a grand old mess of a stadium amongst the warren of alleyways of Moss Side, where you would not normally walk alone unless you had a wish for some kind of slightly risky anthropological experiment, is today a very different animal. I no longer stare in awe at scuffed passes into the middle of the Kippax by Geoff Lomax, no longer hold my hands in my head at another missed open goal by Gordon Davies, no longer trudge those alleys and side streets with my molten chips and gravy to console me after yet another home defeat to Barnsley.

These days, we walk across padded concourses, in front of giant screens, past podia with smiling presenters and fast-food outlets whose fare you might just be able to consume without having to visit outpatients. Naturally, when you have such a large amount of this misery removed from your life, you do start to miss it dearly, for what is life without pain?

This is where we can all sit back and feel a little jealous of our North Eastern comrades. They have joined the elite after many years of commuting between the top two divisions, but they still play in their original home, albeit vastly inflated on all sides from the simple tracts of open terracing that City fans visited to see the Blues clinch the title in 1968.

They too have been floated by invested millions, but the Newcastle injection has not been an epoque-changing flood of cash, but an English-style wad of notes, which has lifted them from the David McCreery-filled nightmares of the past and catapulted them into a warm cosy Yohan Cabaye present.

Like City supporters of a certain age, black and white fans will tell you that there is an indefinable something that is missing in these unconfused days of growth and precision. Where are the gunshots to the foot, the own goals and gaffes, the disastrous cup runs that lead nowhere, the embarrassing home defeats when all seemed set fair?

So, here are two grand old clubs struggling in the piercing light of a brave new world, attempting to live up to new and elevated expectations in this modern world of winner-takes-all. That City have broken through the psychological barrier of all those barren trophy-less years with a relative river of success in the last three seasons will be a source of some discomfort to Geordies, who still sit patiently for a breakthrough after five long decades of league bluff and cup thunder.

All that City fans can say in brotherly understanding is that it takes time and -- when it finally happens -- it is a feeling like no other they will have experienced in their years of support. In many ways, the longer the Years of Bounty are avoided, the better the feeling when it is finally over.

It is with these feelings of sympathy and understanding that City fans will watch proceedings this weekend. The black-and-white-clad away support may not realise this in the waves of noise that greet the teams, but somewhere deep inside they may just feel kindred spirits all around them, people who wish them well in their long and dispiriting fight for the type of days in the sun City followers have enjoyed recently. Only the most hard-hearted would begrudge them a little slice of the same thing soon.