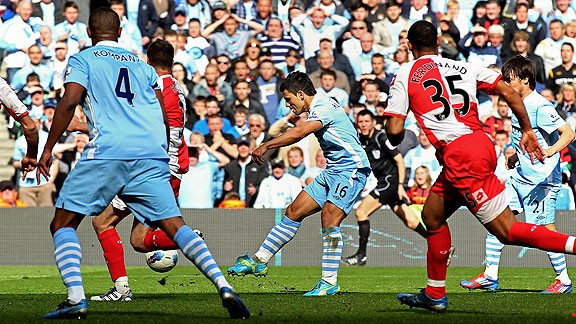 Alex Livesey/Getty ImagesManchester City have not been able to match last season's success that ended with Sergio Aguero's last minute title-winner.
On the event of his sixtieth birthday President Richard Nixon was asked what his formula for living was. "Never slow down," was his answer.

The other day I was rearranging a sizeable pile of souvenir newspaper articles covering the aftermath of City's tantalising title win last May when an article by Alan Hansen caught my eye in The Telegraph. "City will get stronger and stronger and United know it", the headline shrieked. This was Nixon's never slow down, I now realise. The only problem is that it appears City did not take the advice on board. This season has been far from an add-on to last May's glorious denouement, rather a stalling, stuttering response to being crowned champions for the first time in 44 long years of slapstick comedy.

- Soriano: 'Mancini is a champion'

So, can this season truly be seen as growing evidence of a slowing down of the war machine? Is the general flatness the inevitable result of reaching such an incredible, unexpected high and having to better it, or at least equal it? Or are other powers and influences at work on the 2012-2013 version of Manchester City?

If the watchword is never slow down, that for those facing up to the champions might be something similar. City have become a big scalp in the Premier League. To some of us brought up on City captains holding aloft the entirely see-through Cup For Cock-Ups at the end of each gruelling season, it remains a heavy task to take this new, sleek, successful City as seriously as some others obviously are. A long-standing Everton pal of mine contacted me after last week's game to do what football fans do best: rub his mate's nose deep into the dirt at the very moment he needs a consoling arm around the shoulder. He was what you might call cock-a-hoop, over-the-moon, with his side's shackling of the sumptuous City machine. I retorted that "it was only City not Real Madrid" that his team had beaten, but he was adamant that this was a result worth celebrating long and hard into the Liverpool night.

In effect, this sudden elevation into the realms of the country's football super-elite, although expected after the revolution on and off the pitch at Eastlands, has been difficult for players, staff and supporters alike to manage. Taking yourself seriously has never been close to the top of your average City's supporter's priorities after all. Along with the need to revamp this masochistic, self-deprecating modus operandi, City fans have had to start living in a world of superstar signings and worldwide press interest. When some of us trooped wet and bedraggled out of the tiny grounds at Darlington or Port Vale or Brentford in earlier times, muttering darkly about ineptitude and sloth, it would have been utterly pointless picturing George Weah in a City shirt, let alone this season's crop of artistes.

But take a good look at Sergio Aguero, at Yaya Toure, at Carlos Tevez. These are big game players. They do not flinch at the prospect of playing at the Bernabeu or at Old Trafford or at a screaming Anfield or San Paolo. I have watched in awe as whole City teams, never mind single players, have disappeared from view at a crucial time in games in the past. The refrain Where's Alan Kernaghan could be scraped onto my gravestone when I retire to the great football terrace in the sky, so many times did I mutter the question in the early 90s. Manchester City does not do this anymore. On the occasion where the opposition has the bit so thoroughly between its teeth that City are swamped (Goodison and St Mary's come immediately to mind), a result can be secured, but in general these days, preparing to watch City play does not involve the bowel cramps and the wet palms of old. You do not need to watch the action through a latticework of clenched fingers; neither do you need to dive behind the broad shoulders of the person in front of you when the opposition attack. It is generally a smooth, carefree viewing. No fluids spilled, sometimes not even sweat, on or off the green velvet.

And this could well be City's biggest enemy as the season draws to a close. How to get it into the heads of the players that slowing down is not an option for great champions. The greatest sides of the past were the multiple-title winners, the ones that wrung every last reserve of ability and effort out of themselves. Taking it easy, running in neutral, backing off the accelerator was never an option for Liverpool, for Forest, for Don Revie's Leeds.

For Manchester City the mantra must be exactly the same: Never Slow Down.