Everton's old-fashioned values too much for City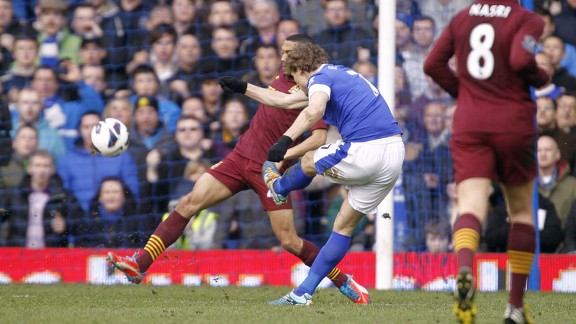 PA PhotosNikica Jelavic seals victory as he curls home Everton's second in injury time.
Visiting Goodison Park is an exhilarating trip back to a time when players arrived at the ground by puttering trolley bus, supporters wore giant flat caps and smoked Woodbines, a heavy fug lay over the ground an hour before kickoff, and the brown leather ball spent its afternoon being whacked solidly from one penalty area to the other and back again by robustly muscled athletes with Brylcreemed hair and hobnail boots. Goodison Park is the last bastion of olde English football, with its towering old roofs, its heaving paddocks and its iconic Archibald Leitch latticework running along the front of the Main Stand. The damp air blowing in from the Mersey Estuary can give the place an inhospitable feel as the rain fires in diagonally between those giant stands.

- Tactics: City's back three overrun at Everton

Everton, which won this game 2-0, play the game the old-fashioned way: hard, fast and, occasionally, on the fringes of legality. They harry, they hustle, they get in your face and remain steadfastly there for 90 minutes. More if the referee calls for it.

On Saturday, these tactics, aided by the erratic refereeing of Lee Probert -- an Everton goal wrongly ruled out, a City penalty not given, a second yellow for the offender Marouane Fellaini not given, a rash of free kicks and cards in the first half and a free-for-all second half -- reduced the home side to 10, and still the players ran around like they had been fitted with electric prods just before kickoff. How many miles did young Seamus Coleman run? And Kevin Mirallas? And Leon Osman? How many times did a City player receive the ball in acres of space and, within a mere flash, find himself with a snorting, fire-breathing Evertonian slap in his way?

And how predictable was all of this?

With the absence of Vincent Kompany, Yaya Toure and Sergio Aguero reducing City's all-important spine to a wire brush, the omens for this important game were not good. To keep taking the fight to a slowing Manchester United, it was vital to put in a shift in Liverpool and move three points closer. In winning at Everton, another crucial blow for morale and self-confidence would also be struck. Look at us, in our silken prime, able to visit our worst nightmare and waltz out of their place with the spoils. United would have entered the Reading game with trepidation.

Instead we got the annual Merseyside carve-up. The home side revealed admirable tenacity, improbable levels of energy and resolve and an ability to suddenly put that utterly inept performance against Wigan behind them. They were first to everything. Even with a man less, they looked fine. If City's territorial demands took them closer to the Everton goal during the latter stages, Everton held fast, countered enthusiastically and never let up. Even the hapless Jan Mucha, flappy and chaotic last week, played a blinder, blocking James Milner and Pablo Zabaleta down the right when a goal looked certain.

Roberto Mancini will one day -- when he is sitting in his Tuscan retirement retreat with a view over distant lines of cypress trees and cavorting wild boar -- reflect that in all his time as coach of the great Manchester City side of the 2009-2013 era, which achieved extraordinary feats of success and beautiful football, going to Goodison Park to try to extract winning points from the local team proved the biggest conundrum of his managerial career. "Just how does one do it?" he will ask himself quietly over a large glass of Chianti.

Before he does that, he may like to take a brief look at this:

- Possession %: 41-59 | Passes: 270-436 | Accuracy %: 75-80 | Final third: 114-195 | Accuracy %: 68-78 | Shots: 12(3)-20(8)

How on earth, he might be tempted to ask, can a team emerge from a match with positive stats like this and still lose 2-0 to its 10-man adversary and deserve to do so? This, in a nutshell, is the enigma within a conundrum wrapped in confusion that is the dearly beloved Manchester City Football Club.

Perhaps we should be grateful for small mercies. City are evidently not adept at defending league titles. Not that we were to know that. It is a long time ago, admittedly, but on an infamous earlier attempt to defend their championship, City succeeded only in getting relegated, the only club in English football history to pull off such an impressive and simultaneously ridiculous feat.

They have made a far better fist of it this season, but now it is time to dab the wounds and admit defeat.

In adherence to the old-fashioned values on show Saturday at Everton, it only remains to congratulate the hosts on a job well done, wish them well in their attempts to hold onto their manager this summer and beat a modest and humble retreat back along the East Lancs Road to Manchester. The sound of hooting and merry-making will last for some time yet, no doubt. Indeed, perhaps, given the gusto with which the home support and the royal blue-clad players celebrated this famous win, it might not have been out of place to witness some of them wearing their medals for the after-match interviews.