Another tough hurdle for Manchester City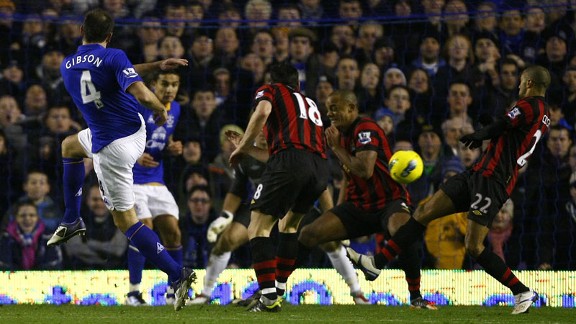 PA PhotosDarron Gibson did his former employers Man Utd a favour by scoring Everton's winner against Man City in the corresponding fixture last season.
This week City go to Goodison Park, a venue which has rendered fewer points and less success than anywhere else in the Premier League years for the Manchester club. If you were in any way normal and you followed City (there's something of an oxymoron squeezing its way into that already, as you can see), you would have decided reluctantly that today was the day to finally get down to the shops to buy the creosote for the fence and offer to mow the neighbour's lawn for them.

- Aguero out of Everton clash

Instead, defying all human logic, but not that of the football follower, City's allocation for the trip has been sold out for over a week. More would surely go if the fine old precincts of Goodison Park could accommodate them. This is the opposite of Cityitis, or an offshoot of it. We travel in eternal optimism until the very moment when the facts, staring us bleakly in the face, tell us to wrap it all up for another season and get the holiday shorts out instead.

City's record in the blue sector of Liverpool is what you might term pitiful. Indeed the Blues' record against the Toffees home and away is nothing short of astonishingly poor. I love statistics but am not very good at them. I thought today I would have a bash at them for any readers that way inclined:

- David Moyes hates City with a passion, owing to the Joleon Lescott affair, when his prize centre-half was pried away from his tight Scottish grasp at the very moment he needed a good, left footed centre-half.
- Everton have lost only five of 20 Premier League games v City at Goodison.
- Howard Kendall is still persona non grata in our household. (picture on the dartboard to this very day)
- City have scored 12 and conceded none since the airy fairy all fall down performance at Southampton.
- It is always windy and rainy on Merseyside when City play there.
- 40% of visitors' cars parked on the periphery of Stanley Park on matchdays have at least one wheel less by the end of the match.
- When City do get the better of Everton, there is some chance of a cavalcade of goals (there have been a 5-0, a 5-1 and a 4-0 in the Blues' favour, although all occurred in Manchester and one of them was when David Moyes was still in nappies.

You see. I told you I wasn't very good at statistics. I get far too excited unfortunately. The facts remain, however, that this weekend's game is of the utmost importance in the greater scheme of things. United are faltering at last. Beaten somewhat unluckily by Real in the Champions League, they followed that up with a throw-away performance against Chelsea in the FA Cup, whilst City were walking five into the Barnsley net. Now, apparently, they are "tired". The Govan Knight's words, not mine. A strange time to start talking of tiredness, I'm sure you will agree. Not exactly spiritually uplifting; not the clarion call everyone was expecting; not the belligerent we will show them that football folk require around about now. There are chinks opening up in their armour. A team that has rode their luck all season, taking inspiration from the calm goal-getting of Robin van Persie, is now stalling. Is it too much to ask for the engine to putter out altogether?

This then, is the chance City have been waiting for. A tough game away at Everton whilst United entertain bottom feeders Reading, a club in turmoil with a super rich new owner getting a feel for the sack race. The omens are not good, you would say. City odds on to lose at their least favourite place in the league, whilst United cakewalk to victory over timid relegation fodder. Well, maybe, but also, thankfully, maybe not. This is why we keep going week after week, in the blind - often misguided - hope that something odd will happen. Something, for instance, like David Moyes' Everton visiting Old Trafford and going home with a point after a 4-4 draw. Something like little Wigan beating United 1-0. It has happened before, and not very long ago.

So, we travel in high spirits, in good faith, in boisterous optimistic mood, to back the Blues noisily in their quest for those precious points. All is far from dead in the blue section of the city. In fact, whisper it quietly, but hopes are on the rise.