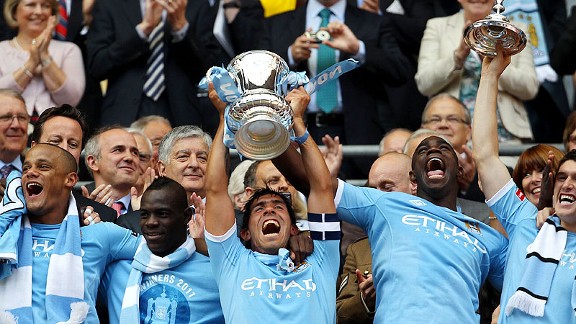 Adrian Dennis/AFP/Getty ImagesManchester City's 2011 FA Cup title snapped a 35 year trophy drought.
Reading my colleague Marc Duffy's emotional and heartfelt piece on his unquestioning support for the trophy-less, barren but still lovable Newcastle United, I couldn't help but think how much it reminded me of supporting City, right up until approximately three years ago when the odd sensation of being trophy winners started to hit the sky blue faithful after a gap of just 35 years.

I know 35 years is a mere drop in the ocean compared to Newcastle's 58-and-rising. And I know we football supporters do love to compare our levels of grief, but still, it means we City supporters know exactly how it feels to follow a fine club like Newcastle United. Unlike our rather spoiled brethren down at the Emirates, where eight barren years is making them wriggle in their padded seats, decades of empty promise take a proper toll.

- Koeman unaware of City link

I spent so many years absolutely convinced that I had jinxed City's chances of ever winning anything that, by the time it actually did come to pass, all I could do was weep like a seven-year-old who has finally obtained clear and decisive proof that it was Dad dressed up as Santa all along. It was while limping out of the ground cold and shattered after one of the annual Christmas holiday defeats to Liverpool not so many years ago, that my mind shot back through thirty-odd seasons of slapstick entertainment and abject failure to when this gargantuan journey all started.

I blame my cousin Andy. It could all have been so different without Andy.

As a young lad he used to insert spoonfuls of what looked like shoe polish into vol-au-vent cases for Sale Rugby Club's weekend dinner dances. In those days he was, as he is today, a year younger than me but was even then a well-built kid, towering above me as I craned my neck for a squint at the top shelf at his local newsagents in Brooklands. I was half a foot shorter and could not see past Motorcycle News. Andy used to wear a troublesome combination of a homemade red and white bar scarf and swimming trunks when we met up for our summer holidays. It had a lasting effect on me. To this day, if I see anyone walking towards me in a United scarf and swimming trunks combo, I cross over to the other side of the road.

At this time there was football on Thursday afternoons. It didn't seem odd at the time but then all that tripe was making me hallucinate anyway. It was the year of the fuel shortages; oil prices had shot up as OPEC countries made an early bid for the riches which would soon come their way. Hard-up football league clubs were forced to play during daylight hours to avoid the extra costs of hiring generators. I remember watching a match on the old Grundig between a grey and black mud-spattered City and a black and grey striped and mud spattered Coventry City. The date was January 16th 1974, soon after the official end of City's greatest period in history and the date that marks the official beginning of my own "affair" with the Blues.

It all seemed to fit. Here was a team full of mavericks: Lee, Law, Summerbee, Geoff Hammond. They played across the city from cousin Andy's lot with their Best-Law-Charlton axis of evil. Mick Horswill looked like the first reserve for Pan's People. It was perfect. When I saw manager Tony Book's outrageous flares there was no turning back. That season, after a strenuous League Cup run that took us past mighty Walsall, sturdy Plymouth, rock-like Carlisle and big time York City, we were to face Wolves, the first team in the entire run to Wembley not playing in the loudly gurgling bowels of the football league. We all laughed at Geoff Palmer's Three Degrees haircut, then Wolves won the cup. If I had realised that there was a very obvious pattern developing in front of my disbelieving eyes, I would have taken up sword swallowing instead. But it was far too late for that. City had got me.

By the following season things were beginning to move on. Cousin Eric, sporting his very own Geoff Palmer haircut, had a red tracksuit. I had a sky blue one. Someone had set rust agents to work in Keith MacRae's hair and it was becoming crystal clear that I had lumbered myself with something on a par with bedsores. In the FA Cup we had the good fortune to have to play an away tie against Newcastle at home because Newcastle fans had dismantled Nottingham city centre the year before. We lost despite the heaven sent gift of an undeserved home advantage.

Still the penny didn't drop. Instead I just got more hooked. Ged Keegan, Mick Docherty and the original Fourth Degree Kenny Clements were my new heroes. Clements looked like he should work in a butcher's shop. Docherty played as if he had a half pound of sausages tied around his waist. It was this season that an overhead kick by Dennis Tueart secured our last trophy before we went into hibernation. We weren't to know it then, but the 1976 League Cup, with Mike Doyle firmly attached to it, would be the last sight of a City captain holding a trophy until Carlos Tevez hoisted the FA Cup two seasons ago.

But ask any City fan - just as they would say in Newcastle today - and they will react the same way. The barren decades were just fine, for it is during those years of want that true character is built and that curious unconditional love for your club is cemented. Keep the faith.