City new boys weren't first choice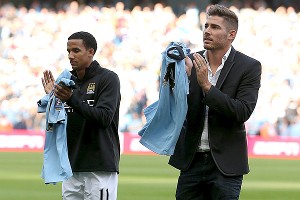 PA Photos / Press Association/AP ImagesCity's new signings, including Scott Sinclair (left) and Javi Garcia, have not exactly excited the club's supporters.
It strikes me that Roberto Mancini, far from being a relieved and finally contented man, must be stalking the corridors of the Etihad wondering whether Brian Marwood is on the same planet as he is. Marwood with a giant flea in his ear from upstairs, has spent the summer blocking Mancini's best moves. Mancini, with a bee in his bonnet, has spent the same period wearing an ever gloomier expression. When flea meets bee, I'd rather be a spider.

And what did the Italian end up with? His third choice for defensive midfield; another wiry inexperienced winger; another Balkan defensive Wunderkind; a full back who was world class ... three years ago and Richard Wright. Yes, that Richard Wright. The one that takes you back to the Nicky Weaver years, which is where most of my headaches started in the first place.

I have ruminated long and hard on the prospects of Javi Garcia following in the lethal footsteps of Nigel de Jong here so suffice to say the Spaniard is not clearly an improvement on what we had with NdJ. He may well add goals, which was the glaring hole in De Jong's armoury, he might add a little more fantasy in the passing department (although not much, judging by his penchant for the three yard pass to Witsel at the Estadio da Luz) but nothing else about him tells me it is an improvement on what we had. Mancini's envious stares towards Bavaria and Rome tell their own story in this department.

Scott Sinclair is a winger, who will play every bit as small a part as Johnson did before him, unless Mancini suddenly shows a less than typical liking for widemen. We have seen the fullbacks pushed wide and forward, Milner has had his moments stuck out on the right (looking uncomfortable and irritable) and both Silva and Nasri drift to the flanks as the desire takes them, so Sinclair will have his work cut out to make an impression. As with Johnson, he may well have to be content looking at his pay cheques and playing for England instead.

Matija Nastasic, at €10 million plus, 19-years-old, with the princely total of 26 Italian Serie A games behind him, could rightly be called "one for the future", just as was Stefan Savic, who has travelled in the opposite direction. Whether he turns into the new Nemanja Vidic or the next Stefan Savic remains to be seen, but we will not know the answer this season, that's for sure. With Kolo considering packing his XXL shorts for the trip to Turkey, City will once again sail close to the wind if anything untoward happens to either Kompany or Lescott.

Rodwell is dealt with at length in the earlier post "Welcome, Mr Rodwell. Please State Your Purpose". As expected, he has started promisingly and should be an asset in the same area of the pitch where we may see Señor Garcia put in an appearance or two. His early games have revealed a mature ability to play the safe ball and move the side gently forward when the opportunity presents itself. A solid start.

Maicon. Three years ago, this sort of transfer would have had hearts leaping and eyelashes fluttering, but that was then and this is now. Given a complete pasting by Gareth Bale in the Champions League two years ago, his star has continued to wane. It will be interesting to see him in England and if there is any of that fuel left in the tank, he may yet rip up a few tracks down the right flank. It is impossible not to harbour a flutter of excitement about his arrival, but doubts about fitness, pace and will to keep pushing the boundaries abound.

And so to Richard Wright. Well remembered as a stylish young keeper at Ipswich just as Nicky Weaver was emerging for City and just as the two sides were forming a reliably bristly relationship at the top of the Championship as it was, he then flopped terribly at Arsenal and never really recovered. A string of clubs followed as he, like Weaver, drifted gently into footballing backwaters. Somewhat oddly, he joins the Premier League champions after being released by...Preston North End. Mancini will be as surprised as I will if he actually appears between the sticks in anger.

Javi Garcia (£16,000,000), Jack Rodwell (£12,000,000), Matija Nastasic (£10,000,000), Scott Sinclair (£6,200,000), Maicon (£3,000,000) and, ahem, Richard Wright (free) makes up a total of £47.2 million. Whether it is £47.2 million well spent or £47.2 million spent on second and third choices is a moot point. It is clear that City's first eleven is already strong enough to compete right at the top. The crunch comes, as it did last season, when the likes of Hart, Kompany, Yaya, Silva, Tevez and/or Aguero drop out of action for any serious length of time. We coped last season during the enforced absences of Lescott and Kompany (at the same time), Tevez (seven month sabbatical) and Yaya for a month in Africa and we seem well equipped to do so again if need be.