Muddling through At Villa Park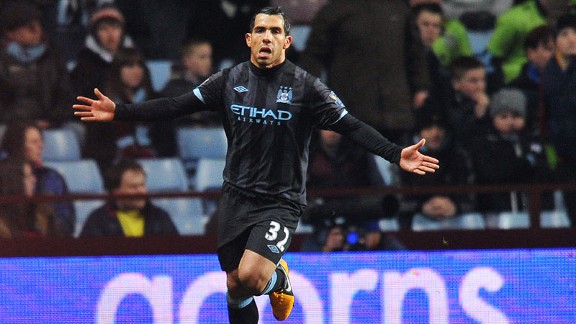 Paul Ellis/Getty ImagesOther than Carlos Tevez's clinical finish, it was a less-than-stylish affair as visiting Manchester City held off Villa.
If there had been a rake lying on the floor alongside the tunnel wall leading to the dressing rooms, you felt as if Jack Rodwell surely would have stood on it and whacked himself in the face, as he hobbled off to see what had happened to his leg.

- City stay alive in title chase
- Aguero out for Cup game; Rodwell could miss month

The young midfielder, for so long a shadow in this stellar squad of City's, has finally built up a decent head of steam and was in the process of putting in his third consecutive outstanding performance when something went pop and off he went.

Sometimes you wonder who is pulling the (ham)strings from up above us. You can only feel for the lad.

In truth, it was a little bit like that for the entire City team tonight. Edin Dzeko whacked the ball against his own legs to set up a Villa attack, Pablo Zabaleta saw his deft shot touched onto the inside of the post, Yaya Toure did much the same at the other end, Villa -- for so long this season a young team with no drive and no direction -- chose this occasion to wake up and put their heart into a really dogged display, while experienced referee Mike Dean decided it was finally National Whistle Night again.

Thus, we had all the ingredients needed for a complete and utter pea soup. That City struggled out of the stodgy grip Villa had them in and displayed verve and bite in those last 15 minutes of the first half said much about the character of Roberto Mancini's men. They bullied their way back in to a game that was threatening to turn against them and got their reward on the stroke of half-time.

Villa Park has seen Dennis Tueart hat tricks, David White quadruples and even scruffy Steve Lomas mis-kicks down the years, but the solitary strike by Carlos Tevez Monday seldom looked like it was to be joined by others. Aston Villa have long been City's favourite opponents since the Premier League was delivered to us kicking and screaming in August 1992.

Eighteen victories have come City's way against this particular foe since, a figure unmatched by any other City opponent. There must be something special in that fresh Birmingham air. It certainly filled the lungs of Tevez, as he weaved his way around keeper and defenders to slot past one last man on the goal line. It was a goal that City's mounting pressure merited.

Having gained the upper hand on the stroke of half-ime and struck such a timely blow to the Villa kids' fragile morale, it might have been logical to expect the visitors to go on and touch up this season's slightly measly goal difference, but this year's City vintage has lost some of the bubbles of 2011-12 and instead we were treated to a muddle and a fight, as Villa's youngsters upped the tempo and threw what they had at the Blues.

That City managed to withstand this minor onslaught was down to what we might want to start calling the usual suspects, for, as sure as City seem to be playing a makeshift defence, it just keeps on doing its job rather well. Whilst Gael Clichy was less impressive than of late, his three defensive colleagues were magnificent.

Since Matija Nastasic popped his head above the parapet for the first time at The Bernabeu last September, his has been a debut season oozing class and composure. Zabaleta too has long been marked down as one of the most improved players, never mind defenders, in the entire league and Kolo Toure has reinvented himself as a sure-footed limpet-like defensive rock. He is quite a sight in his emperor's new clothes.

With the added composure of the slow-but-steady Javi Garcia in front of them, the goals against column has ceased to move at all. The press appear to be beginning to pick up on this, although it has been plain that Nastasic in particular is something special for several months now.

City now reach a crucial moment in the season. Three games have yielded three wins and no goals conceded. It would be tempting to talk of growing momentum, but this performance did not feel like a worthy addition to the Cup thumping of Leeds and the comprehensive run-around given to Chelsea last weekend. A run of sorts continues, however, and let us all hope that it still intact once the next round of the FA Cup has taken place and once City's next three away fixtures in the league have been negotiated, for that will mean a berth in the semifinals of what increasingly looks like the only trophy left open to the Blues.

It will also mean that Mancini's boys have emerged unscathed from league encounters at favourite locations Goodison Park, White Hart Lane and Old Trafford. With nine clean sheets from the last 11 games, this may be a tall order but is far from an impossibility. The question is, will even that be good enough, given the gaping gap ahead of City in the league table?