Unlikely heroes step forward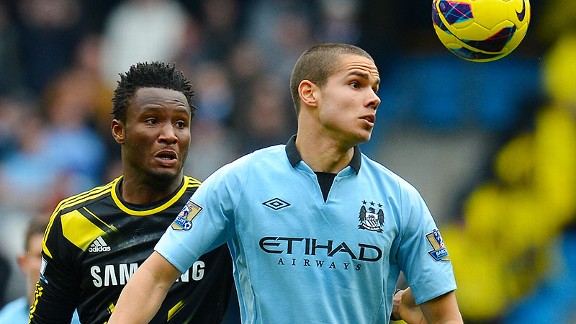 Andrew Yates/AFP/Getty ImagesJack Rodwell was the heart of the Manchester City engine Sunday.
A flowing masterpiece of a performance from Manchester City in their 2-0 victory over Chelsea on Sunday -- one that cemented second place and further strengthened the manager's hand in any end-of-season shootout with the press and the owners -- cast one or two of City's lesser lights into the spotlight for once. City climbed straight into their stride from the opening whistle, looked the part throughout and had the Unlikely Men shining perhaps brightest of all.

First up, Jack Rodwell, striding up and down the pitch as if it had been mown just for him. At last, the crunching tackles, the leggy bursts forward, the rangy jumping for those swinging crosses from David Silva. And head them he did. Every single one, including those that should have been meat and drink for the giant, lumbering Gary Cahill. That he had hit the bar with a good header against Leeds in the FA Cup told us already that the confidence had started to arrive -- suddenly, unexpectedly and how apt, seeing as Gareth Barry's season had headed so disastrously south at Southampton.

Rodwell was always a more-than-useful player at Goodison, albeit one Evertonians doubted would ever step up a grade and become a real big-game player. With the build and technique of a younger Steven Gerrard, the world seemed to be opening up for the youngster, but injuries, lack of form and loss of confidence have let him down and stalled progress. Perhaps this can be the beginning of his time.

Alongside the rejuvenated Rodwell, Javi Garcia did his usual impersonation of an Atlantic trawler, slowly dragging in its 35 kilometres worth of nets from the seabed. Strange thing is his slow-step, safe-ball game is beginning to fit in to the greater scheme of things, too. Whisper it in some quarters, but the big Spaniard is starting to benefit from all of the game time offered to him by a supportive Roberto Mancini.

Certainly, his prowess at Benfica, where he excelled in the bear-pit atmosphere of the really big games, stamping his authority and often proving pivotal at set pieces at the attacking end of the business, too, suggests that once he accustoms himself to the quick-fire nature of the English game, he can perhaps excel in his dragnet role after all.

Further back, Kolo Toure also chose this match to have his best game in a City shirt this season. Quick and decisive in the tackle, he shackled Demba Ba and later on the ginger-haired Torres (we can still see it's you, Fernando!) resolutely enough, the only glitch coming when Ba edged ahead of him for the penalty incident.

That Joe Hart redeemed his colleague with an elastic save low to his right saved face for both the goalkeeper -- again caught in an uncompromising position -- and the stopper, for once lost after the ball drifted in long and true off Branislav Ivanovic's canal-shaped right boot.

Touré was partnered by Matija Nastasic, who again hardly put a foot wrong. If this lad is not in the nominations for Young Player of the Year, there must be a good crop of players out there I have not seen. His timing and positional sense are already in the top bracket, enabling him to dispossess accelerating forwards with consummate ease.

He does not go to ground easily, instead preferring to jockey and tease his opponent away from the danger area. His is the head of a 28-year-old on the shoulders of a teenager.

In midfield, James Milner also had an excellent game. The incessant movement and constant runs down the right, meant there was always an out-ball on that side. Toward the end, aware that he was in the throes of completing a top display, his teammates started punting all manner of cross-field balls into space for him, some slightly over-ambitious even considering the rich form he was revealing.

In switching to a central role toward the end, Milner again reveled in the action and came out of it reputation enhanced. When fully engaged, he can be so much more than a minor cog in the machinery.

With Yaya Toure displaying his usual twinkle-toed athleticism and Silva carving out avenues of rich promise, the usual suspects also shone Sunday, but it was the unsung heroes who set the foundations for what was to become an exhilarating win for the Sky Blues. All is far from lost in this season of half- and three-quarter performances. If the feet are kept firmly applied to the accelerator until the season's end, 2012-13 might just still provide Blues supporters with something beautiful to remember it by.