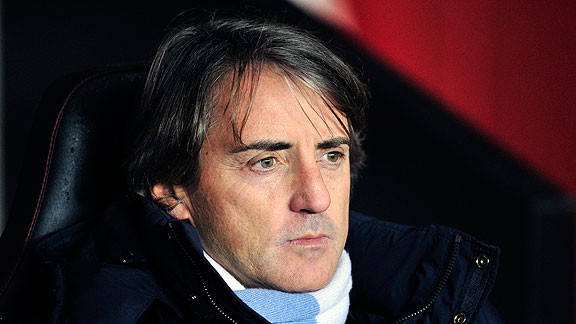 Glyn Kirk/AFP/Getty ImagesWith a repeat of their Premier League title out of reach, Roberto Mancini's City look to lock down second.
The gap is widening. The pulse is quickening and, according to many, the pressure is increasing. City take on Chelsea Sunday with clear blue sky between themselves and the leaders Manchester United. Fifteen points and rising. Where is the pressure in that, one is tempted to ask oneself. Surely, with a cushion so comfortable, there can only be less pressure by the week. This, barring something cataclysmic, looks more and more like United's year. Their ability this season to grind out win after win, even when playing less than coherently, points to the fact that this side will not give away the colossal amount of points now needed to swing it City's way. Through clenched teeth, it is worth praising the resilience of our red cousins and the ability of their manager to drag result after result out of a squad lacking the real star quality of past editions.

What pressure there is on City now comes from behind, not ahead. Second spot is something of a must for Roberto Mancini's men, otherwise the team in sky blue may start next season with the possessive case attached to a different manager's name. This may, according to many, happen anyway, whether Mancini brings the ship home to the calm waters of runners-up place and a possible birth in the FA Cup Final or not. City's owners have proved to be slightly less trigger-happy than those of their next opponents, however.

Chelsea, enjoying a poor season themselves in third spot, remain City's nearest challengers despite their travails. They are led by a manager that nobody at Stamford Bridge appears to cherish, with a 50 million pound striker that nobody appears to want. Rumours of City preparing themselves to spend similarly ludicrous amounts on Edinson Cavani of Napoli abound this very day. With each misspent pound, the Sky Blues edge closer to Chelsea territory, that place where cash tills register before the brain is properly engaged, where the club lurches from one not too-well-thought-out plan for world domination to the next.

As a result, many view a game between the London and Manchester blues as an occasion to lament the sad state the modern game has slid into. Two clubs spending eye-watering amounts to challenge the accepted elite. However vulgar some aspects of this expansionist policy may seem, neither club really had much of a choice if it wanted to really eat at the top table. Where collateral damage is most evident in this kind of volcanic shake-up of a club's structure and culture is in how its youth policy is nurtured.

Five short years ago, City's youngsters met Chelsea in the FA Youth Cup final. A glance at the sides in the first leg tells an interesting story:

CITY: Hartley; Trippier, Mee, McGivern, Tutte, Boyata, Weiss, Kay, Ball (Ibrahim), Sturridge, McDermott (Tsiaklis). CHELSEA: Taylor; Twumasi, Bruma, Van Aanholt, Gordon, Woods, Stoch, Mellis, Nielsen (Philip), Tejera, Kakuta

Startlingly, only one name stands out from those line-ups and he made what might be called his major breakthrough for Chelsea, having played in the final for City. Daniel Sturrdige now forms part of the Liverpool attack with Luis Suarez and is a regular full England international. The Youth Cup final is something of a prestige occasion in the English football calendar. This game has been graced in recent times by the likes of Wayne Rooney, Jamie Carragher, Frank Lampard, Rio Ferdinand, Michael Owen, Michael Carrick, Joe Cole, Theo Walcott, Richard Dunne, Alan Smith, Phil Neville, Harry Kewell, Gareth Bale, Jack Wilshere, Gary Cahill, Steven Sidwell, Tony Hibbert, Leon Osman, Liam Ridgewell, Adam Johnson, Chris Brunt, David Wheater and James Morrison, all of whom have gone on to have either stellar or solid professional careers in the Premier League. Leeds, Middlesbrough, Arsenal and, most famously of all, Manchester United (darn it, there they are again) have all brought through streams of young talent which have given birth to years of plenty for those clubs in the not too distant past.

United's famous crop of 1992 that formed the bedrock of so many trophy-winning years was perhaps the best example of a side being promoted en masse to the first team. Ironically, the last survivor, Ryan Giggs, scored at Loftus Road Saturday to help put his team fifteen points clear of the chasing pack. (A pack that both sides would like to reduce to a chasing pair as quickly as possible, no doubt). No such smooth transition happened for any of the players, who represented City and Chelsea at the end of the 2007-08 season.

The pressure at the Etihad and at Stamford Bridge these days, however, is quite different to most other places. Money has seen to that.