Studies in desperation - Emirates to Etihad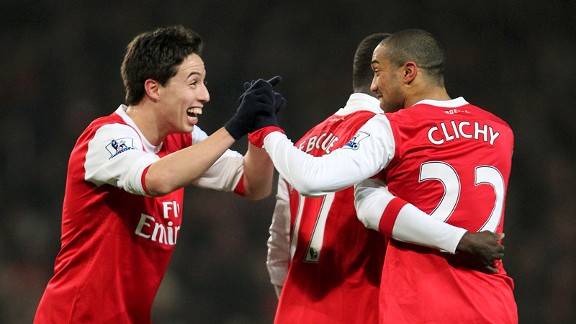 Press Association/AP ImagesSami Nasri, left, and Gael Clichy took the money and ran from Arsenal to Manchester City. Wage bills have made the standards almost impossibly high at both clubs.
Arsenal have not won anything, not a single thing, for eight years. They lie forlorn and marooned in a wretched fifth place in the Premier League and took a severe pasting from Bayern Munich on their own patch this week in the Champions League.

Arsene Wenger, that urbane man of blurred vision, is said to be on the verge of the chop. Arsenal supporters, meanwhile, are up in arms, bursting at the seams with bile and angst, at this descent into abject mediocrity. Fifth in the table! The concomitant risk here, of course, is that the Gunners might even miss the cut for next season's Champions League.

Yes, they haven't exited this one and they're already worrying about the next one. That's forward planning for you. While people in tight shirts reach boiling point about a lack of urgency, a lack of vision and a lack of money, yet others are running away with the family silver. The good house has been burgled many times already. Many of its assets have gone, snaffled by petty thieves and chancers, all gone on to do much better things in much more interesting places.

Kolo Toure, once a stalwart of the Arsenal defence, and quite used to holding aloft the odd pot as The Gunners managed the occasional triumph of their own, now plays, intermittently and with varying degrees of success, for Manchester City. He has winners and runners-up medals galore to prove it. Between 2002 and 2007, he made it to so many gala occasions, he was hardly ever out of his Christian Dior frock and Louboutin stack heels.

Emmanuel Adebayor, Gael Clichy and Samir Nasri also trekked the same route north in search of gold and - in the case of the latter two - found it, gleaming, tangible and real in the streets of East Manchester. Arsenal could well be done for. It might well be curtains for them. If they fail to re-qualify for the Champions League for the 12th consecutive season, the lights may well go out altogether.

I know, I know. There have been bigger crises at sea and nobody made a fuss like this. There were more stiff upper lips when the Titanic disappeared from view with everybody clutching their pina coladas than down in North London right now.

It appears the disease is catching. At the Etihad the talk is of City's season and indeed whole world imploding if the FA Cup is not brought home. A season so rich in promise has been downgraded to a bombsite in the expectation that the cupboard, so spectacularly bare for the last 38 or so years, might be so again at the end of season 2012-13.

The selfsame Kolo Touré, he of Arsenal 'Invincibles' fame, has stated as much himself this week, as reported on these very pages. Asked by the Times if "City would have to win the cup to save Mancini's job", he answered "Yes, of course. It's very important for the players, for us to win, because that will help the manager to be here, for sure." Not exactly the answer that made the headlines, but kind of close anyway.

The Italian produced his own stout if somewhat tongue-in-cheek defence of his managerial abilities, apparently stating he was the best manager in the Premier League and that, if he were to be sacked, then the rest of the division's gaffers might need to glance behind their backs too.

Mancini, famed for those irascible "mind games" deep into the tail end of last season, when his cod psychology had the great unwashed purring at the majesty of it all, is at it again with his lightly sugared nonsense. In fact, we're all at it. Disaster this, death and destruction that, petro dollar avalanche here, shameful trophy drought there.

It is sometimes difficult to keep up with the pace of modern football and its hungry needs. You win the FA Cup, bringing tears to the eyes of a sky-blue nation of doubters and pessimists, brought up on failure and self-destruction. You follow it up with a league title, won in the most idiosyncratically mischievous manner possible, leaving those same hordes fighting for breath. You clock a Community Shield to add to the haul (yes, I know, nobody except me counts this as a trophy, but touch it, look at its sheen and lustre, it's real!).

Your team is second in the table and faces a home tie with Barnsley to reach the semifinals of a cup, the third such an event - if it were to occur - in the last four seasons. And yet. And yet.

Whatever happens in the next three months, one thing remains crystal clear: first, Roberto Mancini has done a fabulous resurrection job on Manchester City, everyone's walking corpse joke up to his arrival in northern England. The carping about how much money he has needed to do it will always be there alongside the achievements, but no matter. Not a single modern-era trophy was brought to the table without investment.

These days that investment needs to be on the upside of colossal. Witness Arsenal's humbling at the hands of Bayern Munich. Arsenal are - as we have seen many times - no slouches in the transfer market, but their mid-range not-quite-superstars were taken to the cleaners Tuesday by a superior spending side.

Make no mistake where the power lies in modern football. Even Bayern, those paragons of financial fair play, have spent an absolute fortune on that admittedly excellent side of theirs. City will always have this to contend with, just as Mancini will always have the money factor thrown in to counterbalance his glowing achievements. "It's the least he could have done", they will say, "with all that money."