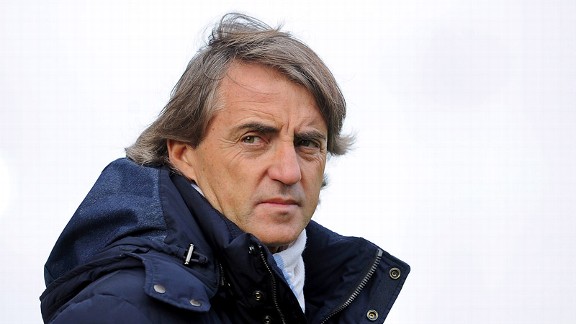 Chris Brunskill/The FA/Getty ImagesRoberto Mancini's men are yet to hit top gear this season
Dear Manchester City, I stand here -- not for the first time in our long and tumultuous relationship -- a little confused. You have given us two draws in the last two games, to add to an unbeaten run into the new year. Our dear neighbours reside up the road, nine doors further along to be precise, midway up Easy Street with their feet up watching the telly. Probably eating peanuts. I am not jealous of the peanuts but am a little confused about being in second place. I cannot make up my mind whether my glass has plenty of life's eternal juices slopping around busily inside, or is leaking its odd-smelling liquid out of the massive as-yet-unnoticed crack at the back.

- City must win all their games, says Hart

3-0, 3-0, 2-0, 2-0, 1-0, then 0-0 and 2-2. Tell me, is this a wobble before the fall or a pause in the middle of a quickening run towards the finishing line? Why does it echo so in here? Who has hidden my Brian Horton pills, and what is that big man in the lab coat doing with such a big syringe?

Since the annual festive collapse on Wearside, where City were easily beaten by a hitherto and indeed henceforth lethargic and sedentary Sunderland side, goals have been -- relatively speaking -- flying in. Four at Norwich, three v Stoke and Watford, two against Arsenal and Fulham, one at Stoke in the cup and two more v Liverpool. Is this a harvest of quasi-swashbuckling football, or is the goals trail actually beginning to dry up before it has properly reached a flood? None at QPR, don't forget, and that graph is definitely heading toward a pointy end, apart from the two last weekend, which, many would agree, were approximately two more than what was deserved and a mite fortunate given the run of play.

So are we right to be confused or is it just me? The man in the lab coat is nodding vigorously and flicking the top of the syringe like they do in Grey's Anatomy, but to which question is he reacting so positively?

Enough introspection. My ears are beginning to hum again. Let us instead try to work some of this giant conundrum out for ourselves.

Manchester City, most people will agree, have not yet hit their stride this season. The football at Newcastle and Norwich and Arsenal was tight, fluid and successful. Five flew past Villa, but in retrospect, that is none too special, given the heaving mess the West Midlanders are making of their season so far. The best football played by the team so far this season actually came before the season started properly, against Chelsea in the sun at Villa Park in the Community Shield. I don't want to worry any of you out there, but that was approximately six months ago and I have not seen anything better than the first 20 minutes of the second half of that game.

By my calculation -- and this is based on City's effect on your health being something akin to the difference between human and dog years -- I have aged another 13 years since then. Thanks to City, I am 157 but happily look only two-thirds of it.

The trouble is, and this is where it gets a little difficult, City sit comfortably in second place, may not have uprooted any trees, but could still feasibly collect the double at the end of the season. You might need binoculars and a super-strong stethoscope to join me in this willing and giddy prognosis, but there you have it. It is still possible.

Criticising City these days is fraught with pitfalls. You can be accused of being a Johnny-come-lately, of being deeply ungrateful, or simply disturbed, of not knowing your backside from your elbow and of not being there for the team at Lincoln and Walsall. When you hark back to Lincoln and Walsall, however, people climb all over you and tell you to stop going on about "wearing the badge of martyrdom and the horsehair underpants." You are hung out to dry if you complain and you are hung out to dry if you think it's all happy-clappy sunbursts and rainbow-coloured party jelly.

To tell you the truth, it all feels a little bit weird. Am I supposed to be happy with second place and a run in the cup? It is after all, miles better than the errant slap and tickle that passed as football during my first 30 years watching the Blues. I'm not supposed to mention it, but 1973 to 2003 did not feature too many full-on belly laughs. Quite a lot of hiding behind the sofa; a fair amount of wandering glassy-eyed down Claremont Road with the rain and wind rearranging my thoughts as I headed for the bus. A lot of "never agains" and "why do I bothers." Several "how could you do this to me's." And rather a lot of alcohol-fuelled bitterness. Look at the picture at the top of the page if you don't believe me. Do I look like a chap without a care in the world? Exactly.

So, Manchester City, my question now is this: Where are we? Where exactly do we stand? Are we in one of our little muddles or is it all about to become clear? Is that tapping noise I can hear the "drip drip drip" of our chances leaking away or the heartbeat of the champions who will fight on through to the 93rd minute of the last game of the season?

Make no mistake, we afflicted ones are quite ready for more drama. This boil-in-the-bag season of steady trundling can go up a notch to thermonuclear whenever you boys are ready. We can take it, after all. We survived the shredder you put us all through last May and we will survive the next little obstacle course you erect for us, of that you can be sure. So I raise a glass to you, gallant men in blue. It is about 50 percent full. Only you know, dear City, how I should interpret that.