Much ado about nothing - Mario departs as City held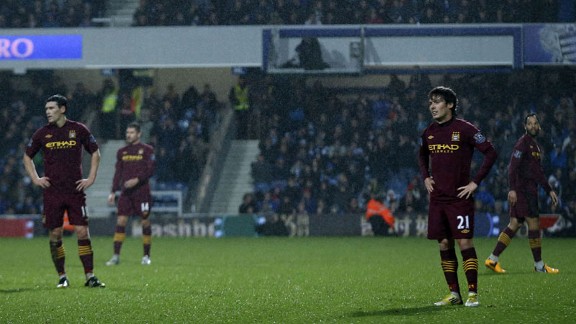 AssociatedManchester City endured a frustrating trip to Loftus Road
And behold, the faithful did flock to Loftus Road and waited for a sign, any sign. Black smoke. The news, then, was true after all: the Balotelli Era was over, consigned to the memory banks by a successful bid from signor Berlusconi's AC Milan. City would have to earn their plaudits without the Italian striker and his pyrotechnics. Removed abruptly from this land of rain and wind, he readies himself for a return to his Tuscan idyll, to gentle breezes, red wine and statuesque cypress trees.

- Smith: Missing Mackie casts cloud over solid Rs
- City frustrated by spirited Rs

Last May, Balotelli, lying prone, dug the ball out of a ruck of legs and prodded it forward to set up Sergio Aguero for the most eye-watering goal of Manchester City's modern history against, of all sides, QPR. With that judicious dig of the right foot, the Italian entered the pantheon of legendary City strikers. How the misfiring Blues could have done with some of his sparks Tuesday at Loftus Road, where the forwards were easily thwarted and the goals remained absent.

This, remember, was a Queen's Park Rangers side that had been totally dismembered by MK Dons in the FA Cup last weekend so completely that their distraught manager had chosen to give them all a very public dressing down in the forlorn hope of a response in the remaining league games that his team have left to extract themselves from their precarious predicament. And, lo and behold, he got it.

A weekend that also reminded City followers of the striking prowess of Messrs Dickov and Rosler, new managers both, experiencing the vivid highs of cup heroics with their new charges Brentford and Oldham against the might of former and current European champions Liverpool and Chelsea. In stark contrast City's own title aspirations took a stride in the wrong direction on the back of a dsiplay in front of goal that was at once feeble and misdirected.

What a far cry this all is from the free-scoring days of 2011-12, when City's goals scored column contained numbers that the likes of QPR could only dream about. Where Tevez huffed and puffed, the usual flurry of willing activity with sadly little result, Aguero ran the channels with panache and verve without ever seeming to have a clear sight of the whites of Julio Cesar's eyes. Where Silva dinked and swerved into blind allies and Milner seemed to overhit every pass on offer. Even the arrival of the totemic Edin Dzeko did not bring about the desired change. City were stuck fast and there was no-one to come to their aid.

The defiance of a surprisingly well organised Rangers defence was maintained right through to the 94th minute, by which time the vistors had long run out of ideas. Suffice to say, the one point gained would not have been of as much concern to neighbours Manchester United, preparing to face Southampton in a routine home fixture, as the hoped for three would have been. This then was an opportunity to inch to within two points of the leaders well and truly wasted.

On occasions like this, where neither the ball nor the opponent will comply, it is necessary to look elsewhere for plus points. This time, one could only say that the defence continued to look impenetrable, despite yet more enforced changes brought upon Mancini by the absence of his first choice centre back pairing and his first choice replacement therefor. Javi Garcia, deputising for Kompany, was neat and tidy in the first half, whilst Lescott looked assured alongside him. All of the problems occurred further forward, where City's creative force ran into a wall of hopped shirts.

Ultimately the paucity of the challenge from rangers was highlighted by the crowd's reaction at the end. Whilst the City faithful applauded Lescott and hart, the only two players to approach the away end, the home fans erupted in a gleeful response to their team's efforts. Amongst them, a small man of solid build with a wide-brimmed hat, a large Moroccan flag and a vuvuzela parped triumphantly on his instrument. He seemed to be playing City's song in an off-tune sort of way.