Man City fans should empathise with Villa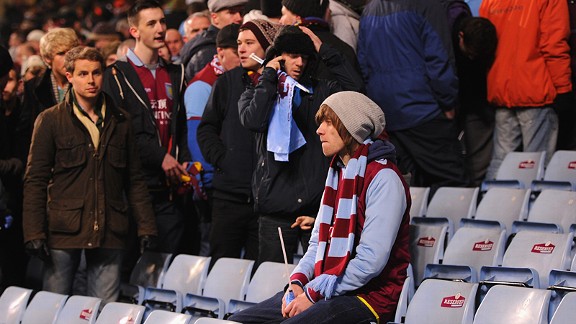 GettyImagesVilla have struggled this year, but they are not the only ones
Bradford City's notable achievement in knocking out Aston Villa to reach this season's League Cup final brings out differing emotions for followers of Manchester City: mirth at the haplessness of a fellow top flight side is always a good place to start for football supporters, but this is tinged with sympathy, as many of us have been in similar situations and - in the case of City followers - it brings back plenty of painful memories of times not so long past, when our delightful club would have had difficulty beating its way out of a wet paper bag on a night like the one Villa endured Tuesday.

- Delaney: Valiant Bradford leave Villa in tatters

City may now be looked at as one of the big guns, locked into that cosy cartel at the top of the tree, where nice people fall over themselves to offer praise, well dressed supporters appear out of the blue swearing they were there in the painful years "of 2003-4" and people nod sagely whilst strapping themselves into foam hands and half-and-half scarves. Indeed, such is City's rise, even fellow Top Four merchants are beginning to gang up against the sky blues in a thinly disguised bid to tip the playing field back in their direction. Led by that well-known charitable institution Manchester United, these grandees of English football, amongst them the paupers of Arsenal and Tottenham, are trying to curb City's spending for good by implementing England's very own FFP measures. As many have already said, if United think it's a good idea, then you'd be wise to read the small print.

Twenty years ago, Manchester United had bigger fish to fry and took great glee in reminding City supporters that their neighbours did not feature on their radars at all. Ignoring somebody can be far worse than insulting them sometimes. City were a speck on the horizon and were about to get a lot more distant in the ensuing decade.

Let us drift quietly back to season 1992-93 to begin with. The start of the gold rush. The inaugural Premier League season. City were early out of the sequinned hat, chosen as the first ever live TV game on a Monday night. There were dancing girls in Moss Side that night (a first for many of us), a parachutist with the match ball and a line of high blue fencing where the old Platt Lane Stand had been demolished in the summer to be replaced by what the Taylor Report demanded from football from now on: a matchbox stand full of executive boxes and a few desultory blue seats. Things were changing fast and, in City's case, a little too fast. Whilst the likes of United, Arsenal, Chelsea and Tottenham climbed aboard the gravy train, Manchester City were about to be run over by it at the Level Crossing marked "Turn Left For Lincoln!".

It was a season of assorted fun and games. The Blues drew 3-3 at home to Oldham. Gary Flitcroft scored the winner on his debut v Middlesbrough. In his own net. We watched through knitted fingers the haphazard progress of Rick Holden up the left wing. Did he have arthritis? Had he forgotten something important in the changing room? What exactly was the cause of his distracted looking sideways movements? A middling average season took shape a little with the January arrival of the FA Cup. City were held at home by Reading in the 3rd round, but triumphed easily in the replay at Elm Park. It was 4-0 and even the snake-hipped Holden managed a goal that night. In the 4th round, things came into sharper focus with a heroic win at Loftus Road in front of the television cameras. David White rasped in a beauty and Michel Vonk scuffed a second. City were on a roll.

As League form petered out, dumping City in the midtable mist, the cup draw was kind, delivering a home game with second division Barnsley for a place in the quarter-finals. In a rugged atmosphere, City prevailed 2-0 against the willing Yorkshiremen to set up a mouth-watering quarter-final at home to Tottenham. The big time beckoned. Again TV cameras focussed on Maine Road. A glittering cup semi-final hove into view. The glory, the drama, the prestige.

What happened next set the ball rolling for a descent through the divisions that - at one point - looked set to catapult City into the realms of the Unibond League. With the new Platt Lane Stand open for the first time, a 34,000 capacity crowd awaited the match that would herald a place in the last four, a nod to all our bubbling aspirations, a heartfelt "thank you" for all those dark days. Only they hadn't been dark days. Now we realise. They were a warm-up show to what was to come. They were in many ways light joyful days, compared to what was in store for us all.

Spurs, shorn of their attacking power Barmby and Durie, took City well and truly to the cleaners. At 4-1 down, there was a pitch invasion. Police on horseback appeared to clear the excited miscreants from the field. The packets of steaming excrement they deposited all over the Maine Road pitch came to be a testimony of what was about to happen to us all. City lost at Cardiff the following year. Soon the club would be playing them in the League. Shortly after the Welsh side would be a league above, as Macclesfield Town and York City shuffled self-consciously into view.

So, if you are tempted to laugh at Aston Villa this morning, remember that they look a little like Manchester City did in 1993 and, if their immediate future is anything like the gory years encountered by the Blues, you would be better off praying for them.