Does Pep's Step Create 'Special' Opportunity?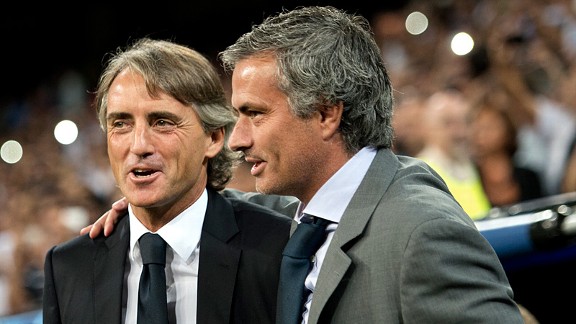 Jasper Juinen/Getty ImagesWith Pep Guardiola off to Munich, Jose Mourinho, right, will be heavily favoured to replace Roberto Mancini at Manchester City
In a move that surprised many football cognoscenti, Pep Guardiola finally made public his next career move Wednesday. He will, following an inner urge few had predicted, manage Bayern Munich in 2013-14. This is a fascinating, in many ways logical and certainly thought-provoking decision from a man widely tipped to come to England next. A man at the very top of his powers, with the entire football world to choose from, opts for the delights of the Bundesliga and Bayern.

Strange as it may seem to some of the more sensationalist tabloid hacks in the UK, who see football in broad, straight lines and primary colours, there is a lot to commend Guardiola to this marriage. Those who thought Chelsea and Manchester City were the only obvious choices for a coach who "wants to test himself" in a different football environment, have been forced to think again.

It is clear to all the Bundesliga has made giant strides in the last 10 years and produces a form of fluid football, in comfortable, affordable stadia (invariably packed to their expensively kitted-out rafters) that should be a lesson to the rest of Europe. Tickets do not have to be 62 pounds, or anywhere near it, and the accent on building youthful teams from within must have been an enticing prospect for a man who had constructed something similar in Catalonia.

What Guardiola's announcement does mean is Chelsea and City are now likely to become involved in an ever-more powerful vortex of stifling gossip and supposition as to who they will choose next. This, of course, presupposes one important thing in City's case: the departure in the summer of Roberto Mancini. While great tranches of the press get themselves in a sizable lather about this topic, there is nothing to suggest the small matter of a second consecutive Premier League title - with perhaps an FA Cup thrown in - would not keep the Italian firmly in the job for at least another year.

The double failure in the Champions League has left Mancini exposed at the rump. While his domestic record is a thing of relative beauty, the results on the continent are not very pretty at all. In fact, many might say that this season's efforts by his side in European competition are a little like gazing at a frog in lipstick.

Mancini has his critics, of course. Football is a sport that polarises opinion and creates slathering boors out of us all from time to time. He is as rigid in his authoritarianism, as he is in his adherence to tactics. His demands for thinking and ability that mirror his own efforts in the glittering days of yore at Sampdoria can have a negative effect on players when they fail to live up to his high standards.

His man-management and people skills leave something to be desired. His treatment of players not his favourites borders on the criminally negligent at times. But for all this, he has gathered City's millionaires and turned them into a formidable team, capable of breathtaking football when the mood grips them. The spirit that brought City's last-gasp title win in 2012 does not appear out of a lamp, after all.

In some circles, Mancini is already a "dead man walking" and indeed some of his actions, some of his words, suggest a man, who believes this to be the inevitable and dramatic conclusion to City's high ambitions.

With the arrival of chief executive officer Ferran Soriano and director of football Txiki Begiristain, it was understood that City were building a "Spanish welcoming party" behind the scenes in preparation for the arrival of Guardiola in the summer. This theory will now have to be revised somewhat, but may not have to be thrown out with the dishwater completely. Clearly there is another high-profile coach who may well be surplus to requirements at a Spanish-based European giant this summer.

Although this character may not be to everyone's liking, he is a proven winner, a great communicator in any number of languages and a motivator par excellence. He is an extrovert and may possess a mouth that goes off without checking with the brain first but, remarkably for City and their rich history of maverick players and coaches, the man in question was one of ex-City coach Malcolm Allison's first pupils in a dusty, forgotten corner of Portugal back in 1981 when English football turned its back on the legend of Big Mal.

As a young lad took his first glance at professional football, watching his father coach the goalkeepers at Vitoria de Setubal, he also saw the coaching genius and tactical sophistry of Allison, one of Britain's most forward thinking coaches of a generation, close up and in marvellous technicolour. It sowed the seeds for a career in football that has borne spectacular fruit. For José Mourinho, the name of Manchester City may just mean something slightly more special than we realise.

Read the full story of Malcolm Allison's time in Portugal and his influence on Mourinho here.