Kompany's rescinded red good for the game
When Vincent Kompany crashed through Jack Wilshire with a crunching tackle that Mike Doyle and Dave Watson would have been proud of in last Sunday's pressure cooker game between Manchester City and Arsenal, onlookers' first reaction would have been roughly divided between those in blue applauding a ferocious but clean interception and those in red and white who had been baying for retribution for over an hour and saw this as an opportunity for the referee to "even things up" after Laurent Koscielny's early red card in the same fixture.

- Jack Wilshere could use more protection

The Arsenal fans, and indeed those players who surrounded referee Mike Dean in the habitual fashion, got what they desired: a vigorously waved piece of red plastic in front of the disbelieving eyes of the City captain. Kompany crashed back to the ground in frustration at what was in his eyes a miscarriage of justice. Photographs and slow-motion replays later showed us all that the tackle had indeed been clean, if a little robust. Some argued that both Kompany's feet had been off the ground at the time of impact, but the defender had reached the ball long before Wilshire. Momentum, as ever, had carried the two players into each other in a formidable-looking crunch. It was this heap of bodies, immediately post-collision that provided the Arsenal fans and the referee the opportunity to judge it foul-play.

Kompany of course can well remember a similar call to arms from last year's FA Cup third round tie with Manchester United, when referee Clattenburg ruled that a similarly constructed tackle to dispossess Nani had broken the rules. The Belgian could think himself unlucky with that one, a decision unlike last weekend's which more or less paved the way for City's subsequent defeat and their early exit from the tournament. Here was a seemingly identical situation, a similarly constructed tackle and the self same verdict.

Until Tuesday that is, when an FA panel decided to rescind the red card, thus allowing the City captain to retake his place in the heart of a defence operating almost as meanly as it did last season. Kompany is essential to the working of this unit and with Stoke now confirmed as City's opponents in the Fourth Round of the FA Cup, his presence will be a big boost to the Blues' chances of surviving the experience intact. Whist Blues followers rejoice in this surprising display of joined-up thinking, shrill voices of dissent are beginning to fill the airwaves.

Naturally, the Daily Mail led the way, taking little time to take the side, any side, but City's, harrumphing self-righteously that "Referees have been left angry and bemused after the Football Association surprisingly overturned the red card shown to Manchester City captain Vincent Kompany on Sunday. Officials are banned from commenting on controversial decisions but Sportsmail understands that senior refereeing officials and matchday referees believe overruling Mike Dean's decision sets a dangerous precedent and increases the chance of players being seriously injured."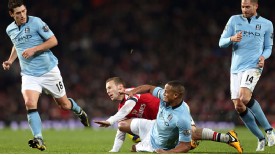 PA PhotosKompany's challenge on Wilshere
Where would we be, one is tempted to ask oneself, without the Daily Mail? How can the correct ruling on a well executed tackle increase the chances of a player being injured? Nay, seriously injured. The mind boggles at what these people might be feeding themselves on. Anti logic biscuits perhaps.

The Mail you see now thinks that officials will be "confused" as to how one should deal with such tackles. To my mind, it is reasonably simple. If the tackler takes the ball, it is not a foul. If the tackle is clean and does not affect anyone else, it is legitimate. Likewise if the tackle is clean, takes the ball, but takes the player to ground at the same time or as a result of momentum carrying the two protagonists into each other, then, again, there has been no foul-play committed.

Where a player is "out of control" as he goes into a tackle, then the dividing line is being crossed, even if the ball is hit in such a tackle. Dangerous or reckless play is certainly an area where referees can and should feel free to intervene. Kompany's tackle on Sunday was not such a case. The Belgian stopper is one of a variety of players who are still able, despite everything, to tackle effectively. It is an art, just like any other skill on display.

Football is in many ways unrecognisable from the sport some of us grew up with. The tackles of Ron Harris, Norman Hunter, Jack Charlton, Peter Storey and their ilk would seldom pass these days without a card of one colour or another being brandished, and in the case of Harris, a short prison sentence being handed down. For the sake of the game, the good, clean but hard tackle must not be obliterated from football. The art of tackling is alive and well. Whether we can see to it to arrange for referees and administrators, who understand this difficult art and are prepared to protect and preserve it, is another matter. If not, football as we know and love it, will take another step towards becoming a non-contact sport....