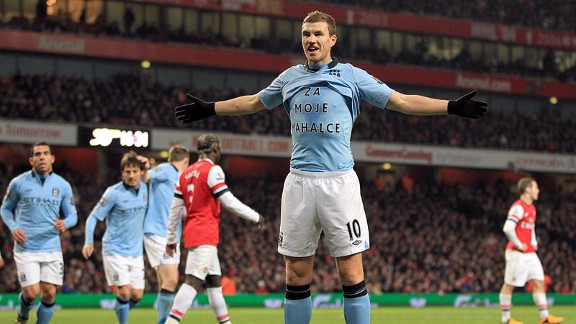 GettyImagesManchester City striker Edin Dzeko celebrates his goal against Arsenal
2011 - May 14th. Manchester City win the FA Cup at Wembley against Stoke. It is their first trophy since 1976, a period of 35 years
2012 - May 13th. Manchester City lift the Premier League trophy for the first time ever and are champions of the top flight of English football for the first time since 1968, a period of 44 years.
2013 - January 13th. Manchester City win a league game at Arsenal for the first time since the autumn of 1975, a period of 38 years.
2013 - January 13th - First ever linesman to tell the players to go and applaud long-suffering away fans who have "paid 62 quid over there, go and say hello".

Truly, we live in strange times and I leave it very much to you to decide which of those is strangest.

Some would say an entrance fee of £100, instead of the much talked about £62 that the away fans were charged on this occasion, might still have been a bargain in the circumstances. What a treat was served up for us all. As the records keep tumbling, some of us in the sky blue corner have to keep pinching ourselves. A trophy drought so long it would have dried Lake Victoria to a stream, has been followed by something really quite fancy. We seem to have unwittingly entered the Land of Milk and Honey. A win at Arsenal, which has eluded City for so long most there today will not remember it, confirms almost as much as the three shiny pots City have gathered in the last three years that the club has arrived on the big stage.

- Mangan: Gunners lose it in the first half
- Brewin: Arsenal masters of their own downfall
- Man City to appeal Kompany red card

For the record, Asa Hartford, Joe Royle and Rodney Marsh were the scorers on Saturday 4th October 1975 at Highbury. Only 24,928 watched as Arsenal pulled back to 3-2 through Alan Ball and Alex Cropley. One wonders how many of them made it to the match on Sunday. City fans have seen so many goals go in at the "wrong" end since then that it is a wonder there are still 2,000 prepared to put themselves through the mangle each season. Hope springs eternal, however. We forgive and forget. The pastings, the humiliations, the screamers from Henry and Bergkamp, the tricks and flicks of Wiltord and Pires, the punishment of watching Paul Dickov bounce continually off Steve Bould and Tony Adams, it all sinks gently into the dark recesses of the mind to gather dust.

Bould was the much heralded addition to the Arsenal coaching staff in the summer and, initially, everyone was ever so pleased with the effect of his defensive teachings. That soon came to an end, as Arsenal's defensive woes have returned. Indeed Laurent Koscielny's extravagantly affectionate tackle on Edin Dzeko after 10 minutes of today's contest had a little of that "they shall not pass" of the Arsenal of old. Koscielny is a native of Tulle in Limousin, a region of France famous for its love of rugby and for its cows, which speaks volumes for his slightly agricultural style. Tulle's local fly half could not have done a better job on this occasion. The town also started an ambitious policy for sport in the region, allowing it to be voted Most Sporting Region in France in 2008. Whether Koscielny's unsporting attempts at putting an early dent in City's attacking at the Emirates will spoil their chances of success in the 2013 contest is not recorded. Let us be charitable and hope not.

The early red card, awarded correctly by Mike Dean, who also managed one for Vincent Kompany and six others of a yellow colour, certainly tipped the balance towards City very early in the game. Kompany's card by contrast came so late that it had little effect, but what went in between these two cards was a festival of swashbuckling tackles, clever possession by the away side and a gradual frittering away of Arsenal's reserves of energy by the constant switching of play from one side of the pitch to another. For this, Milner, Barry, Zabaleta, Clichy and Garcia must be congratulated. The ball pinged from player to player, with red shirts covering extra ground to try to recover it. The fulcrum for all of this possession was once again the 'Little Magician' David Silva.

One lost count of the times a move of 15 or 20 passes looked like coming to an end, only for the ball to be funnelled through to the diminutive Spaniard and for another outlet to be located almost immediately. Where others see a forest of trees, the little man sees wide open pastures. He can thread it, ping it, slide it or dink it. He can punt it, caress it, slip it or drag it. He can reverse it, tuck it, flick it or strike it. In fact the only thing David Silva cannot do with a ball - and we must try not to hold this against him - is make it disappear altogether, although Wilshire and Ramsey might want to argue even that point.

Indeed arguing was what Arsenal seemed to do best on this occasion. I have little doubt that the early decisions got their goat, but seldom can a Wenger side have badgered the referee so thoroughly and so frequently as today. Perhaps the players out there on the pitch were aware that they would go down in history as the first Arsenal team to concede on home territory to Manchester City for 38 years. Funny as it may have seemed 10, 15 or 25 years ago, that in itself is no longer anything to be greatly embarrassed about.