Three and easy (again) for Man City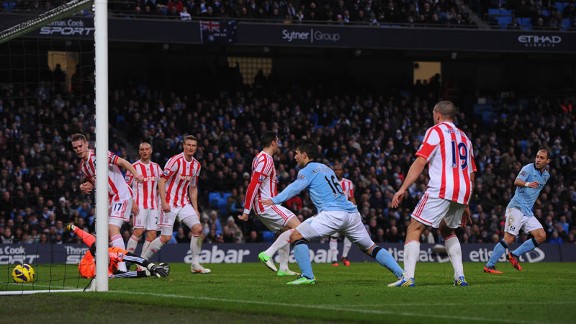 PA PhotosPablo Zabaleta slots home for Man City against Stoke
On Boxing Day 2009, Signor Roberto Mancini, wearing warm clothing against the biting Manchester cold, walked into our lives and orchestrated a simple, untroubled 2-0 win over a cumbersome and lumpy Stoke City in his first game in charge of Manchester City. All that has changed in the ensuing three years is the Italian has added a blue-and-white scarf, the FA Cup and the Premier League title to his possessions of choice.

- Whittaker: If it ain't broke...
- Champions brush Stoke aside
- Aguero injury blow for Man City

Whilst Tony Pulis' cross between a rugby team and an articulated truck continues to play like a subdued brontosaurus on its visits to Manchester, it is a much more lively prospect in the Potteries, backed vociferously by that interesting Stoke crowd and their peculiar taste in live sport. An intriguing question begs to be asked: Pulis whimpered at the game's completion about the 220 million pound difference in the worth of the two sides, but this difference seems only to become evident in Stoke's away games. As a Man of Football, the erudite Stoke manager will no doubt have a sensible answer for that one.

Many in football see Pulis as an example of how to galvanise average players by barking at them as if the team members running around in red-and-white stripes were all in the army. Others are completely nonplussed by Stoke's rugged style of play. Still others wince at the medieval tactics of the likes of Wilkinson, Shawcross, Jerome and Huth, players who are as alien to the silky touches of David Silva as a Doberman is to licking marshmallow pieces off a toddler's fingertips. Whichever side your bread is buttered, this Stoke side made for particularly painful viewing.

City's modern history and indeed Mancini's Mancunian history is tied up tight and secure with that of Stoke City. The aforementioned FA Cup success, so very long in coming, was achieved against the Potters and it is Stoke that seem to arrive every Christmas holiday for their ritual de-boning, ending up filleted, flambéed and devoured by their hungry sky blue counterparts. As the scoreline suggests (and the past three between the two sides at the Etihad now all stand at 3-0), this was another stroll in the park for the Italian's troops. City never really climbed out of second gear and Stoke, time wasting from the 20th minute onward, with support singing "boring boring" at City and cheering United's result at Wigan, got precisely what they deserved. The sight of Huth earning his yellow card with a lazy, late and deliberate swipe at Sergio Aguero long after the ball and the player had passed his slow-turning bulk, just about sums up this Stoke philosophy.

There were more delicious coincidences to savour. Zabaleta, then Dzeko, then Aguero is a scoring sequence burnt into the subconscious of every Blues fan across the entire planet. Just looking at the newspaper columns of results and statistics will bring a wry smile to thousands in the morning. In each of the past four seasons, the home games with Stoke have been dead in the water as a contest by early in the second half. The Potters seem to turn up with an plan of attrition, swipe and blunder, which usually goes sour within half an hour or so. They follow up with more of the same, despite the fact it has failed them already. This is the good side of Tony Pulis: he sticks to his (rusty old) guns.

What is not strictly a coincidence these days is how City play well when Gareth Barry plays well. Here is a character without Zabaleta's claws and muscles; a gentle, well-spoken lad, quiet and unassuming, Barry ticks along in midfield whilst others prod and probe and slice and crush. He was missing at Sunderland when the side functioned poorly, but at Norwich and against this Stoke side, Barry was at the heart of everything tidy and productive about City's midfield, both going forward and in retreat. He has added laser passes and little, flashy Silva-esque dinks to his list of qualities, but remains the archetype midfield cleaner doing exactly what it says on the tin. No team should be without one of these invaluable players.

Barry, Kompany and Zabaleta were the only survivors of that opening Mancini game in 2009 who made the starting lineup on Saturday (Tevez also played in that first game, but was a substitute this time), showing that, despite the avalanche of stellar talent that has drifted through the front doors of the Etihad in the past three years, the manager has a clear idea of what a team needs to be successful. The unseen work of those three players, at times unspectacular, always precise and effective, is the bedrock of what Mancini and his staff have achieved thus far and will be the foundation for whatever comes between now and May.