Feasting at Delia's house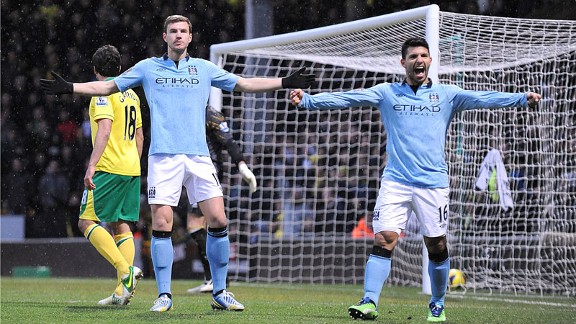 PA PhotosEdin Dzeko celebrates with Sergio Aguero after putting Man City into a 2-0 lead
Oozing class like one of Delia Smith's Christmas puddings, Manchester City's ten men put in a shift at Carrow Road, which revealed to us exactly what this side is still capable of. The doubters and the moaners have had opportunities to persuade us all that this Class of 2012-13 is not good enough to hold on to its title, won in extremis last May, but here, in extremis absolutem, with the side reduced to ten before the first half was over, City just kept going at Norwich. What ensued was part Keystone Cops Christmas Special part Swan Lake and utterly riveting from start to breathless finish.

- Davitt: Norwich fall in a festive thriller
- Man City win thriller at Norwich

City appeared in Norfolk having hit Norwich for five and six in last season's league encounters. The total goals in those two games were six and seven. Quite how they did not manage to go at least one better in this one is anybody's guess. As Vincent Kompany summed up on Twitter after the match: "Wowzers, what a game! Unlucky with some of the decisions but this game was everything the Premier League is about...". Apart from the Belgian captain's choice of expletives, it would be churlish to disagree with anything else. This was the ebb and flow, the attack and defend, the noise and colour that makes the Premier League the most watchable football fix on the planet. The noise did not abate for a moment, the effort and skill was maintained throughout. Players leaving the field at the final whistle featured heaving chests and sweat drenched shirts without exception. What a treat they had put before us all.

After such a colourless display in the North East, it was imperative that City got back on track as quickly as possible. With Dzeko preferred to Carlos Tevez, we would have yet another opportunity to see how the big man fared being played from the start. He could not have attracted out attention any better if he had entered the field wearing a traffic cone on his head and throwing gladioli to the crowd. The majesty, speed and one-touch splendour of the first goal was eye watering in its simplicity and devastating in its beauty.

Within four minutes of the referee's starting whistle, City had a two goal lead, with Dzeko slapping in the first and the second. How we had missed the big Bosnian and his razor-sharp finishing and glued-on first touch. A confidence player, Dzeko's previous appearances had revealed the other side of his football character, with wayward shooting and the gentle touch of a diplodocus calf, but here he was as lethal as a silver bullet.

The first goal required only a pretty frame and a "please don't touch" sticker and it would have been ready to show at The Louvre. One touch, tippy tappy football, through Nasri and the wonderful David Silva to Dzeko and into the back of the net. The second featured a snow plough impersonation from captain Kompany, as he drove out of defence, clean through a mighty collision in midfield to set up Aguero, who shifted it back to Dzeko. In a flash the ball was past Bunn again. Baked, buttered and devoured. I know not whether Delia has plans for a new cookbook, but Manchester Chicken Tikka Taka surely deserves a page all to itself. The master chefs on this wet afternoon were messrs Gareth Barry, Yaya Toure, Sergio Aguero, David Silva and Edin Dzeko.

That Norwich fought back into the game after such a violent slap in the face was testimony to the job Chris Hughton has done instilling drive, passion and quality into a squad lacking superstars. Two names which did stand out were about to hit the headlines, however. Javier Garrido, an ex-City left back infamous from Sven Goran Erikssen's time in charge for never actually having played in the position a left back is supposed to play, added two of his own attempts on goal. Obviously longing to be back in the sky blue of Lazio, or indeed City, on both occasions he was facing in the wrong direction and delivered a swooping left-foot shot and a cushioned header, which gave his own keeper plenty of work to do to keep them out.

Norwich's other Big Name is Sebastian Bassong. By the 60th minute, it was the one on every City supporter's lips too, as first he took an agricultural swipe at Nasri, then rubbed foreheads with the incensed Blue. Referee Mike Jones of Chester, who spent the entire 96 minutes on the brink of creating anarchy, ruled somehow that a leg breaking tackle was worth a yellow and a reactive rubbing of head to head was worth a red. It will take an intellect far greater than mine to work out the logic in that one, but one ex-player's comment that "that little flick and rub was the difference between yellow and red for me" may help the hard of thinking somewhere.

Although the decision seemed harsh on Nasri, this was not a day to quibble about just one more half-baked refereeing performance. It was a day to stand proud and bellow Blue Moon, a day to clap until your fingers ached and to raise a festive glass to the lion-hearted boys in Blue for an incredible tenth consecutive win after losing a Premier League game. That takes resilience, guts and fortitude, basted with the flowing juices of creativity and class.

Happy New Year to all Blues! May there be many more victories like this in 2013.