A breathless derby leaves City adrift
"Four players booked, two others sent off, 45 fouls, a break of five minutes whilst the survivors calmed down, not one goal and only about five minutes of genuine football, in the closing stages. These melancholy events summarised one of the most atrocious games ever played by Manchester City and Manchester United. The only consolation -- if that be the word in the circumstances -- was that there was no invasion of the pitch by spectators."

These are the words of that old doyen of the quill pen, Eric Todd of The Guardian, after a right old scrimmage of a derby in 1973 ended goalless and soulless. Ironic, then, that the 2012 version had everything that the 1973 version palpably lacked, with the added irritant of manifestations of crowd unruliness, as the great man himself might have put it. In 2012, we have scum, we have vermin, we have in-your-face behaviour. Todd's Parker pen might well be turning in its little red velvet grave as we speak.

Someone remarked that our behaviour at derby matches betrays a lowly, dark side of humanity, and although it may be true for some folk, this raw steak occasion between two powerful sides lived up to its billing as a clash of this season's titans, which the Red Devils won 3-2. Not much these days actually grips an entire ground quite like a derby match delivered at top volume and driven in fifth gear for an hour and a half.

Martin: United shade blood-and-guts derby

Richard Jolly at the Etihad Stadium

The defending from both sides means that neither will be sure of any silverware if it carries on in this manner. But the derby leaves the noncommitted spectator, if there are any on an occasion like this (pictures later revealed a small group of visitors at the front of the stand taking pictures of any player that came close, sharing a Tupperware of biscuits and a flask and wearing that most coveted of Mancunian derby attire, the half-and-half scarf), on the very edge of an array of emotions that are seldom experienced in any other walk of life or activity without the aid of heavy strapping, hallucinatory medication or an elastic trapeze.

This was modern football at a gallop; fast, athletic, piercing and accurate, played at an unrelenting pace with a streaked backdrop of fizzing spectators and ear-shredding noise. In many ways, we've come a long distance since the days when Mr. Todd would have been forced to pass comment on Franny Lee's well-filled shorts, the mud bath in the centre circle and the sartorial delights of old Bobby Charlton's flip-over and Rodney Marsh's thatched cottage look. Here we were delivered Mario Balotelli's well-shaved mohawk, Robin van Persie's cropped badger, and icon of our times Wayne Rooney proudly wearing someone else's hair woven into his own balloon-shaped bonce. Quite some sights, it must be said.

Although Balotelli appeared to be weighed down by concern for his hair and what his manager thought of it and him (not too much, as it turned out), the Badger and the Hairpiece had come to play. With City sloppy in the first half, Rooney, playing deep, made hay. With the first 15 minutes seemingly played almost completely with the ball in possession of blue-shirted players, suddenly United were in front. Sleight of hand, trick of the light, call it what you like -- but the ball was in the back of the net, put there by Rooney's scuffed mishit that appeared to skittle into the opposite corner from the one his hair was pointing at.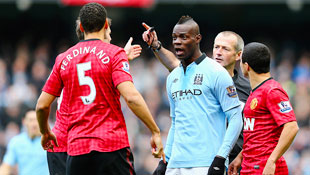 Clive Mason/Getty ImagesSunday's derby was not the place for Mario Balotelli. Where Carlos Tevez injected pace and fury in his stead, the Italian striker simply couldn't influence.
There was no doubt about the validity of Rooney's second, nor about the stunning resurrection caused by Carlos Tevez's introduction to the City ranks. Where Balotelli saunters, Tevez rages, and rage was what City needed after a first half of posturing and panting. What ensued was a theatrical onslaught on the senses, the noise, the colour, the passion, followed by the blood and guts of a match boiling over the sides of the cauldron that it had been played in from the first minute.

As City pressed for a winner that would have brought the house down, United scored instead, Samir Nasri's showgirl flick of the leg more fitting to the Moulin Rouge than last-ditch Manchester Derby defending. As Manchester City legend Mike Doyle might have said in 1973: Get your face in front of it if you have to. Quite what he would have made of Nasri, poking a thigh out from behind Edin Dzeko, is anybody's guess.

City were undressed in the most public of manners, and in those critical extra minutes that have come to play such a huge part in Manchester derbies over the past few years -- Michael Owen, Rooney and Paul Scholes have all netted between minutes 92 and 96 against City in the past four years.

Pablo Zabaleta, an iron-willed example to everyone all afternoon and wearing the captain's armband like a badge of intent once Vincent Kompany left with injury, wilted in despair. It was he who scored the classic equaliser in those tumultuous last fifteen minutes, but van Persie's free kick left the Argentine's sweat-stained body crumpled against the far post. His had been the most enormous effort of all, an example if ever there was one of what Argentina gives to this Premier League and to this Manchester City side.

Along with the tigerish Tevez and the metronome Sergio Aguero, the trio displayed a level of controlled aggression, indomitable drive and fearsome will to win that will serve City well for the rest of the season. For the Blue three-quarters of Manchester, City must lick wounds, hold heads high and prepare to treat the rest of the season the way the second half was treated: with passion, skill and drive.

Tonight we congratulate a worthy opponent, shake ourselves down and recommence the chase. Tomorrow, when the waves have finally settled on this cataclysmic encounter, talk of other unmanly affairs, as Todd might have called them, may begin again.