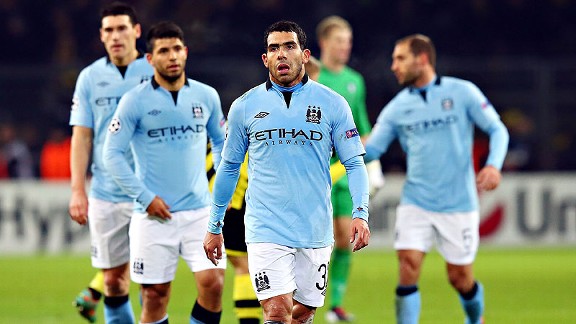 Martin Rose/Getty ImagesWatching yesterday's games, a pretty obvious consideration came to mind: Matchday 6 is, too often, an absolute dud. But there's a way to fix this.
Manchester City's European campaign passed quietly away on Tuesday night. It left 3,000 bereaved souls in northwest Germany, cold, in a state of disrepair and in growing disorientation, plus many other family members scattered around the north of England and thereabouts.

It was just three months old. It will be sadly missed by many thousands of well-wishers who asked to be remembered to the bereaved on their way out. It leaves 47,000 souls with nothing to do on a Wednesday night.

Unlike many who pass into the fluffy, cossetted kingdom of Thursdays in the Europa League, City have gone directly into oblivion. As a result of stubbornness, a willful refusal to follow doctors' orders and play four at the back, City's health had grown increasingly weak during the autumn until, after a brief spell of rising temperature and increasingly pallid appearance, the patient fell as cold as a slab of Westfalian granite.

Over the years City in Europe had a long and varied history of over-indulging on alcohol, firecrackers, cream cakes, fast sports cars and racy women. It lived close to the edge and enjoyed itself to the full at all times. Even as a youth, it indulged itself fully, warning the football world through its feted parent Malcolm Allison that, "it would terrorise the cowards of Europe". This came even before City in Europe had even become properly acquainted with Europe in the first place.

In a departure from the intended script, a crew of badly behaved Turks put a stop to the bragging and Allison took his City in Europe back to the drawing board. The second attempt was to be much more like the good doctor ordered, with the swift and energetic pummelling of Bilbao, Lierse, Coimbra, Schalke and Gornik leading to a Victory not repeated up to today's tragic denouement. City in Europe was at last a success, in Vienna, making others sit up and took notice.

Since then, a variety of setbacks took their toll on City in Europe's health. Afflicted by a Boniek and a Simonsen in the 70's, City flew through a variety of unusual European relationships with total abandon. The patient became infected in Lodz, was then laid low by a terrible bout of Borussia Monchengladbach, but, despite the severity of the illness, survived to tell the tale. In days of better health, Liege, Twente of Enschede and Milan would be dispatched without a second thought.

Later, in a state closer to rude health than for a long time, City in Europe attempted once more to climb the continental ladder, dispatching first the honest men of TNS, before hitting a brick wall in the snowfields of Groclin. There the patient contracted a terrible does of Dyskobolia and nearly perished altogether.

The laughter (guffawing, snickering, spraying of cornflakes and milk) emanating from so-called countrymen very nearly laid the patient out, but another recovery was made and subsequent health allowed trips to Thessaloniki, Gelsenkirchen (to take in the rich air and the medicinal waters of the Ruhr), Nicosia and Torshavn (to eat herring and bathe in the icy waters of the northern Atlantic) bringing respite and even a surge of recovery, before a relapse on the treacherous streets of Hamburg, where temptation lay at every corner and every corner went directly into the crowd.

In more recent times, City in Europe had once again showed signs of an upsurge, before confounding its doctors by almost ceasing to breathe altogether. Trips to take in the holy waters of Amalfi, visit the cleansing rituals held in Bavaria every September and sample the olive and red wine diet in Madrid, only resulted in the patient growing ever more sickly and complaining of having too many in midfield and not enough upfront. With this in mind, City in Europe tried on two final occasions to pump life back into its continental self by, first of all, showing up in Holland, wearing a jaunty hat but no undergarments, then arriving in Germany with a heavy dose of the Sinclairs and a badly blocked Garcia.

As a result of this final folly, City in Europe ceased to breathe and was proclaimed stone dead at ten-ten p.m. continental time.

The coroner, stating lack of depth, lack of suitable tactics and lack of thrust as causes of death, announced, "Manchester City in Europe will be missed by many, friends and foe alike, those that liked to roar their support and those that liked a belly laugh, those that did the Poznan in Salzburg and those that preferred to fall asleep in the Madrid metro. It was many things to many people and will be sorely missed. All that remains to be said is to offer our condolences to the rest of the Premier League, who now have little chance of success therein and to those entering the FA Cup, with special thoughts going out to Watford, whose loneliness and feelings of hopelessness the rest of us can only imagine. We request no flowers be sent and as few jokes as possible be propelled in our general direction at this difficult time..."