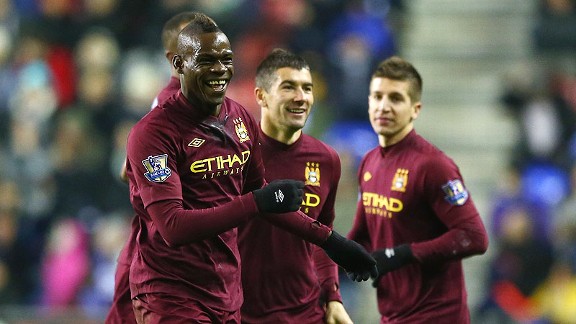 Michael Steele/Getty ImagesMario Balotelli celebrates scoring his first Premier League goal of the season in Manchester City's win at Wigan.
There was so much Spanish being spoken around the icy ramparts of the DW Stadium as City strode into town, one could have been forgiven for expecting the night's menu to feature -- writ large in pleasant script -- a large appetising portion of tiki-taka.

- Balotelli, Milner keep City in second

There were four Spaniards alone, plus a Spanish manager, a host of Argentinians and a bevy of others whose mother tongue may come with an accent, but is also most certainly traceable to the Transatlantic jaunts of Senor Cortez and his cohorts. What we got instead was commitment, tackling, visible clouds of hot breath from heaving lungs and a great deal of dash and hope.

We had a Spaniard on one side, Jordi Gomez, auditioning for a part as Camacho the Killer, and on the other side in the maroon of City, Javi Garcia doing a passable impersonation of a Morris Minor. Some called his performance understated, while others labeled it subtle in its efficient use of time and space, yet others said it was off the pace and inaccurate. Whatever the truth -- and it almost certainly lies somewhere in between all of these descriptions -- the ex-Benfica bulwark has not yet found his feet in the English game.

Several on the City side have, though, and the twinkling variety once again belonged to David Silva whose touch, vision and panache are oozing back into this City side. What a difference it makes to see him purring in midfield, although Mancini's choice of Yaya Toure, Gareth Barry and Garcia to fill the other berths smacked a little too much of caution. Barry, continuing his excellent form from Stamford Bridge with possibly the man-of-the-match performance here, covering every blade, while Yaya seemed more in tune with things after his directionless show in London. But with Garcia limited to his usual short passes, many of which were not finding their target, City were missing a trick in midfield during an uneventful first half.

Watching, half-mesmerised, as the ball cannoned from Sergio Aguero to Maynor Figueroa, onto Mario Balotelli then Franco Di Santo, before hitting Yaya and bouncing over to Jean Beausejour, the exotic names made it feel like this should be anywhere but Wigan. Older minds drifted gently back to the days of yore. Not a Spanish accent in sight, nor an Italian, Belgian or Ivorian one for that matter.

There were Tunks, O'Keefes, Bradds and Cribleys set against Catons, Bakers, Boyers and Ransons, all in the dark, clinging, malodorous mud of Springfield Park. City wore shorts that gave the wearers high-pitched voices and shirts that yelled out not only "Saab" but "This is the Eighties!" Wigan was a place of pure, unreconstructed thud and blunder. A grass bank at one end, rickety terracing elsewhere and the steam from a thousand cups of Bovril.

Later the dynamic duo of Paul Dickov and Shaun Goater would prance those mud puddles, in a side which ended a season of third-tier football at Wembley for an unforgettable meeting with both fate and Gillingham. The referee that day? Mark Halsey -- a man who as recently as last month had whistled for a penalty when John Arne Riise threw himself in front of Pablo Zabaleta at Fulham -- this time stood transfixed as the same Argentinian made tender contact with the flyaway Gomez, a man who had been looking for freekicks all night. The world and Wigan held its breath. Mercifully, no whistle.

Wigan play in a very different place to the spattered mud façade of dear old Springfield Park and Roberto Martinez must take great credit for what has been constructed. His namesake on the away bench takes few plaudits for anything these days. Many grunts were heard when he dropped Joleon Lescott, a more than capable partner for captain Vincent Kompany throughout last season's title campaign, but they are few and far between now thanks to the startling form at the back of young Matija Nastasic who had another storming game.

His composure on the ball, reading of opponents' attacking intent and calm tackling and closing down kept Chelsea's A-listers at bay at the weekend and produced similar results against the lively Arouna Koné at the DW Stadium. For those that are still having trouble pronouncing the young man's name, as he seems set for a long and successful future in City's back four, it may well be worth starting to practise. The secret, as with all difficult words, is to break it into separate syllables: "Ba - re - si". Easy.

The other stars of the show were easy to spot and even easier to pronounce. On a night where the musical lilt of Spanish was unavoidable, it is pleasing to report that the show-stoppers were the exceedingly Anglo-Saxon Barry and James Milner, one for his non-stop commitment, tackling and safe (take note Javi) accurate passing, and the other for a rocket shot that was hit with such venom, it may have played a part in the midfielder's tweaked hamstring before the end of the game. And thus a game that was becoming complicated with fussy prose and strange accents, suddenly straightened itself out into simple, concise language. Away win, three points, second place. Viva Mancini.