'Crisis' City clear at the top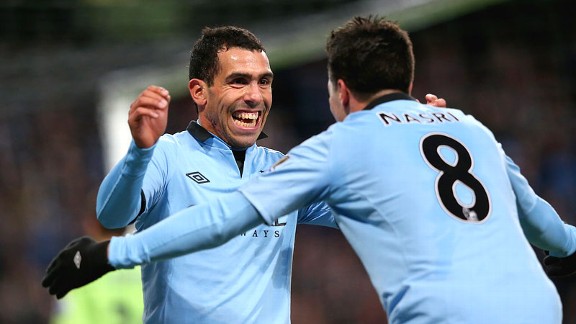 Alex Livesey/Getty ImagesMan City in crisis? Not if Sergio Aguero and Carlos Tevez have anything to say about it, as they did vs. Aston Villa.
As the week drew to a troublesome and painful close, Roberto Mancini, a man haunted by the past, hunted by the present and shunted into a future uncertain, took to wearing a David Platt mask -- a sure sign of embarrassment at being in charge of the grand failed "project," of being labelled a failure and a fake, and worst of all, shame at being called out for having messy hair.

What fresh hell is this, he must have been asking himself, as he perused the league tables to see his crisis-laden team sitting uncomfortably in second place in the worlds best league (c). His team, floundering way behind the dashing knights of Old Trafford, was still the only unbeaten side in England by some loathesome quirk of fate having not lost at home in the league for nearly two calendar years (what an unsightly run of luck that must have been). Yet his expensive charges were disobeying orders, clearly all washed up and blithely entering the whirling centre of the hurricane marked "Abandon Hope."

Into this barren abyss, this drying desert of cacti and wiry, desperate looking snakes, came Aston Villa. Now, Aston Villa probably make you think of Dennis Mortimer, Tony Morley, Gordon Cowans, maybe Peter Withe, Gary Shaw, that Columbian fellow, Andy Gray, possibly even Jimmy Rimmer, Ray Graydon, Brian Little and the grinning toothless hulk of Chris Nicholl. They certainly don't make you think of Andreas Weimann, Ciaran Clark, Ron Vlaar, Enda Stevens, Matthew Lowton, Barry Bannan and Christia Benteke, but this is where the West Midlands outfit find themselves these days: with a side brimful of youngsters and dubious quality mid-price purchases.

Villa's manager? A Mr P. Lambert of Scotland, last seen leading Norwich City to a 6-1 home defeat to the Blues last April. A luckier charm we could not have chosen if all our lads had sauntered out onto the pitch with giant sprigs of Premier League-embossed heather sticking out of their shorts.

But stop. There were more omens for this glorious day of redemption for the club in the deepest of messes.

Holding aloft the tray of half time pies, we caught an early glimpse of Mr M. Halsey of no fixed abode, the very same Mr M. Halsey who had whistled City's game at Fulham to a stop because John Arne Riise had been knocked to the ground by a tricky zephyr of West London autumnal breeze whilst completely failing to round Pablo Zabaleta. When seeing the hapless Norwegian's plight, dispatched to a prone position by the playful whispers coming off the great sluggish and muddy banks of the Thames, Mr H. had blown for the Most Ridiculous Penalty Ever Given (c).

Sure enough there he was, boldly wandering the Etihad touchline as if that rare piece of super-officiating might endear him even more to the Manchester public. Well, it did not, I can promise him that, but his good friend Mr Adrian Holmes of Planet Alpha Potter Three, who happened to have been handed the little yellow flag on one touchline and told to wave it if he saw anything untoward during the ensuing 90 minutes of top level Premier League combat (c), was about to give it a good go. That he had not had much of a chance to wave it about probably meant that, after 52 solid minutes of medium-to-rare boredom, Mr Holmes thought to himself "to hell with this, I am going to wave my flag and I am going to wave it now!"

And so he did. Happily for us all, Mr Potter of Planet Holmes waved the little cloth on a pole just at the moment the ball was travelling at medium speed into the penalty area, scooped via many legs and arms towards to the far touchline for a throw-in. The referee interpreted this jiggery pokery as the notice of foul play and blew into his whistle.

End of game.

Things would get far, far worse for crisis club City as the game went on. Another penalty! We asked someone else to take it to allow Villa a fair chance, but that player scored as well. Then we scored again. And again. And again. And should have scored again, again, again and again as the Manchester chicken tikka taka, conducted with aplomb by the little genius David Silva, started to tie those young Villa legs into knots. Five goals flew, deflected and bobbled in, all helped by the wind, the linesman and the Gods Of Raging Despair.

Meanwhile way down South, the ultra smooth league leaders were getting a good shaking from humble Norwich while the strutting princes of Kensington received a lesson in football from spic and span West Bromwich Albion and their unsmiling, straight-faced ex-Chelsea employee of a manager.

Football Lessons were being handed out like it was Christmas whilst the staggering mess that is Manchester City were trundling their burdensome Project into pole position for everyone to gawp at.

And what a sight it is. Top of the League, City.