The force of nature rolls on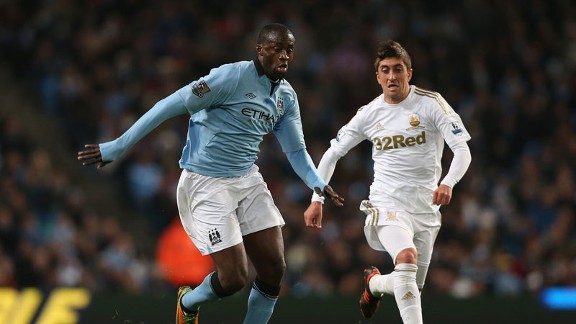 GettyImagesIvory Coast international Yaya Toure in action for Manchester City
When it is dark at night and the wind is whistling around the shutters, strange forces are making things creak and tap, I sometimes sit up in bed and ask myself what City's midfield would look like without Yaya Touré in it. If you follow Manchester City, it is best not to dwell on the answer for too long, as it is likely to blunt your appetite for sleep.

A year ago, when Roberto Mancini embarked upon a series of seemingly defensive substitutions, which ultimately brought the man mountain that is Yaya onto the front foot and into the faces of the opposition defensive line, people thought there was a creeping madness at work. Take off a Johnson or a Nasri and replace him with De Jong? What fresh insanity was this? As it dawned that these seemingly defensive moves were actually designed to release the one-off colossus that is Yaya Touré to the front of the midfield axis, so it was the wailing and the gnashing of teeth died away and all that could be heard was loud clapping.

A veritable road block in the centre of midfield, he started to reveal to those who doubted, those who had thought that here was purely a defensive bulwark, a big tank of a man designed to get in the way of smaller moving objects, that in fact he could be a lot of things to a lot of people. Sure, he could patrol that danger area in font of Kompany and Lescott, picking up loose balls and making opposition attackers bounce into the air like party balloons, but it was not all about blocking and breaking.

He could run too. My, how he could run! He had a shot like the kick of a rhino and his feet were nimble and neat. What strange beast was this that could transform from a Hummer to a Porche and back again in the twinkle of an eye? Turning little circles like some balletic ice skater, he belied both weight and gravity. How did a towering hulk like this not simply topple over into the grass?

And now we are used to him. The hyperbole has died down. The wide eyes have narrowed to inspect other dysfunctional aspects of Mancini's squad of multi-miillionaires. Yaya still bestrides the midfield like a mammoth. His giant frame still belies a graceful, almost twinkle-toed mastery of his art. Neither the cleaver-wielding butcher, nor the scavenging tidier and packer, Yaya is the 'Delivery Man'. He quite clearly does exactly what it says on the oversized packet. He delivers. All over the pitch. All day and all night. In all directions. In all weather and all competitions. He is always there, passing, moving, receiving, turning this way and that, going again and again.

Teams have got to understand his art, just as the press pack now accept he is a multifunctional wonder of nature. However, it is one thing to understand the nature of the beast, quite another to hatch a plan to negate this one-off talent. Just how do you go about stopping something like that? Close him down? Ok. Stand on his feet? Pull his shirt? Hide his boots? Taser him?

From time to time, as happened at the weekend against Tottenham, Yaya will be hit by some unfortunate combination of tackle, momentum and loss of compass bearing. The big body falls to the ground, the thighs crash, the arms flap and all goes quiet. The shudders from the impact shake the first five rows. The face , contorted, suggests imminent bad news. Your eyes follow an errant seagull swooping low for a minute, as you try to imagine Gareth Barry and Jack Rodwell taking on dual responsibility for the Yaya role. Whilst your mind plays tricks with you concerning this troubling thought, the giant Ivorian climbs shakily back to his size 18 feet. Back on the vertical, he hobbles like an old man, shakes himself down and sets off up the park. Onlookers shake their heads. Not much, it seems, slows this fellow down. Be it the willing battlers of Stoke or the fine artists of Real Madrid, Yaya is the same week in week out. He is the big game player, who scores in Cup semi finals and cup finals; he is the engine driving everything forward against West Brom and Fulham. When the volume is low and the wind is cold, his is the reassuring form pounding the yards from box to box. When the going gets tough, his is the first name you search for on the teamsheet come Saturday.