Questions for City ahead of Sunderland test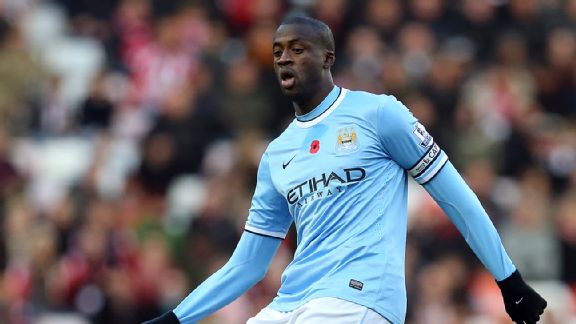 Ian MacNicol/AFP/Getty ImagesYaya Toure avoided suspension and will be able to feature against the Black Cats.
Whichever way you care to look at this week's game between the two sides, recent developments have turned it into a match to watch for various reasons. As a dress rehearsal to the season's first major final, it will give us pointers to what we can expect from the forthcoming Capital One Cup Final at Wembley at the beginning of next month.

It will tell us whether City's recent run of a draw and a loss from their last two games was a blip or the start of something more serious, thus giving us more of an idea how strong City's hitherto impressive charge up the table to challenge for top spot has been. It will tell us whether Jose Mourinho's multi-coloured mind games, taking in his latest departure from his own job to attempt to do the FA's bidding for them by getting Yaya Toure a three game ban (and failing), are having an affect or not. And last but by no means least, it will shed some light on Sunderland's ability to drag themselves clear of an increasingly frantic and congested relegation tangle at the foot of the table.

- Mooney: Plan B needed for goal-shy City

Within these broad plot lines, we will look at the returning Adam Johnson to see if talk of an England squad recall is fanciful journalism or not. The talented but wayward left footer had spells of real quality while in Manchester but always seemed to be on the very edge of falling for his own reflection in the mirror. Is he the real deal or something floating through on the winter gales? Many City followers believe Johnson could still be doing a job for City, with that mesmerising in-and-out style of his lacking in the current City setup. Much talk of wasted talent and a lack of attitude follows young Johnson around. He is far from the last chance saloon but a relegation struggle and a place on the sofa to watch the World Cup finals are not necessarily as far as his ambitions need to go.

We will watch in awe as Sunderland wheel out their phalanx of ex-Manchester United defenders, Wes Brown, John O'Shea and Phil Bardsley, back to an old stomping ground where once they felt the full blast of representing red in a blue place. To be United cast-offs in the present climate is not a very lofty title, but smelling the North West air again always puts some vitality into those legs.

We will look to the sidelines where Gus Poyet's flailing limbs and piercing eyes will remind us a little of another vibrant, passionate Latin manager, who stalked the technical areas here not so many months ago. A man of energy and self belief, Poyet has already carried out one water to wine act in Manchester to get his side to the Capital One Cup Final. Can he perform more tricks?

We will watch for signs that Manuel Pellegrini's grey hair has turned a lighter shade of white after a week of badgering from West London. Have City steadied the ship and learned the lessons of Chelsea and Norwich where first they were bombarded and then hounded out of their regal step?

As the red and white stripes of Sunderland hove into view, we will watch for people flinching. They would not perhaps be the chosen opponent of Pellegrini to get his City side back on track after this minor wobble of one point from the last six on offer to the Blues in the Premier League. Although the Wearsiders are struggling badly at present to escape the drop zone, they have a history of throwing a spanner in the works when it comes to playing City. Sunderland have lost only two of the last eight games with City and specialise in one-nil victories with late and often controversial twists to them. Perhaps fewer spanners have been thrown in Manchester than up in the North East, but they are still an opponent to be taken very carefully if City are to restart an engine that had been purring beautifully but has suddenly begun to splutter over the last eight days.

After stunning home runs (11 consecutive league wins at the Etihad and 61 consecutive home scoring games), City fans will be asking if this can be the springboard to similar runs. If so, the trophies that people have inevitably begun to talk about may start to become a real possibility in a month or two's time.

A crowded fixture list coupled to a growing injury list has put a frown where smiles once lived at the Etihad, despite these being the features of a successful club's season where tough games and tough opponents come hard and fast one after the other. This is what Manchester City have been striving for, every game meaning something to one cause or another, and now is the time to show us how to handle it.