Plan B needed for goal-shy Man City
Manchester City have now played 181 minutes of Premier League football since finding the opposition's net.

Had the year been 2007, when 350 minutes stretched between Georgios Samaras' strike against Everton on New Year's Day and Bernardo Corradi's effort against Portsmouth on Feb. 10, that wouldn't have been too out of the ordinary.

However, for a club that has scored 68 goals in 25 league games and which has been billed as one of the most free-scoring in recent times, it's something of a disappointment.

In case you're interested, the previous record for this season was back in September when 107 minutes elapsed from Yaya Toure's strike against Hull, through a 0-0 draw at Stoke, to Sergio Aguero's opener against Manchester United.

There can be no doubt that injuries have played a part in City's recent lack of success in front of goal. Manuel Pellegrini certainly blamed the blanks against Chelsea and Norwich on that.

- Curtis: Goals dry up for Man City
- Delaney: Three Things from Norwich vs. Man City

Speaking in his postmatch news conference after the 0-0 draw at Carrow Road, he said, "I am absolutely sure, [these issues] are directly [related] with the fitness of our three strikers. Without a goal you cannot win a game."

Aguero is out injured and Alvaro Negredo (shoulder) and Edin Dzeko (ankle) have been carrying knocks too. Stevan Jovetic is only just back from two and a half months in the treatment room.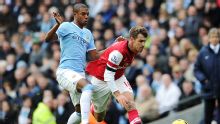 Stuart MacFarlane/Getty ImagesFernandinho, left, last played on Jan. 29.
Meanwhile, Fernandinho has been missing -- probably the biggest absence of the past two matches -- with a muscle problem. Toure has had a back problem and Jack Rodwell and James Milner were both only fit for the bench against Chelsea.

Naturally, a team that has spent as much as City have in recent seasons won't be getting much sympathy on the squad depth front.

Not that they should deserve any; it's a squad game and injuries are something that have to be dealt with whether the club is a Premier League title challenger or a League Two relegation battler.

Plus, the team that Pellegrini selected to play at Carrow Road on Saturday should have been good enough to break their opponents down. That it was not was as much down to Norwich's good defence as it was City's off day.

However, as much as the manager would like to blame the current barren run on injuries alone, there must be questions raised about his stubbornness in persisting with his 4-4-2 formation and tactical setup.

As it happens, I admire it in part; Pellgrini decided that City will play in his style and no team -- no matter whether they are top or bottom of the league, European minnows or reigning champions -- is going to make him change his ways. As far as he's concerned, it's the Pellegrini Manchester City way and it will work.

And, for the most part, it has been a success, with notable exceptions against the current Premier League leaders and versus the reigning European champions.

One of the biggest reasons why the system has been so successful, especially during an unbeaten run of 20 matches (18 wins) in all competitions, has been the partnerships that have evolved this season.

At the back, Vincent Kompany and Martin Demichelis have begun to settle. In the middle, Toure and Fernandinho have hit it off like brothers and, up top, Aguero and Negredo seem to always know where the other is.

But as soon as those partnerships have been broken, the team has struggled a little. The players that are coming into the team to replace those injured are of a high quality and are excellent individually, but they're just not on the same wavelength as those who have been forced to miss out.

This is not a slight on those players in reserve, but more a testament to how strong the partnerships between the first-choice XI have been.

Here, though, lies the problem. Pellegrini seems to know how much of his system depends on his first-choice players being available, so, when they're not, he must adapt to best fit his situation.

His Demichelis-in-midfield-to-allow-Toure-to-roam-forward experiment against Chelsea failed spectacularly. In the end, the Argentine didn't play that badly against Mourinho's side but the midfield was swamped and the two central players for the Blues just couldn't cope with Nemanja Matic, Eden Hazard, Willian, et al.

Against Norwich, Toure was restricted to that defensive midfield role and had Milner performing the box-to-box duties. Bizarrely, this was the game that was crying out for the Ivorian to be roaming free and deploying another defender, such as Joleon Lescott, could have allowed Milner to instead be partnered by Demichelis, with Toure ahead of them both.

But, crucially, that would have forced Pellegrini to abandon his previously successful 4-4-2 formation and he seems completely unwilling to change that. Perhaps his stubbornness in this field has proved costly. Indeed, it could have been more costly had Norwich taken one of their two golden chances late on Saturday.

With the news that Toure has been given a reprieve for his petulant kick-out at Ricky van Wolfswinkel (whose reaction was Oscar-worthy, granted, but he would never have had the chance to be up for the acting award if the Ivorian had kept his feet to himself), Pellegrini has been delivered a bout of good news ahead of the game with Sunderland. Now really isn't a time the Blues could be doing with more players unavailable.

And speaking of Wednesday evening's fixture, there is absolutely nothing wrong with Pellegrini persisting with his 4-4-2 once more. However, if Plan A isn't working, as it did not at Carrow Road, he needs to be prepared to use Plan B.