Goals dry up for frustrated Man City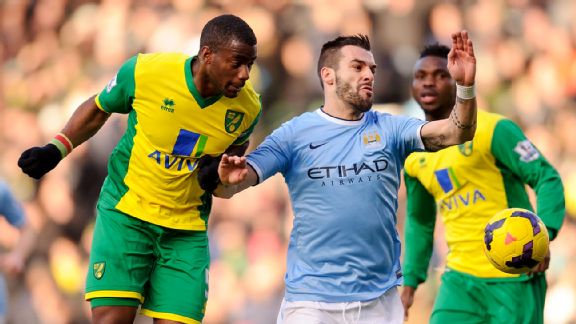 AllsportIt was a day of frustration for Negredo and his team-mates.
"We didn't have enough quality in and around the penalty area today, " said Manchester City's manager* after the game.

First, a little perspective.

The last time this fixture delivered a 0-0 draw, City's line-up included current Wigan boss Uwe Rosler plus a scattering of talented team-mates including Kakhaber Tskhadadze, Jason van Blerk, Jim Whitley and Kit Symons.

I can promise you there was not a dry eye in the house watching that little lot toil to what seemed at the time to be the most tedious goalless draw in the history of football.

Norwich's Welsh international Craig Bellamy, later to ply his trade in the sky blue of City (among many others), gave onlookers a taste of what was to come by getting sent off.

Still, City could not find a way through. Despite this unfortunate happening, as Blues supporters exited the ground, hope was in the air that thre team were perhaps beginning to put some form together.

A week earlier, you see, a 0-0 draw at Tranmere had been secured. In those days, such a combination of results was enough to provoke hope and excitement.

That two consecutive goalless draws could engender such optimism amongst the faithful might seem odd to those pounding their heads against the wall after a strangely out of sorts performance at Carrow Road, ca. 2014. It was also a second consecutive game in which City failed to score.

Although those spitting feathers in all directions are probably going a little far, it had indeed been a frustrating afternoon.

- Man City frustrated at Norwich

Like the man who bites into a chocolate biscuit only to find a mouse's ear inside, Manchester City fans dried their eyes from watching title rival Arsenal's heroic failure at Anfield earlier in the day, only to see through the blur that their own side had dropped to third in the table after this directionless and goalless stalemate.

This trip to Norwich, where City had scored in six an four in their last two appearances, was supposed to herald the club's return to the top of the Premier League table and thus banish in one fell swoop all the doubts and creased brows caused by last Monday's loss to Chelsea.

Instead, what Jose Mourinho's men achived by inflicting a simple defeat in City's own backyard, may yet have a much more powerful effect than simply the rsult in the weeks to come: the infliction of doubt.

There was doubt at Norwich in the mind of Jesus Navas, taker of corner after corner -- City had wasted 14 of them by the end -- each one worse than the previous.

There was doubt in the mind of Alvaro Negredo, hitherto a pinger of goals from all angles, but of none today.

There was doubt in the mind of Yaya Toure, that swinger of boot and thudder of pinpoint passes to feet all over the pitch, whose passes found only large spaces on Saturday.

Instead of a return to goals, there were dallying, misplaced passes, blind alleys and sackloads of overhit through balls.

Those that think City have a divine right to the points in places like this have been given a welcome wake-up call. Those who thought it would be a stroll in the Norfolk countryside were forced instead to take a long hike.

Norwich, stout and game despite the fact that they were in the middle of a wholly unimprssive run of results, played a slightly unambitious, harrying game throughout. It served them well and City had next to no answer to it.

Like the school know-it-all, having had answers to every single question asked of them so far this season, Pellegrini's side suddenly creased forward scratching their collective heads.

No eager hands went up, no "teacher! teacher!" cries could be heard. Today the moody teenager chewed sullenly on its gum and fiddled with a mobile phone..

Everywhere one looked there was a player in a blue shirt doing a weak impersonation of what we have come to expect from the name printed between his shoulder blades.

A goal-strewn campaign has suddenly and unexpectedly turned arid, stumbling straight from the tropical rain forest into an Andean dustbowl.

Along the sidelines, Pellegrini watched as the game slipped quietly away from his side, probably preparing himself for the tricky press conference to come and for the week ahead, when he will have to restore tired minds and bodies to where they need to be to continue this epic fight on four fronts.

The Chilean will have been thinking about what to say to the gathered media, how to explain this sudden drought and how to politely fend off the inevitable accusations of feebleness and inaccuracy.

*Pellegrini might even take a little solace from the words at the start of this article, for they are not his, but those of then-manager Frank Clark following an identical result back in 1998.