Never change a winning side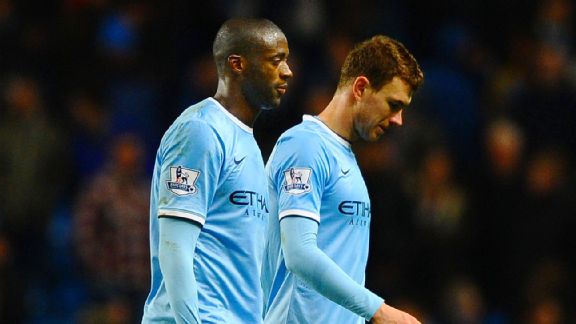 Laurence Griffiths/Getty ImagesMan City striker Edin Dzeko (right) has not scored since January.
"Never change a winning side" was a famous quote attributed to Bill Shankly on the occasion that a reporter, wondering which vaguely underperforming players might be culled after a rare off-key performance from his all-conquering Liverpool machine of the '70s, dared ask the dreaded "any team changes?" question.

What then, the question again begs to be asked, are you supposed to do with a losing one?

One defeat, Monday night against Jose Mourinho's galloping ponies, does not a losing team make, of course. And unless you are strictly of the modern knee-jerk brigade, there will be no smell of burning and no sound of panic sirens around the Etihad this week. City, flush with goals and points and in the midst of as exciting a campaign as any in sky blue will be able to remember, must now get back to the nitty gritty of four- and five-goal romps to restore the dent to self-confidence and build up another royal head of steam.

- Mooney: The unbearable likeness of being
- Report: City set to increase Etihad capacity

Manuel Pellegrini, from the Chilean version of the stiff upper lip brigade, does not seem the sort of chap who will go weak-kneed at the drop of the proverbial hat. Calmness oozes from the man; easy platitudes flow from his sage old coach's mouth. Nothing as piffling as a narrow loss on the gallop to Mourinho's men will put a spanner in the Engineer's works.

He, along with the rest of us, will have learned some important lessons from the Chelsea defeat, however. Mourinho, infamous for parking his blue-and-white-striped Porto bus, his blue-and-black-striped Inter bus and his royal-blue Chelsea bus, decided against using the Etihad parking metres. Instead, after a cautious beginning, his side played a robust and energetic five-man midfield as tight as was possible to City's danger men and gradually, after a turbulent first 20 minutes, snuffed them out.

One is well used to seeing sky-blue shirts harrying the opposition high up in their own half, dispossessing them in what is immediately a danger area for the defending side -- but here were Chelsea doing the same to City. The shaking bulk of Yaya Toure and the less mobile form of Martin Demichelis had started the game in control, but bit by bit, they were overcome by the neat footwork and hard running of Eden Hazard, Willian and the axis of Benfica cast-offs that made up the away midfield quintet.

Mourinho's essential skill is just this kind of game, where he can set his tactical mind at "reactive" and play off what the opposition try to do. Time and again, we have witnessed sluggish Chelsea performances, where there is no answer to the simple fare of a West Ham or a Stoke, but when Mourinho is asked to plot a way round a team which intends to try and dominate his team, he comes into his element.

City will not come up against this kind of skullduggery very often. Those worrying about what Barcelona might do to the Blues after this lesson in shape and structure, would do well to remember that the Catalan giants will come and expect to play us at our own game, to have plenty of possession and to go twinkle-toe to twinkle-toe in what may well be an epic night of one-touch passing maneuvers. Worry we might well about absentees, key absentees at that, but not about a cloak and dagger mugging.

So, the question is: does Senor Pellegrini stick or twist? The answer, almost certainly, is to go for broke as usual in the league, where an imaginatively set up front five (effectively the two strikers are joined by three of the four midfield players as soon as an attack takes realistic shape), has brought home the spoils in fantastic fashion. Norwich City, then, can expect much the same as usual. A club that has shipped a five, a six and a seven against City in recent seasons may well already have lost the game in their heads before it starts, if they think too much of their former efforts against the Blues.

Pellegrini must now begin to save resources until the walking wounded return. No side, however well equipped, can expect to carry on regardless when possibly their three top performers of the season so far have been removed from the starting eleven at the same time. With Fernandinho leading the charge to be back in action as quickly as possible, it may just be that one or two of these vital team members return before City enter a vital stream of games in all competitions.

The Premier League has been kind enough to throw up a malleable set of six games to come, but soon enough Pellegrini and his men will be facing up to the delights of a League Cup Final, two massive Champions League games with the mighty champions of Spain and another gallop to the finishing post against Mourinho's little ponies in the 5th round of the FA Cup.

It is in these vital showdowns that the Chilean will show us what he has learned.