The unbearable likeness of being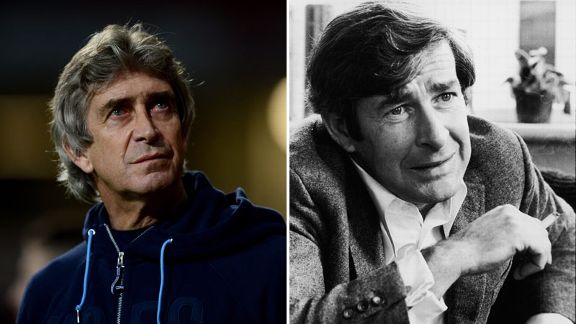 GettyImagesThe doppelganger that began the debate: Manuel Pellegrini and Irish comedian Dave Allen.
So, it turns out, the mood around a football club's fan base after a 1-0 home defeat to a title rival is actually quite downbeat. Obviously, it's impossible to talk for all Manchester City fans, but it seems that a fair few have been a little down in the dumps following the result against Chelsea on Monday evening, so this, in effect, is an attempt to lighten the mood and have a not-so-serious look at the club.

It all started during Monday's loss, when my good friend and fellow Blue Moon Podcaster Howard Hockin texted me to point out that the current City manager Manuel Pellegrini doesn't look too dissimilar to the late Irish comedian Dave Allen. Now, every time I look at the Chilean, I can see him perched on a bar stool, microphone in hand and with a glass of whiskey on a table beside him, telling jokes about teaching kids to tell the time.

On top of that, shortly after he was relieved of his duties as City boss, I was convinced I had happened upon how Roberto Mancini had decided to further his career, with a surprising change of direction -- acting. First, he appeared to have taken Jeremy Irons' position in The Borgias, before also popping up as Robert Downey Jr's double in the second Sherlock Holmes movie.

So with those look-a-likes floating around my mind, here are some other Blues stars of past and present that could have passed for another famous face. And, I'm speaking here as a man who was once asked to sign an autograph because a passer-by believed I was Steve Coogan -- who, to the best of my knowledge, I am not.

Jesus Navas

At the start of the 2013-14 football season, City fans might have been confused as to why one of their new star signings was adorning the sides of Pepsi Max cans and bottles throughout shops and supermarkets in the UK. However, a more in depth look at the product would have revealed that the famous face on the side was in fact Bradford-born magician Dynamo, and not Spain winger Jesus Navas.

Elano

A Brazilian wizard (but only in the summer months, it seemed) on the football pitch, it turned out Elano may have had a side-line in making survival-based TV shows. Perhaps the midfielder lacked what he needed to dig in deep when the going got tough at the Etihad, his doppelganger Bear Grylls had no such issues when required to survive in the middle of nowhere without food or shelter.

Alvaro Negredo

The player who has been nicknamed 'The Beast' by the Manchester City fans might have received a different pseudonym had the likeness between him and a Hollywood star been spotted earlier. Alvaro Negredo may well have starred in the 2009 reboot of the Star Trek franchise in his spare time, taking on the role of Mr. Spock ahead of his look-a-like Zachary Quinto. Maybe any poor performances by the Spanish striker could be explained away as there being an imposter in his boots.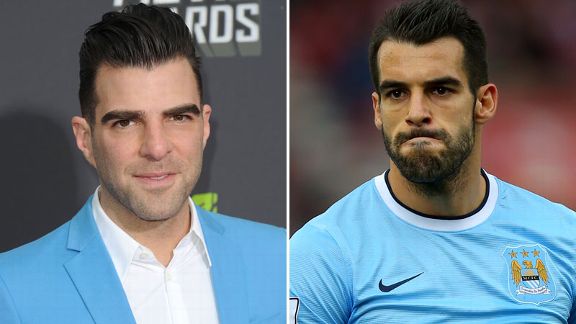 GettyImagesZachary Quinto of Heroes and Star Trek fame even has the sky blue Man City garb to match Alvaro Negredo.
Adam Johnson

In the summer of 2012, Adam Johnson moved on to pastures new from the Etihad, joining Sunderland for an undisclosed fee that was reported to be in the region of 10 million pounds. In allowing the winger to leave, not only did the Blues lose out on someone who had become a good impact sub to change games from the bench, but also the likeness of the late Joy Division front man Ian Curtis.

Joe Hart

Given his performances in the Head and Shoulders commercial, a career in acting might well be beyond Joe Hart. However, he more than made up for that awful showing in taking roles in the TV series Jericho and Ghost Whisperer. Maybe I'm clutching at straws with this one, but there's no denying that Kenneth Mitchell has the same eyes as the current City goalkeeper.

Costel Pantilimon

Meanwhile, Hart's understudy might have been plying his trade over in Germany when he's not been on duty for the Blues, posing as Croatia and Bayern Munich forward Mario Mandzukic. Costel Pantilimon may, however, have been rumbled had he tried to complete the switch, with the Romanian standing six inches taller than his look-a-like.

Stefan Savic

Picture the scene: Former City defender Stefan Savic walks down a busy street purposefully, while bumping into several passers-by without apology. It may have been The Verve who sang Bittersweet Symphony, but was it actually the Montenegrin centre-half who starred in the video instead of the band's lead singer Richard Ashcroft? Well, no, it wasn't. He was only six years old when the song was released, though given some of the performances during Savic's time at Eastlands, perhaps it was in fact Ashcroft that then manager Mancini signed from Partizan Belgrade.