Birds of paradise and mouldy chickens
Modern football is simultaneously a spectacularly feathered bird of many interesting hues and an oddly hyper-reactive chicken pecking furiously at its own behind.

The fallout to a lively encounter between City and Chelsea, with the spoils of war rightfully carried off by the visiting Londoners, has been interesting to say the least. From the home fans combusting with ire that this, that and the other was done incorrectly and that the end of the world must be nigh, to the soothsayers returning Jose Mourinho to Mount Zion and the Pantheon of Football Genii, the air has been thick and acrid with loud words and big ideas.

As ever, somewhere in among all the froth and the bluster lies the truth.

- Mooney: Chelsea defeat not end of the world
- Brewin: Three things - Man City vs. Chelsea
- Report: Manchester City 0-1 Chelsea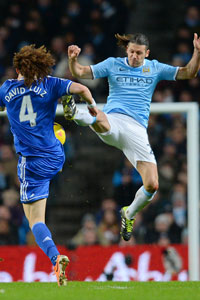 GettyImagesMartin Demichelis struggled to cope with the pace of Chelsea's midfield and attack.
Only twice under the reign of Manuel Pellegrini have City looked hopelessly exposed -- against Bayern Munich in the Champions League and in this latest enthralling encounter with Chelsea. On both occasions, City remained steadfast in their belief that two upfront is the answer to all questions, whether they are being put to them in guttural Bavarian German or with a hybrid Cockney/Portuguese accent. On each occasion, City's middle orders gradually became absolutely swamped and the home side were given a severe to medium runaround.

Against Chelsea, the effect was worsened somewhat by the absence of the metronome Fernandinho, his replacement the pedestrian Martin Demichelis starting competently but soon after midway through the first period, becoming more and more isolated as Yaya Toure believed himself to be superhuman. He had good reason. With Chelsea beginning the game cautiously, City had a number of chances as the Elephant of Bondoukou arrived at the edge of the box and traversed into it on a variety of dangerous forays that could have brought the opening goal. Had he managed to get a studded boot on to the end of a remarkably accurate Aleksandar Kolarov cross, it would have been City in the lead and perhaps a different game unfolding.

This did not happen and, as Chelsea realised there was space to move into, so they did. The midfield five, including a threesome of ex-Benfica men in David Luiz, Ramires and a very impressive Nemanja Matic making his first Premier League start, did their job of harrying, closing and breaking at speed and in numbers excellently well. With Hazard's poise and Willian's thrusting energy, the away side's middle orders possessed every element needed to pick City's pockets with relative ease. Bayern had done the same to even greater effect at the tail end of 2013, there movement and drive too much for an understaffed City midfield.

The naysayers and wall beaters, in the calmness of daylight, might well want to review the fact that, even on what was obviously an off day for the home side, despite bars and posts being hit with worrying frequency by Chelsea, City were within two magnificent Peter Cech saves (from David Silva's free kick and Stevan Jovetic's piledriver) from drawing a late equaliser from the game. As undeserved as it would have been, City's Blues would have come out of the match battered but intact.

They did not manage this, however, and Chelsea now return to the capital with renewed hope and belief that they can compete on an even keel for this hotly disputed 2013-14 title. Mourinho, master of the quote, purveyor of the look, flapper of the arm and waver of the leg, will wake this morning knowing that his amusing sideshow has once again had a meaningful effect, despite the rudimentary aspects of its introduction and utilization. For beneath that scowling palid exterior that he seems to have fostered since he was last on the touchlines of Old Albion, and aside from the unnecessarily disrespectful soundbites about Scottish kitmen and their garbled team talks, lies a sharp tactical brain that has soaked up the lessons of working with some of football's greatest managers.

While Pellegrini continues to play a straight-faced straight bat, it is time now for City to show their mettle. With Fernandinho, Samir Nasri and Sergio Aguero absent and Alvaro Negredo nursing a damaged shoulder back to life, City need to push on as beatable middle order opponents line up for the upcoming fixtures. As the temperature rises and the doubters' voices become ever more shrill, the quiet Chilean will again be confronted with quotes about being the "nearly man" in possession of the "near-empty trophy cabinet".

City were never infallible and are not now suddenly broken, just as Chelsea have always been a contender and are not now anything different. Football's 24-7 circus will see to it that more gas and hot air is spent over the next few days. We will watch and read and cogitate with interest. And when the beast has ceased to peck furiously at itself, we will once again sit back and admire its beautiful feathers.