Backwards, forwards or sideways?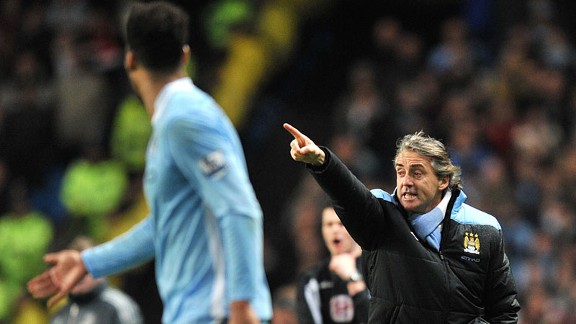 PA PhotosRoberto Mancini's attempts at implementing a 3-5-2 system have so far been unsuccessful
Owen Coyle was famous at Bolton Wanderers for introducing something approaching subtlety after the Reign of 'Bash and Blunder' under Mr Samuel Allardyce. It was ironic then that he should mock the findings of the essential Zonal Marking in a magazine interview last year. It was almost as if he felt it undignified. Shortly afterwards Coyle had taken Bolton down a level and was researching his football formations from the comfort of his sofa. As far as we know, he is still there, pint of Vimto in hand, puzzled look playing his features.

There is a thing about football formations these days that gets thousands of pairs of undergarments in a veritable twist. What did we all do in the olden days when, cold and disillusioned, we watched John Benson pull out a series of tactical improprieties that today would attract the wrath of the entire internet? Sure, we shouted a bit; some of us spat out the odd expletive. One of us infamously, against Bury, when tactics really had ceased to either exist or matter much at all, encroached onto the Maine Road pitch in order to deliver his season ticket booklet (there's another cute anachronism) dramatically to its previous owner: Manchester City Football Club. If Frank Clark was employing false nines and switched wing-backs that day, he failed to tell any of us, failed even to tell Bury, whose lowly, practical performers went straight ahead and buried City on their own patch. I couldn't see formations for tears that day. I doubt Lee Crooks did either.

Today, the internet has made us all instant experts. We know who goes where, how, why and when. We know that Silva, Nasri and indeed, when he wanted to, Adam Johnson, could play on the "wrong" side, cut in and dispatch some unearthly, goal-bound howitzers. We understand Aguero can drop back and bamboozle his markers by dragging them off towards Patagonia and we can see exactly what Joleon Lescott is doing when he moves his left boot over the ball and it goes into the crowd. So, allowing for this, and allowing for the fact that we all have an opinion on these things, here is another for you to consider:

Roberto Mancini's search for tactical leverage this season is an admirable attempt to keep things fresh, keep the opposition guessing, keep his players and staff learning. That Mancini might have wanted to consider keeping a winning structure in place is now a moot point. He may have considered it, but he appears to have thrown it out in favour of something braver, something more advanced, something that - if it works - may just take Manchester City to the next level. The problem, as with all things new and innovative, is how long we can all put up with the period where it doesn't seem to be working. The history of mankind is littered with eras that came to a premature stop because people gave up waiting. What would have become of Joan of Arc, the teachings of Kublai Khan and the development of the Platt Lane Stand if there had been just a little bit more time to develop ideas and concepts to their full height and width?

Roberto Mancini has been experimenting for what seems like an age now, but - in fact - the season commenced just over two months ago. Relatively speaking, it is still a youngster, but time is soon to become short, especially if you are wearing your UEFA Champions League hat. City's campaign in this theatre hangs by a thread. Three wins might just resurrect our challenge, but beating Real and then Dortmund in front of their 82,000 baying supporters looks like a long shot at this juncture. Which leaves us with the league.

Blasted left, right and centre for being out of sorts, off colour and in a mess, Manchester City are now the only club unbeaten in the top flight, one point off the lead, thanks partially to the exhilarating Mark Clattenburg Show at Stamford Bridge last weekend. This does not tell the whole story, however. City have won six, drawn three and lost none of their league games so far. They are unbeaten at home in the league since the Roman invasion of Crete. They have lost to Villa in the League Cup and to Real and Ajax in European competition. They are the only club in England already in possession of a trophy for this season's toils.

But still people complain. This is not just because we are impatient. If anyone considers true supporters of Manchester City impatient, then they must have put their brain in the wrong way round this morning. There is an element to the tactical experiments that leaves City looking a little naked and it is this: you can interchange the likes of Aguero, Tevez, Balotelli and Dzeko as much as you like and you will get a variation on a similar theme; frightened, stretched opposition defenders, followed by mistakes, panic and City goals.

To a lesser degree, you can also fiddle with the midfield, be it Silva and Nasri, be it Javi Garcia and Barry, be it marauding Yaya or brickwall Yaya, but what you cannot do with any degree of certainty is faff about with the defence. Even with the elastic Joe Hart performing miracles behind it, the constant changing of personnel in front of him just has to have an adverse effect. Kompany and Lescott earned their corn last season, time after time, water-tight defensive display after water tight defensive display.

If - like me - you have lost count of the defensive permutations used so far this season, you may also be wondering how the players adapt to this. Not just changes in personnel in the most critical part of the team, but changes in shape too. There is no doubt that we have not yet seen the back of the three man defence at City. Mancini is nothing if not stubborn. In his homeland he will have witnessed recent success falling to the likes of Juve, Napoli and Udinese, who have all employed three man defences in recent seasons.

Within that caveat, then, what should we perhaps hope for? When three play at the back, to have Clichy as one of the three nominal central defenders smacks of suicidal fragility. Clichy has developed from the Arsenal defender most likely to run away from his attacker to a force of nature down the left for City, but a centre-half he is not. We have several players who are: Micah, Kompany, Nastasic, Lescott, Garcia, Yaya and even Zabaleta can play there reasonably comfortably.

The more critical question is how all this affects Mancini's selection of attackers. Last season saw City playing more often than not with four attack-minded players. Playing three at the back realistically allows only three at the pointy end. I have nothing against the continuation of developed tactical shape and form in an effort to keep City ahead of their opponents. Stagnate and you are beaten. But maybe we can avoid ending up with wholesale changes that sometimes lead to square pegs trying to do their very best to fit into round holes. Owen Coyle might drink to that.