Pellegrini should stick with starters at Spurs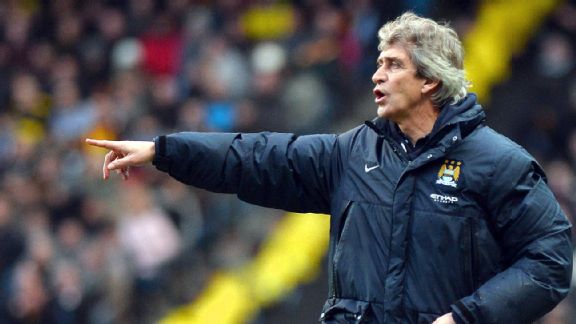 Paul Ellis/Getty ImagesManuel Pellegrini's Manchester City begin a challenging run of fixtures with Wednesday's visit to Tottenham.
With such a critical run of fixtures coming up in the next few weeks -- including a Premier League and FA Cup encounter with Chelsea, two Champions League last-16 ties with Barcelona, and a Capital One Cup final with Sunderland -- a midweek trip to White Hart Lane could have come at a better time for Manchester City. It's not an easy place to travel to at the best of times, but with one eye on the next month of fixtures and the allure of using some squad rotation for Manuel Pellegrini, this really is a banana skin waiting to be slipped on.

- Curtis: The teacher and the engineer
- Report: Negredo fit to face Spurs

The Blues haven't traveled particularly well to Tottenham, even since they have been in and around the Champions League spots rather than battling the drop. Since the takeover in 2008, City have visited White Hart Lane five times and have lost three, drawn one and won one -- although that win was the emphatic 5-1 final from August 2011, also known as The Edin Dzeko Show.

Midweeks at the Lane have been particularly unkind to City, too, with just one win in their last five visits of an evening -- and even that game, in which the Blues won 4-3, having been 3-0 down and a man down at halftime, looked like it was going to go down the drain with no hope of a reprieve. It was a bit "more luck than judgment" one feels.

The previous time the club made the trip to North London for a midweek fixture, it was one to forget for City fans (but don't worry, here's a quick reminder -- hooray!). It was the game that reportedly did in Mark Hughes in the management seat at Eastlands, though the fact that he'd managed one win in the nine games before it probably also helped make up the chairman's mind.

In a tactical gamble that spectacularly failed, the Welshman opted to pick an aged left-back in Sylvinho and offer him little protection by way of deploying a defensively anonymous Robinho ahead of him. Surprise, surprise: Aaron Lennon -- playing right-wing for Spurs that evening -- had a field day, Tottenham hit three and City fans hit the roof.

Even the home midweeks with Tottenham haven't been that kind to the Blues, though they have been a little better. OK, so the reverse of that 3-0 loss saw the visitors to the Etihad qualify for the Champions League ahead of their hosts in May 2010, but City turned the tables the following year on a Tuesday evening. Peter Crouch -- who had netted to propel Spurs to Europe's top club competition the season before -- put through an own goal, to send the Blues there in 2011.

The saving grace for those making the trip down Wednesday is that the City side that Pellegrini will name is vastly different to the last that contested a midweek game at the Lane. In fact, only three players from the 18 named by Hughes that night could be in the Chilean's lineup: Micah Richards, Vincent Kompany, and Pablo Zabaleta.

Pellegrini has been resting players regularly since the fixtures began to arrive with alarming regularity in December (and they haven't stopped since). That's the price of being successful, however, so the Blues can hardly complain that there's a congestion of matches to play as they head toward the business end of the season. Bizarrely, the last time City went a midweek without having a game scheduled was the week leading up to the previous time they played Tottenham last November.

Clearly, things have changed for both sides. The 6-0 drubbing was a remarkable result that highlighted how good City have been at home this season, while displaying how much Spurs were struggling under Andre Villas-Boas. Now, though, they're looking dangerous with Tim Sherwood in the dugout. He's taken 16 points from his first six Premier League games -- with only one manager, Carlo Ancelotti, ever doing better.

Back in November, there were still question marks over City's away form, too. But with a run of nine unbeaten on the road (seven of which were wins) in all competitions, the early-season nervousness has rightly been left at December's door. Throw in 17 wins and two draws (and 64 goals scored) in an unbeaten run of 19 matches -- starting with the previous time these two sides met -- and the traveling fans must be feeling confident ahead of the game.

But with the distractions of some very important games on the horizon, it's not a match Pellegrini and his team can take lightly. Spurs have had plenty of time to prepare, having been relieved of their FA Cup duties in the third round, and are in pretty good form themselves, having won four of their past five games.

With the list of difficult matches in February to come, the City boss may choose to rest players again -- though clearly not to the extent he has done against lower-league opposition in Watford and Blackburn. But this is where he may come a-cropper, as Wednesday will be no walk in the park and any weakness in the City side may be exploited.

Pellegrini should consider going unchanged for the tough period ahead, starting his strongest available XI at the Lane.