Hello Wembley, my old friend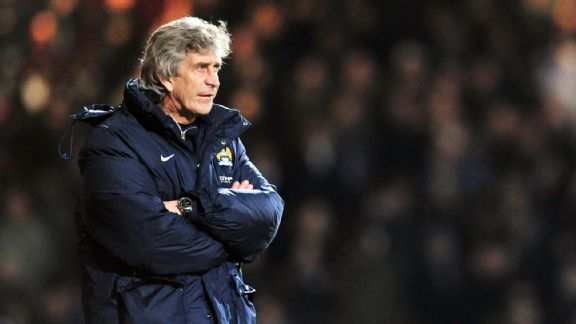 GLYN KIRK/AFP/Getty ImagesManuel Pellegrini has guided Manchester City back to a final at Wembley.
When Dave Bennett's brave header smacked against the bar in the 71st minute of City's second-leg League Cup semifinal against Liverpool at Anfield, ultimately denying the Blues a trip to Wembley, those who were present could return to ducking the coins and golf balls being fired across from the home support in the Anfield Road End. A dream had died and all there was to look forward to was a treacherous, pitch-black journey around the edge of Stanley Park and down the Scottie Road to Lime Street railway station.

It was not a pleasant scene for the large contingent of City supporters filing disconsolately out of the ground that night. This correspondent was just a young kid in those days, but the heartache at missing out on a trip to see Wembley's famous twin towers felt like proper grown-up pain. The year was 1981 and, despite a rip-roaring FA Cup run that did culminate in London, that was to be it for City supporters of my generation for many a long year.

Those same fans, brought up on hotchpotch and mismatch, will probably also treasure the League Cup for another reason: for many of that generation, City's 1976 winning appearance in the final against Newcastle United was their first visit to Wembley. The League Cup has, at long last, thrown up an opportunity to emulate Tony Book and Mike Doyle, the only two City captains to hold this particular pot above their heads.

Back in London once again, the present-day Manchester City have just booked their fourth Wembley trip in four years. For some, brought up on years of hardship and bitter tears, it still takes a day or two to sink in, despite the growing regularity.

- Report: West Ham 0-3 Man City
- Brewin: Three things: West Ham vs. Man City

West Ham, down on their luck and playing like men condemned, shipped another three goals to add to the six that flew into their net in Manchester two weeks ago. A sparse crowd clearly did not believe in the team's chances, nor do they seem to believe in the current manager's chances of hanging onto his job. Sam Allardyce, motionless except for those revolving jaws, at least avoided slumping into the near prone position he had adopted at the Etihad during the first leg, a man large of girth seemingly slipping away like a spilled drink.

His after match comments of "The way things are going for me, City could have punched one of my players in the face and got away with it," summed up the big man's state of mind. In his defence, referee Chris Foy did perhaps miss a double penalty shout in the second half, but the sporadic danger provided by West Ham was ultimately never going to be enough to unsettle City.

His opposite number, Manuel Pellegrini, again surprised all by fielding a side packed with first-team regulars. Only the tiny Marcos Lopes, who proceeded to have an exhilarating match behind the noble front two of Sergio Aguero and Alvaro Negredo, and perhaps Dedryck Boyata, could have been said to be non-regulars around the first team. They were later joined by substitutes Jack Rodwell and the enigmatic Stevan Jovetic to give City's finishing 11 (or 10 and a bit as Negredo had by this time fallen acrobatically onto his shoulder and was playing out the final minutes as a passenger) more of the look some had expected from the start.

Young Lopes looked the part from the off; his darting, close control an immediate headache for the Hammers' defence. To that arsenal, one can add strength on the ball, speed off the mark and courage, as he clattered into 50-50 balls and sped at the home defence. Ahead of him stood two of the reasons for City's incredible goal haul this season. Once again, it was a bullet header from Negredo, the incredible slaloming balance of Aguero and then once more Negredo barnstorming his way through the Hammers' rearguard that were responsible for this occasion's somewhat paltry three-goal haul.

While this might not boost the season's average like the first-leg pasting did, it still pushes the tally up to 106, a massive 80 percent of which have been dispatched from close range (i.e. inside the box). This is an intriguing figure and one whose accuracy was confirmed by second-half pot shots from first Fernandinho and then Jesus Navas when both were well placed. Neither shot troubled anyone, bar the stewards at the back of the stand.

But this was not a night to quibble about mishits or carp about chances gone begging. It represents yet another confident step away from the old City taken by the bright new City, a side that does what the odds say they will do. With one East End bookmaker offering the keys to the shop if West Ham clawed back the first-leg deficit, one can see how perceptions of Manchester City's reliability have changed somewhat from the days of calamity and farce.

Once upon a time the surprise was just how close they had come to winning a semifinal. Nowadays, City win them 9-0 on aggregate.