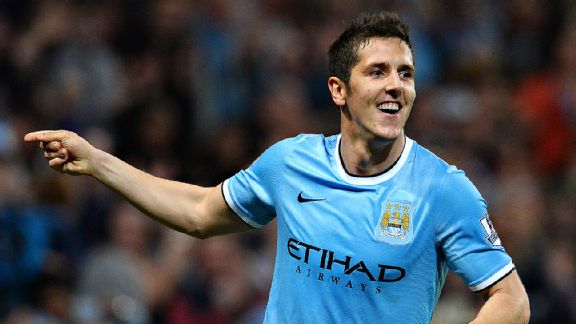 Andrew Yates/AFP/Getty ImagesStevan Jovetic is in line for his first game in two and a half months.
Something about this week's Capital One Cup semifinal second leg between West Ham and Manchester City reminds me of the end of the 2009-10 season. With the Blues leading 6-0 from the first leg and the Hammers having serious Premier League relegation woes, there's a strong danger that Tuesday evening's game could well be a non-event.

In fact, let's be honest here, it's going to be a non-event. Both sides have bigger fish to fry in the coming weeks; West Ham remain a point from safety in 18th place in the table (off the bottom on goal difference alone), while City must prioritise removing the one-point gap to Arsenal. Why would either team risk a full-strength squad picking up injuries when the tie is more or less over?

- Thorne: Stick or twist - West Ham's poser
- Stevan Jovetic in line for City return

On the final game of the 2009-10 campaign -- which was one of huge change for City -- the Blues traveled to Upton Park for another game that was pointless. It showed, and a dour display from both sides ended in the points being shared and the scoreline a goal apiece.

That year, the Blues had begun like a steam train: New signing Emmanuel Adebayor had hit the ground running and was a frequent scorer in a series of victories in August. Form, though, tailed off toward Christmas, and despite only two league defeats after 17 games, manager Mark Hughes was sacked. While the club hadn't been losing, they hadn't been winning, either -- and a run of seven draws broke the Premier League record.

Roberto Mancini came in just before the festive period and set about getting his team to push for the Champions League positions. In a penultimate-game-of-the-season-playoff with Tottenham at the City of Manchester Stadium -- where the Blues needed to win to be in the driving seat for qualification, while Spurs needed to win to actually qualify themselves -- ended in defeat for the home side.

And that meant, on the final day of 2009-10 when City traveled to Upton Park, the Blues were secure in fifth place, providing they drew.

Meanwhile, West Ham were safe from relegation. With two games to play, they had been six points ahead of Hull -- who could, technically, still have caught them, but for the Tigers' far inferior goal difference. A 23-goal swing was never going to happen. Hull's draw with Wigan in the penultimate game ended any fears the Hammers would have of slipping into the bottom three.

So, on the morning of Sun., May 9, 2010, a final day of the season match at Upton Park passed with very little happening. Luis Boa Morte gave the hosts the lead with a cute chip over City's emergency loan goalkeeper Marton Fulop, before the remarkable happened. Shaun Wright-Phillips -- of 5-foot, 5-inch fame -- scored a header, for his final league goal for the Blues.

Then that was that, really. Although Carlos Tevez later made a substitute appearance, but that was more to be applauded by both sets of fans than actually change the game.

That was the last time that a Manchester City season had nothing resting on it on the final day until the club surrendered their title in late April in the 2012-13 campaign. The two years in between saw the Blues pushing for automatic qualification into the Champions League groups (secured with a 2-0 win at Bolton at the end of 2010-11) and the Premier League crown (memorably snatched with a 90+4 minute winner against QPR in 2011-12).

But Tuesday's match is likely to be even more pointless than that. Whatever team Manuel Pellegrini deploys should be good enough to avoid a six-goal defeat, while it's unlikely Sam Allardyce is going to risk his first team getting injured or suspended for coming games against Swansea and Aston Villa (following their trip to Stamford Bridge).

However, from a City point of view, the second leg of the Capital One Cup semifinal could be a good opportunity to get some recently injured players back to fitness -- Sergio Aguero has yet to start since his return, so he could be in line to play an hour or so, while Stevan Jovetic is reported to be ready to make a comeback.

Meanwhile, there should be ample opportunity for some newer faces to be given some first-team experience. Marcos Lopes made his debut in Jan. 2013 in the FA Cup tie with Watford, but has rarely been seen since, while Emyr Huws earned his first senior minutes against Blackburn last week -- both could be in line for their first City starts.

It wouldn't be disrespectful toward West Ham for City to shuffle the pack to such an extreme, but they've earned the right to do it after such a comprehensive first-leg victory. On top of that, it's nothing more than what the Hammers did against Nottingham Forest, though that didn't turn out as well for them and the Blues will be hoping their Tuesday evening rotation works out better.

A lot of focus might actually be on who City will face at Wembley, as Sunderland take a slim 2-1 lead to Old Trafford in the other semifinal on Wednesday. All I'm saying is, with so little resting on this game ... don't expect a cracker.