Another record falls to the might of Man City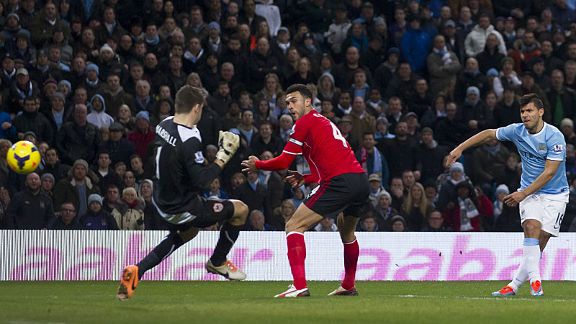 GettyImagesSergio Aguero came off the bench to net Man City's fourth against Cardiff.
Roy Castle once sang that "dedication is what you need" if you want to be a record breaker. Castle broke nine world records on the children's TV show that he himself hosted, so he certainly knew what he was talking about. And, by the looks of things, Manchester City manager Manuel Pellegrini has been taking a leaf out of Castle's book, with Pellegrini's long-term approach over this busy period further justified with a 4-2 win over Cardiff on Saturday.

His team -- once again rotated to full effect -- are starting to write themselves into the history books, as the records end up like Belle Vue's iconic 53 bus. You see none for months, and then all of a sudden five of them turn up at once.

It started with the much-publicised century of goals for the season. It took a mere 14 minutes for the ton to come up, with a strike that was shrouded in controversy. Did David Silva handle the ball in the build-up? Did Edin Dzeko mean to scuff his shot towards the net? Did it actually cross the line?

- Pellegrini delighted with City attack

Well, only on that last question did we get conclusive evidence: The first time the Goal Decision System was used in the Premier League to confirm a score. The other questions will remain less clear-cut; Silva's handball would have been harsh as it was by his side and unintentional, but it did look to clip his hand, while Dzeko is the modern day Shaun Goater -- all knees, shins, ankles and heels, but there's no denying he nets when needed.

The last time the Blues hit 100 goals in a season was more recent than you may think. It wasn't, however, a top-flight campaign, but it was one that sticks in the minds of many fans as being one of the most entertaining. Following relegation from the Premier League in 2001, Kevin Keegan joined City and brought attacking flair -- the club romped away with Division One and hit a centenary after Kevin Horlock netted the winner at St Andrews on March 5.

Under Pellegrini, the Blues have hit that milestone 46 days sooner. However, as a pointer of showing how offensive the Chilean's City side has been this season, they have smashed their own personal best, which had been set in the 1925-26 campaign in the middle of an 11-4 FA Cup win over Crystal Palace on Feb 20.

When you see scores like 11-4, frankly City's wins at the Etihad this season pale in comparison. Pellegrini needs to pull his finger out, really.

However, the Chilean will also go into the record books as the man to have led an English club to 100 goals quicker than ever before. And since City fans love getting one over Manchester United, it'll make pleasant reading that they're now the previous holders of that honour, since the Blues smashed that by 19 days in Saturday's victory.

As the Welsh side came to the Etihad, it took an average performance by the Blues in order to send them packing with naught. And it was literally average -- before the win over Cardiff, City had netted 64 times in 16 games in all competitions; that's a mean of four goals a match. It's now the same, with 68 from 17.

But we're not done there. More records broken in the win over Cardiff: Joe Hart became the first ever Manchester City player to win 100 Premier League games; the goalkeeper also moved into second place in the list of appearances for the Blues in the top flight since its rebrand in 1992; and the victory was the club's 250th in the division since then, too (nod to @StatCity for the numbers).

Cardiff worked hard throughout the entire match, but the performance from the home side suggested that they'll be there and thereabouts for the title come May. Despite the challenge from the visitors, the Blues eased through the gears to secure the win -- it wasn't a vintage performance, yet they still scored four and missed a hat-full of chances, too.

Ominously for the other teams at the top of the table, City's record since their last defeat -- that now traditional 1-0 reverse at Sunderland -- is now played 17, won 15 and drawn two across all competitions. And scored 57.

After a time when Roberto Mancini's tactical tweaks would be what was needed to win games, the club are now reaping the rewards of Pellegrini's simplicity. He's stripped the team of all those responsibilities of having to know where they need to be when the ball is in the opposition's left-back position. There's none of the old "you move here when this happens, but only if we won't have possession."

It's a simple 4-4-2, where players know their role in the team inside out. There are no variables to consider before deciding what needs to be done. There is very little thinking that has to be done -- other than which pass or which piece of movement will open space for a teammate, but that's one of the basic parts of the game.

A lack of complexity in his tactics has allowed City to be as free-scoring as they have been this season, and Pellegrini's work on the training ground is showing. It took a while for the club to adjust -- see early defeats to Cardiff or Aston Villa, for instance -- but they're now in one of the best runs of form they've ever been in and are the only team to win seven consecutive Premier League games (and counting).

With such crucial games on the horizon, there couldn't have been a better time to hit form.