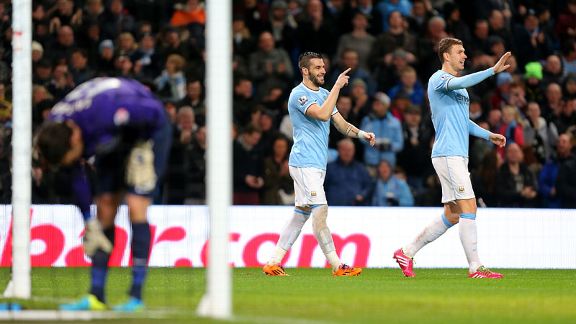 PA PhotosAlvaro Negredo celebrates his second goal against Blackburn.
This column makes no apologies for moving directly, or at least as directly as history will allow, from Newcastle to Cardiff via Blackburn. It may be a geographical loop, but in a week of footballing action, it is the closest thing to a clean straight line that is to be found. Leaving the wailing and the moaning far behind us in the North East, we have since returned to base to smite the once mighty Blackburn Rovers to the tune of five goals to nil. This utterly commonplace occurrence in the life of Manchester City Version2014 brought the club's total to 99 for the season.

In 33 games. That's 99 goals in just 33 games. Or an average of three per game if you will.

It is worth dwelling on those numbers for a moment and reflecting upon the possible meaning of it all, the ramifications of this great deed. For, make no mistake, Manchester City are on course to break some pretty hefty, long-standing records if they maintain this goal glut to the end of the current season.

Let us first of all consider "the 100". This is a total normally surpassed around April time, as the flowers bloom and the league finishing tape is coming into view. To put this all into brief perspective, Manchester United scored 143 in all competitions in 1956-57; Fourth Division Peterbrough managed 146 in season 1960-61 and, more recently, Chelsea reached 142 in the Premier League in 2009-10. So, those three represent the goalscoring records for the Premier League, the top flight and the league as a whole (plus other competitions).

All three are a little way ahead of Manuel Pellegrini's startling goalscoring machine, but another record, and this one an all-time football record, is not. The record in question is set to fall this weekend when Cardiff arrive, unless the almost unthinkable happens and City fail to score in a home league fixture for the first time since a 0-0 draw with Birmingham City in 2010. To show whose side the bookmakers are on in this entertaining little flutter, you can get shorter odds on discovering that the moon is made of pizza dough than you can on Cardiff keeping a clean sheet at the Etihad this weekend. (Ok, maybe not, but the odds are big: 33/1 for Cardiff to win to nil on some.)

A solitary goal will take City to goals for the season so far, a total reached by Peterbrough, Manchester United and Chelsea on Feb. 25, 1961, Feb. 6, 1957 and March 7, 2010 respectively. Manchester City are thus expected to become the fastest ever arrival at 100 goals in the history of English football. For a side that failed to score in any of their final eight games of the 2006-07 season, City are indeed the leopard who managed to change its spots.

Joey Barton, the footballer-turned-poet-philosopher, who also doubled as City's leading scorer during that barren 2006-07 season, managed the grand total of seven for the entire season. Today, that effort is only three more than the number of goals the opposition have scored in their own net for City this season.

Four City players go into the Cardiff match on double figures: Alvaro Negredo (21), Sergio Aguero (20), Edin Dzeko (15) and Yaya Toure (13) represent four of England's six top scorers at this point of the season. The statistics, clearly, are a little overwhelming. One reads them, re-reads them and wonders how it has come to this. We have been royally entertained by Manuel Pellegrini and his sharp-shooters, with their pulverising insistence on scoring five when two will suffice. We have been offered a treat that we will remember for years to come.

And yet, it all remains to be done. Not a single thing was ever won in January. Perhaps Pellegrini's greatest task now, will be to keep the players' feet on the ground, counter the crowing from the terraces with some cool, hard logic. The feast has been of eye-watering quality so far, but the main course has yet to be served.

All of these numbers should not be allowed to filter through our frazzled brains without also making mention of the number 99. City's opponents this weekend have a new manager, who managed quite a feat in 1999, scoring for Manchester United in that close-run finish against Bayern Munich in the Champions League final.

The same year, in fact that very same week, Manchester City were busy scoring a memorable goal or two themselves in their own version of the Phoenix from the ashes. On that day, Gillingham were beaten in a penalty playoff to secure City's promotion from the third tier to the second. Small beer indeed compared to this week's momentous occurrences, but one that moved many to tears and remains a vivid memory in the mind's eye to this day.

Indeed it is one of many images bestowed upon us by this grand old club that brings a tear to the eye. Look no further than this weekend for the next opportunity to seek out those moist handkerchieves.