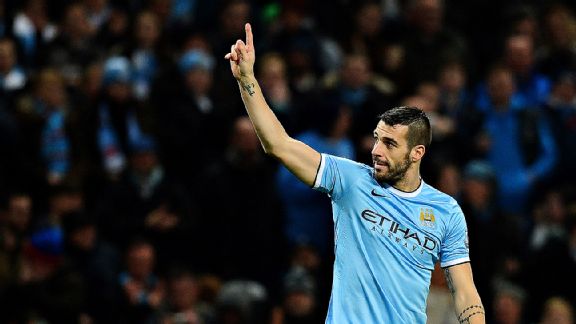 Andrew Yates/AFP/Getty ImagesAlvaro Negredo got City's scoring rolling with a thumping 44th minute header.
As they became the seventh side visiting the Etihad this season to ship five or more goals, Blackburn Rovers will have been asking themselves how it had all come to this. Solid and stubborn in defence, bright and confident going forward, the visitors had spent the first 44 minutes of this encounter matching their illustrious Lancashire neighbours stride for stride in a cup replay that shuddered and stuttered in its attempts to come to life.

- Report: Manchester City 5-0 Blackburn

Rovers little resemble the Premier League regulars of old. Shearer, Sutton, Sherwood and a host of internationals from a variety of exotic lands have long gone and the side led by Garry Bowyer is full of youthful faces and thin legs these days. Only the goalkeeper Paul Robinson, lined of face and thick of thigh, remains from the days of top-level action. As halftime approached, Rovers had acquitted themselves reasonably well and, backed by an unusually large and lusty travelling support of 4,000 (they brought a quarter of that to their last Premier League game in Manchester), the visitors carved out a number of presentable half chances.

They will have been distressed to see, therefore, that in the remaining one minute of the first half and the 48 played after the break, they managed to ship a surprising total of five goals. Although they swapped goalkeepers at the break, Robinson's deputy, Simon Eastwood, could not be blamed for any of the goals put past him on his watch. One could not even claim with any great authority that City had wiped the floor with their Championship foes.

This was no blue riband performance from Manuel Pellegrini's much changed side, shorn of the creative talent of Samir Nasri, David Silva, Sergio Aguero and Yaya Toure, plus the defensive steel of Pablo Zabaleta and Vincent Kompany. What it was most certainly was a master class of finishing by City's three forwards. In order for Edin Dzeko and Alvaro Negredo to both claim a double, however, somebody had to feed them. On this occasion that was done with masterful precision from the flanks, to a great extent by the jet-heeled Jesus Navas, but also by Aleksander Kolarov, James Milner and, for the opening goal, the hardworking Fernandinho.

That Sergio Aguero got the fourth approximately 50 seconds after appearing on the pitch to cement his long-awaited comeback was not only exquisite but a reflection of how City's season is now flowing.

It cannot be stressed often enough just how much strikers rely on good service to carry out their jobs properly. Ninety-nine times this season City's scorers have been served by a wonderfully precise build-up in play. Ninety-nine times the final pass has made it possible for the eventual goal scorer to dispatch his shot or header. It would not be anywhere near that total if manager Pellegrini did not insist on his side maintaining full throttle right to the end. How many times have City found themselves home and dry with 20, 25, even 30 minutes remaining this season? Perhaps with the exception of the Manchester United game, where the collective foot came off the pedal with half an hour still to play, it has seldom happened.

Here, City continued to be swift and sharp on the flanks, punishing a young Blackburn side with their rapier thrusts and now infamous one-touch passing right through to the 93rd minute. Five neat goals to add to an absolute barrow-load of classy finishes, hardly a scuffed shot, hardly a lucky bounce among them.

Already, one imagines, Cardiff's defenders will be starting to prepare themselves to concede goal No. 100 for the season on Saturday. If it occurs, and overwhelming statistical evidence suggests it will, Manchester City will become the first team in history to score 100 goals before Jan. 31.

After a while the numbers begin to curdle the brain. It is no longer very easy to take it all in. The day is fast arriving, if it has not arrived already for some onlookers, where a 2-nil win will leave people distinctly underwhelmed. City are beginning to spoil us all to such an extent, we may never be the same again. It is a foreign concept still, to some of the supporters clapping gleefully at this goal avalanche, to see a side in sky blue so utterly rampant, so thoroughly in control.

One knows, if like here, a game struggles to ignite, that the club possesses the players to unlock even the most difficult defence given time. One senses also that, if City are bullied as they were at the weekend by Newcastle, that they can handle it and emerge victorious. Watford, who await the Blues' coruscating attack in Round 4 of the FA Cup, will do well to prepare for a tricky afternoon. They will well remember their visit in the Cup only a year ago, a 3-nil defeat in the third round.

It is odd to think that if they manage to keep the score to 3 this time round, they will have done better than Spurs and Arsenal, better than Manchester United and Wigan, better than CSKA Moscow, better than Fulham, Norwich and Viktoria Plzen, and better than Blackburn Rovers this season already.